Two men were shot dead when another motorist, possibly armed with an AR-15-style semi-automatic rifle, crashed into their car on a Houston freeway during rush hour and opened fire, police said.
The shooter was still on the loose Friday morning following the attack shortly before 6 p.m. Thursday, Houston police told reporters at the scene Thursday night in a video posted on Facebook by NBC affiliate KPRC.
The deadly encounter began when the killer's car struck the victims' vehicle from behind, causing it to spin out, "similar to like a PIT maneuver we use," Houston Police Assistant Chief Bobby Dobbins said, referring to a tactic police use to force a car they are pursuing to turn sideways.
The collision came at the top of an incline and the struck car had begun to roll down the hill when the shooter got out of his car and opened fire, police said. The gunman then ran in front of the prone car and blasted more rounds into the windshield, killing both men inside, Dobbins said.
Another motorist not involved in the crash came on the scene and used his own personal weapon to open fire on the gunman, according to Dobbins.
Download the NBC News app for breaking news and politics
The witness "saw the suspect turn toward him; he thought he was going to be fired at. He had no idea what was going on," Dobbins said. "He fired several rounds at the suspect. He doesn't know if he hit the suspect. But it did cause the suspect to run."
The shooter and another person in his car fled in their vehicle.
Narcotics were found inside the victims' car, according to police, but they stopped short of connecting that discovery to the shooting.
"We don't know exactly what the nexus was behind this," Dobbins said. "Road rage, an accident, narcotics — we just don't know yet."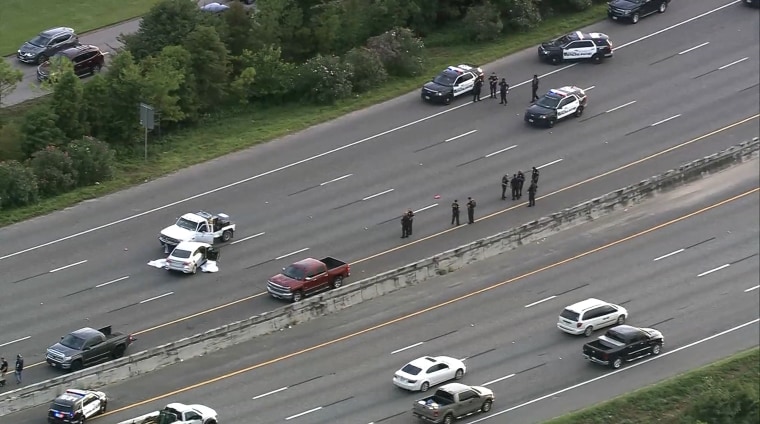 At least one witness claimed to get a good look at the gunman's weapon and told police it was a semi-automatic rife.
"It was a long rifle that he was firing," Dobbins said. "It was a gun similar to an AR-15."
The victims were 25 and 33 years old, although their identities are still being verified, police said Friday. The suspect was a man possibly in his early 20s.
Police appealed to motorists who were driving home on eastbound Interstate 10 early Thursday evening for information on anything they may have seen related to the incident.
"Anybody who saw this accident, that we now know is a shooting, please let us know, call HPD, please let us know what you saw. The slightest thing can helps us," Dobbins said. "Even if you were in front of it, maybe you saw something in the rear-view mirror. It doesn't matter. We'll take any leads we can."