Two tourists face criminal charges for taking a dangerously close look at Old Faithful geyser in Yellowstone National Park, officials said.
The men were photographed last week at the edge of Old Faithful, peering down into the natural wonder — apparently unaware that they could have been seriously burned, or worse, if the boiling hot water had erupted, as it does every hour.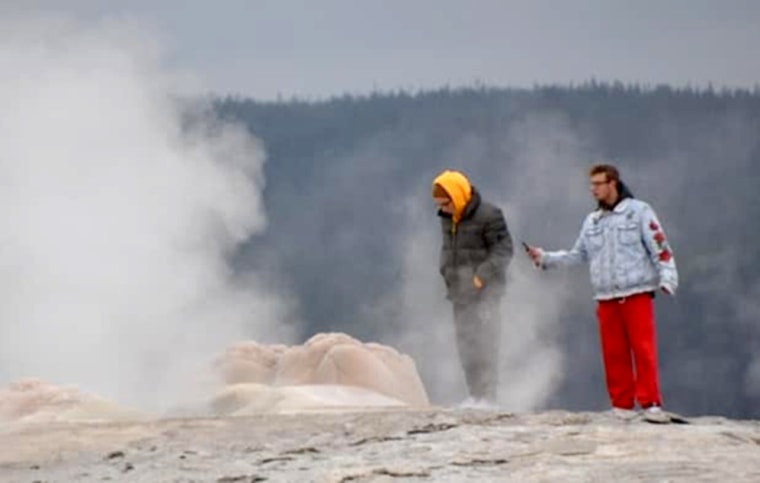 The tourists, one with a phone in his right hand and apparently taking an up-close-and-personal snapshot of Old Faithful, ignored signs that are prominent on trails throughout the park, a witness said.
"And no, there is no barrier. They simply stepped off the boardwalk," a woman who took pictures of the misbehaving tourists told NBC News on Monday.
She said that signs are all over the park, "including right off the boardwalk where they stepped off."
The unidentified men were issued a summons for thermal trespassing and they're set to appear in federal court in December, according to the National Parks Service.
"Thermal area safety is an extremely important part of any trip to Yellowstone," according to parks service statement on Monday.
Federal prosecutors could not be immediately reached for comment on Monday.
Yellowstone, while not mentioning these two men, warned visitors on Friday to be careful while taking pictures around the sprawling park, which spills into Wyoming, Montana and Idaho.
"No picture is worth hurting yourself, others, or the park. Be aware of your surroundings whether near wildlife, thermal areas, roads, or steep cliffs," according to a Yellowstone National Park tweet.