Two more people have been arrested in connection with a fraternity hazing that led to the death of a 19-year-old pledge last year in Albany, New York, bringing the total number of people charged in the alleged crime to seven.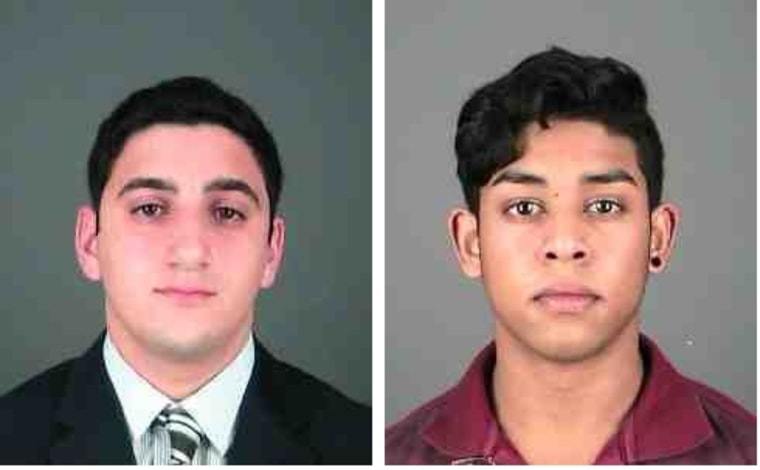 Joseph Angilletta and Austin Bacchus, both 20, turned themselves in Friday and were charged with first-degree hazing, a misdemeanor, Albany police spokesman Steven Smith said.
Reached by phone Sunday, Bacchus declined to comment, saying he would need to talk with his parents and lawyer first. A man at a phone number listed under Angilletta's name declined to identify himself and said Angilletta has "nothing to say to you right now."
According to arrest warrants, the men who organized the Nov. 15, 2014, hazing are alleged to have "required, ordered, and encouraged" Trevor Duffy, 19 — as well as other pledges — to drink nearly half a gallon of the "alcohol of their choice."
Duffy, a sophomore at the State University of New York at Albany, chose vodka, NBC station WNYT reported.
By early the next morning, Duffy's blood-alcohol level was seven times the legal limit. He was taken to Albany Medical Center, where he died. His cause of death was listed as "acute ethanol intoxication."
Related: Fifth Person Arrested After Fraternity Hazing Death in Albany, New York
Police have described the hazing as an "unsanctioned" initiation for Zeta Beta Tau, a fraternity with headquarters in Indianapolis. In a statement last year, the national office said the students implicated in the hazing "are not affiliated with Zeta Beta Tau Fraternity or ZBT's Epsilon Gamma Colony at University at Albany."
Any use of the organization's name "by this group of men," the statement added, "is without permission of the Fraternity."