Two former Penn State administrators pleaded guilty Monday to child endangerment charges stemming from the explosive Jerry Sandusky sex abuse scandal, NBC News has confirmed.
Former athletic director Tim Curley and ousted senior vice president Gary Schultz will now face a maximum of five years in prison and $10,000 in fines when they are sentenced in the coming weeks.
Both are now expected to testify against ex-Penn State president Graham Spanier, who was also charged with child endangerment. Spanier's trial begins Monday.
The three were accused of failing to pass on to authorities a report by former assistant coach Mike McQueary that Sandusky had sexually assaulted a boy in a school locker room shower in February 2001.
Prosecutors say McQueary told late football coach Joe Paterno, who reported the assault to Curley. But it did not go any further, leaving Sandusky free to molest other young men, they said.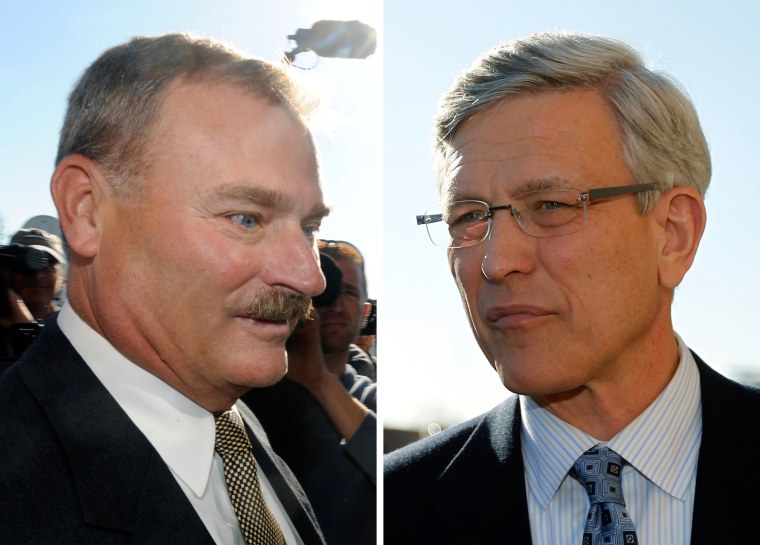 Sandusky, a longtime Paterno assistant, is currently serving a 60 year sentence in prison for molesting 10 boys.
One of his sons, Jeffrey Sandusky, was recently arrested and charged with sexually assaulting a minor.
Last May, NBC reported that as many as six assistant Penn State coaches allegedly witnessed "inappropriate behavior" between Sandusky and boys going as far back as the 1970s. But it was unclear if any of the men made a report to higher-ups before the sex-abuse scandal erupted in 2011.
The documents cited in the NBC report also revealed that a child allegedly told Paterno he had been molested by Sandusky back in 1976.
That is a quarter century before Paterno acknowledged hearing from McQueary about Sandusky in a shower with a child.
Paterno died in January 2012, several months after he was fired amid allegations that he knew about Sandusky's abuses and failed to act.
His family has insisted that Paterno did nothing wrong. But a university-sanctioned report later concluded the legendary coach was aware of allegations against Sandusky as early as 1998 but refused to remove him from the program.