Two police officers were fatally shot Sunday near a home in Honolulu that appears to have been set on fire, and two women remained missing in the aftermath, authorities said.
The fire quickly spread to other homes in the upscale Diamond Head neighborhood, destroying seven houses and damaging several others, Honolulu Fire Chief Manuel Neves said.
Tiffany Enriquez, a seven-year veteran of the Honolulu Police Department, and Kaulike Kalama, a five-year veteran, were killed, Police Chief Susan Ballard said.
"They were like my kids," Ballard said at a news conference Sunday night. "I knew each one very personally."
Ballard said that the suspect, identified as Jerry Hanel, who is in his 60s, is believed to have died in the fire but that investigators had not found his remains. The two missing women had been in the first house, but Ballard did not know whether they lived there.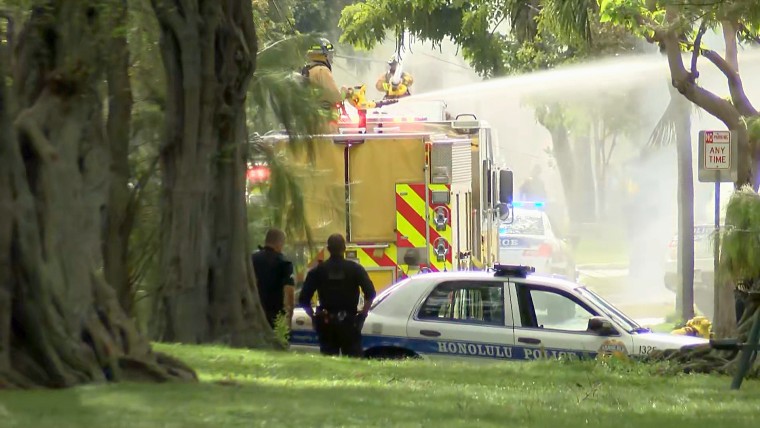 Ballard said the shooting began when officers responded to a 911 report that a woman had been stabbed in the leg. NBC affiliate KHNL reported that the woman, whom authorities have not identified, was Hanel's landlord and was serving him with an eviction notice.
The shooter opened fire on responding officers, striking Enriquez and Kalama, who were pronounced dead at a hospital, Ballard said. The woman was taken to a hospital in what Ballard believed was serious condition.
Shortly after the shooting, other officers arrived and saw thick black smoke rising from the house. An official cause of the fire had not been determined, but KHNL, citing official sources, reported that it was deliberately set.
Hanel's attorney, Jonathan Burge, told KHNL that the landlord, who lived out of state, had allowed Hanel to live rent-free in the basement of the first house that burned.
"She had known him very long, and I think she cared for him," Burge told the station.
Download the NBC News app for breaking news
But after repeated problems with neighbors and with the landlord moving back to Hawaii, she wanted him out of the house, Burge told the station.
Burge said he spoke to Hanel last week and believed that he was preparing to move out.
"I didn't have a clue he would do something this violent and bizarre," he said.