LOS ANGELES — Three people were killed and two others are in critical condition after a small plane crashed into a California home on Monday, authorities said.
Two dwellings were destroyed when the plane went down in Riverside at about 4:45 p.m. (7:45 p.m. ET), Fire Chief Michael Moore said.
All of the victims had been flying in the aircraft, he said. Moore previously put the number of dead at four but later corrected the tally to three.
The plane, identified by the Federal Aviation Administration as a Cessna 310, was flying five people to San Jose after a cheerleading competition, Moore said.
He said two women aged in their mid-30s to early 40s were "ejected" as the plane crashed. Moore credited an "aggressive response" from firefighters for saving them.
One of the women was in surgery early Tuesday after suffering burns, Moore said. Firefighters would continue to search the residences for victims, although "we think we have accounted for all residents," he added.
The crash sounded like "two trains that headed into each other," local resident George Charles Ashley told NBC News.
"It was loud, shook the house like an earthquake," the 58-year-old added. "It was a big fireball."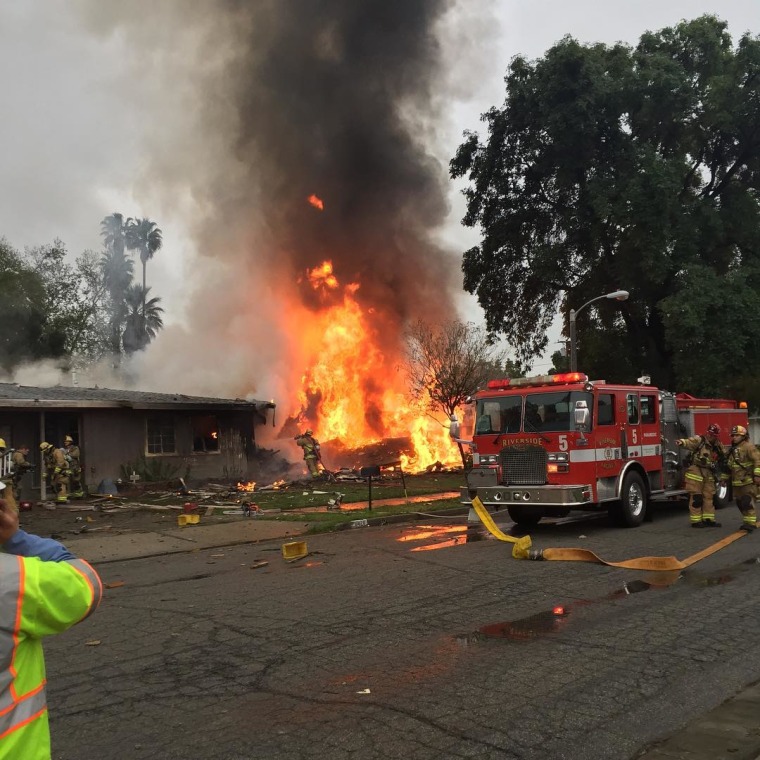 Ian Gregor, a spokesman for the FAA, told NBC News that the plane went down about a half-mile northeast of Riverside Municipal Airport, which is about 60 miles east of Los Angeles.
The crash threw debris as far as half a mile away, set homes ablaze and sent thick, choking smoke billowing into the sky.
Elizabeth Espinoza, 20, who lives near the scene, told NBC News: "I was just looking outside my window and saw a green plane, and it was going really fast, and then it fell to the ground and exploded."
She added: "There was no way it was able to pull up, the way it was dropping. It was like — I don't know how to describe it — just so fast that you wouldn't imagine. It was a big crash and then a boom ... We felt the ground shake once it hit."