A two-time recipient of the Bronze Star and a father of five were killed during military free-fall training in Florida, the Air Force announced late Tuesday.
Tech. Sgt. Timothy Officer Jr., 32, and Tech. Sgt. Marty Bettelyoun, 35, were rushed to local hospitals after the accident at Eglin Air Force Base on Monday.
Both were Special Tactics Airmen, a force made up of specially-trained air traffic controllers, pararescuemen specializing in rescue operations, and military weathermen and forecasters.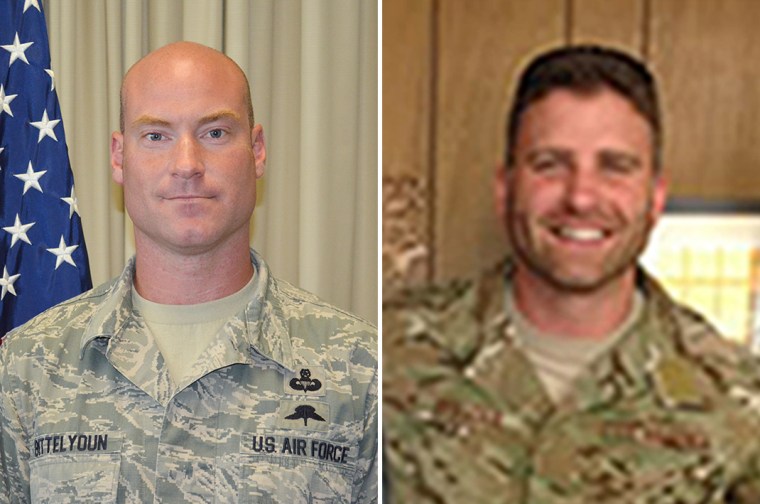 "Our community has taken a huge loss with their deaths, and they will be sorely missed," Col. Wolfe Davidson, 24th Special Operations Wing commander, said in a statement. "They were respected by their peers for not only their ability on the battlefield, but also for their incredible commitment to friends and family."
Officer was awarded the Bronze Star twice — once with the "V" device for valor — according to the Air Force Times newspaper. He was assigned to the 720th Operations Support Squadron.
"He will be deeply missed and never forgotten"
He served 14 years in the Air Force, during which he deployed several times in support of operations in Iraq and Afghanistan.
"The man was capable of transforming anyone's bad day into a great day," Officer's friend Logan Warnhuis told NBC News. "You could always see him with a smile on his face and everyone loved to be around him. His sense of humor was something nobody could get enough of."
Warnhuis said he served two tours in Afghanistan with Officer during his time with the 75th Ranger Regiment — an elite light infantry special operations force.
Officer's ability to do his job as the platoon's tactical air control party airman was "impressive to say the least," he added.
"He will be deeply missed and never forgotten," said the 25-year-old Warnhuis, who now studies criminal justice in Fresno, California.
Bettelyoun, a married father of five, was a combat controller who was also with the 720th Operations Support Squadron. He also had several combat deployments during his 15-year career, the Air Force Times said.
Bettelyoun's best friend Leah Scott, 38, from Vancouver, Washington, told NBC News she has known the "very special" airman for more than 12 years.
"He was an amazing person, very kind," she said. "If you needed something and he had it, it was yours."
"He could walk into a room full of people he didn't know and he would walk out being friends with all of them for life," she added. "He was funny and he could be random and you would have no idea why you were laughing, but you would be."
A post on a crowdfunding website that features Bettelyoun's name and image that was created in March last year said that his wife Jennifer was a "a stay-at-home mom to our five children ranging in age from 14 to three."
The site said Bettelyoun was raising money to build an extra room on his house so that an orphaned family member could come and live with them.
Special tactics airmen are the Air Force's ground special operations forces. They often embed with Navy SEALs and Army Special Forces to integrate air power for the special operations ground force.
The cause of the incident had not been determined and was being investigated, the Air Force statement added.