Two fraternities at the prestigious Swarthmore College in Pennsylvania have decided to disband days after they were suspended over leaked documents, allegedly describing activities by former members, that contained racist, misogynistic and homophobic comments including references to a "rape attic."
Phi Psi Fraternity, in a statement posted to its Facebook page Tuesday night, said it unanimously voted to dissolve the organization and give up the rights to its house at the private liberal arts school in Swarthmore, Pennsylvania.
Delta Upsilon Fraternity posted a similar statement on Facebook on Tuesday night, saying that disbanding "is in the best interest of the Swarthmore community."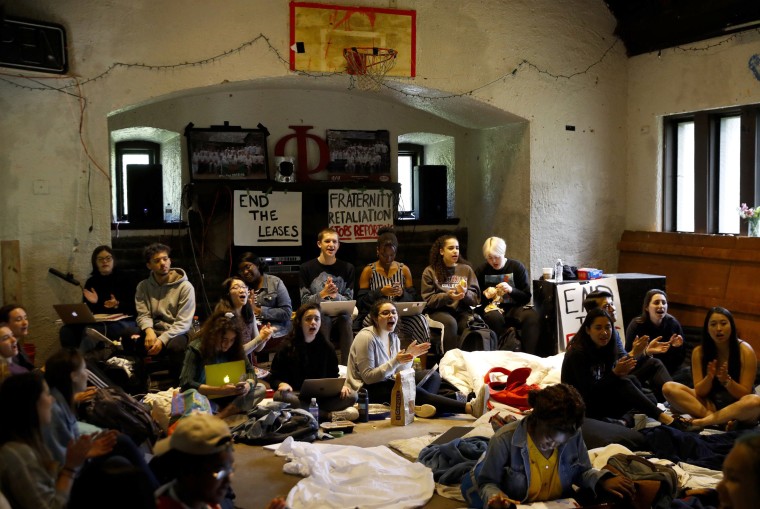 Within the last few weeks, two campus publications — the Phoenix and Voices — published leaked documents that were allegedly written between 2013 and 2016 by then-Phi Psi members.
The documents, labeled as "minutes," described Phi Psi activities and contained rape and sexual assault references and homophobic comments and discussed how Delta Upsilon had "a rape tunnel and a rape attic," according to Voices.
The Phoenix reported that the documents also used racist language to describe one member's sexual interaction with a black woman.
Phi Psi said in its statement Tuesday that the contents in the documents were "unacceptable."
"We cannot in good conscience be members of an organization with such a painful history. Since the start of our membership, we made it our mission to improve the culture and perception of Phi Psi," the statement read. "Unfortunately, the wounds are too deep to repair."
The documents were emailed anonymously to the outlets and also included photos showing members "kissing, groping, and touching women," according to Voices.
The leaked documents led to student protests and a sit-in inside and outside the Phi Psi house. In a letter over the weekend, Swarthmore President Valerie Smith said all fraternity activity on campus had been suspended pending an internal investigation to determine whether any current students were involved in the alleged behavior described in the documents.
In a letter Wednesday, Smith said she accepted both fraternities' decision to disband and at this time, there was "no evidence that any current student participated in the behaviors documented in those materials."