Three crew members were missing and one was injured after two trains crashed head-on Tuesday in a fiery crash in northern Texas.
The trains collided just before 8:30 a.m. local time (9:30 a.m. ET) east of Panhandle, Texas, along Highway 60, according to Panhandle City Hall officials.
Officials said the city was draining its water supply to fill fire trucks' tanks as it desperately tried to quell the flames.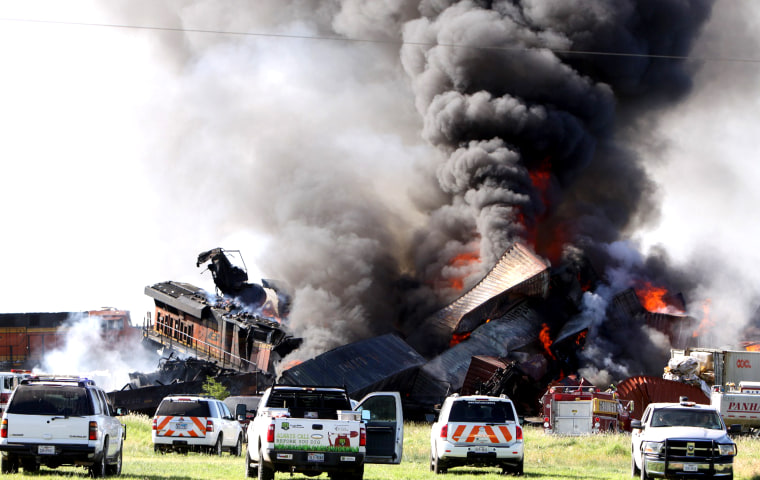 Both trains are from the BNSF railway company, said Joe Faust, director of public affairs for BNSF in Texas. Four employees were involved in the incident, he added, and BNSF investigative crews are on the scene to assist in rescue efforts of the other three, who officials said were unaccounted for.
The fourth crew member was taken to Northwest Texas Healthcare System in nearby Amarillo, Texas. He is in stable condition, according to the hospital's marketing director, Patrick Buckley. The hospital is prepared for more patients if needed.
Panhandle, which is 350 miles northwest of Dallas, was evacuating some residents due to the smoke from the wreck, according to NBC affiliate KAMR.
BNSF experienced a similar head-on collision in Louisiana in December 2013, according to NBC affiliate KCBD.