A former student at Transylvania University in Lexington, Kentucky, struck two female victims with a machete in the campus coffee shop on Friday morning after asking them about their political affiliations, campus officials confirmed.
One female victim was transported to the University of Kentucky Healthcare Hospital and is currently in stable condition and recovering. The other was treated and released at the scene. Both victims suffered non-life threatening injuries.
The alleged assailant, 19-year-old Mitchell W. Adkins, was charged with first degree assault, three counts of first degree wanton endangerment and fourth degree assault, Sgt. Jervis Middleton, the public information officer for Lexington Police told NBC News in a statement.
"Transylvania campus police quickly arrived on the scene and were able to take Adkins into custody after a brief struggle," Middleton said. "He was transported to the hospital with self-inflicted injuries."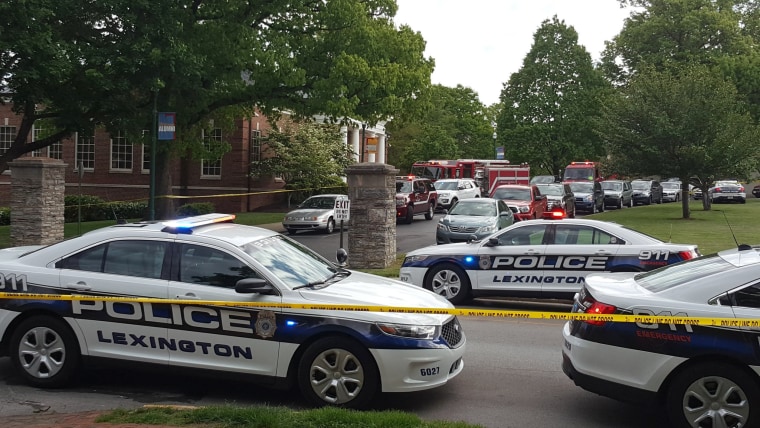 Middleton said an investigation is still underway to determine what led to the attack.
Adkins, who withdrew from the college in 2015, ran into the coffee shop inside the Glenn Building with a bag filled with various weapons, including a machete and knives, on Friday around 8 a.m. He demanded students answer him about whether they called themselves Republicans or Democrats.
"[He] came in, banged something, a hatchet or an ax, on the table and said 'the day of reckoning has come,'" witness Tristan Reynolds told the Lexington Herald. "He asked somebody what their political affiliation was, they said 'Republican' and the guy said 'you are safe.' And then I realized what was going on and started getting people out."
Reynolds added that people "scattered" about, running to evacuate as public safety officers reached the scene and blocked Adkins from escaping.The coffee shop is a popular gathering place for students.
Transylvania University's public safety officers responded quickly to the incident, apprehending Adkins while the university announced an official campus lock-down and barred students from entering or walking outside campus buildings for approximately two hours, Michele Sparks, the vice president for marketing and communications at the college told NBC News.
"We cancelled classes and have counselors at hand to help shaken community members after this," Sparks said. "It was turmoil and we are really shaken but the Transylvania spirit is strong. Our community is a small, tight-knit community and I'm surprised and shocked that this would occur."
in close proximity to the campus such as Sts. Peter and Paul Catholic School and Sayre School were also temporarily placed on lock down.
The officers handed Adkins over into the custody of the Lexington police when they arrived minutes later, according to reports. Officials also searched the entire campus for additional weapons before declaring it safe.
Sparks said that a campus emergency response meeting will be held next week to address the motivations behind this attack and the steps the campus should take towards politically influenced attacks. She also praised students at the coffee shop for remembering the flight or hide procedures they had been taught in case of emergencies.
"I'm glad they packed and ran off. We also had an active shooter training for our officers two weeks ago and they just completed it," said Sparks. "That was really vital today. We have always had active shooter training with the police and today showed us how important this is."
The university announced on Friday afternoon that classes had resumed and that the Transylvania University alumni weekend will begin as scheduled.