Hundreds of demonstrators gathered in Olympia, Washington, on Thursday night to protest a white police officer's shooting of two unarmed black men suspected of shoplifting beer.
The men survived the shooting, and the case was immediately turned over to outside investigators.
About 400 people, waving signs reading "Black Lives Matter," met at Woodruff Park, about a mile from the shooting scene, to listen to speakers and prepare for a march on City Hall, The Olympian newspaper and The Associated Press reported. Speakers urged the marchers to remain peaceful.
Olympia Police Chief Ronnie Roberts said at a news conference Thursday afternoon that he understood the sensitivity of the case in light of police shootings of unarmed African-Americans in several cities across the country. But he said there was no indication that race played a factor in the confrontation early Thursday near a grocery store where the men had allegedly tried to steal beer.
The men were identified as stepbrothers Andre Thompson, 24, and Bryson Chaplin, 21, both of Olympia. Thompson was listed stable in serious critical condition Thursday night, while Chaplin was described as critical. Both are expected to survive, police said.
Roberts said one of the men assaulted the officer, Ryan Donald, 35, who responded to a shoplifting call about 1:15 a.m. (4:15 a.m. ET). Donald wasn't injured.
In audio of Donald's communications with a dispatcher during the incident, he is asked whether the men are armed. He replies: "No. He just assaulted me with a skateboard. I tried to, uh, grab his friend. They're very aggressive, just so you know."
Listen to Excerpt of Police Audio
Donald shot the man, who fled into the woods with his stepbrother, Roberts said. They then came back out of the woods, and "the officer felt threatened and discharged his firearm" again, hitting the other man multiple times in the torso, he said.
Donald was put on administrative leave pending an internal investigation and a separate probe by the Critical Incident Team, a cooperative of investigators from five local law enforcement agencies under supervision of the Thurston County Sheriff's Office.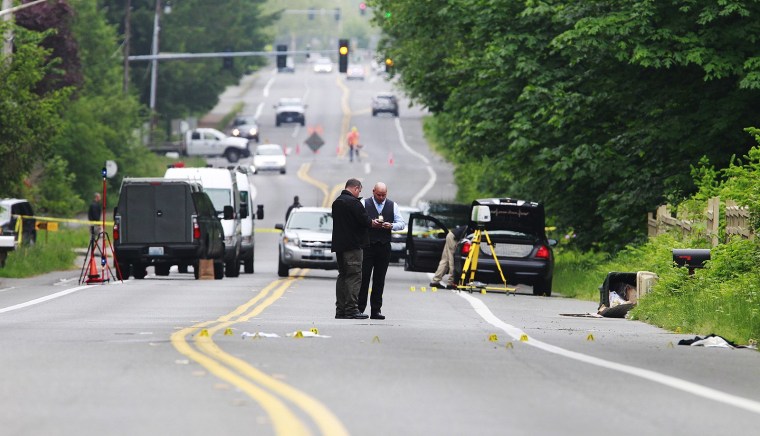 Police records indicate the incident is the first officer-related shooting in Olympia in at least three years. Mayor Stephen Buxbaum called it "a tragic event" and said he had coordinated with local churches and colleges to set aside time and locations for community gatherings.
"Let's not be reactive," he said. "Let's take the path of consciously addressing our questions of what happened as best we can — seek justice and healing."
The shooting follows a string of high-profile killings of unarmed black men by police, including Michael Brown in Ferguson, Missouri, and Eric Garner in New York City, which set off weeks of protests and a national "Black Lives Matter" movement that has gained momentum across the country.
The Associated Press contributed to this report.