Authorities on Tuesday identified two more people who died in a blast at an Illinois silicones plant as the search for a missing worker continued.
The Lake County coroner said in a statement Tuesday that Jeff Cummings, 57, and Byron H. Biehn, 53, were killed in the explosion Friday night at the AB Specialty Silicones factory in Waukegan, north of Chicago.
The Cook County medical examiner's office had previously identified a worker who had been hospitalized but died Saturday as Allen Stevens, 29. He died at Loyola University Medical Center, according to Natalia Derevyanny, a spokeswoman for the Cook County Medical Examiner's Office.
One person remains unaccounted for, officials said.
The cause of the explosion, which occurred about 9:30 p.m. Friday, remains under investigation.
"This is by no means over until we've located all victims," Waukegan Fire Marshal Steve Lenzi said, according to NBC Chicago.
Lenzi said Monday that there is no evidence of foul play and that the explosion is being considered an accident. AB Specialty Silicones is a manufacturing and distribution company specializing in silicone-based ingredients.
"Something in the process went wrong," Lenzi said. "We see no malicious intent involved in the accident that occurred."
Lenzi said Tuesday that the cause may not be known for at least a week, or possibly months. He said officials are conducting a slow and methodical search for the person who is unaccounted for.
Biehn's family in a statement to NBC Chicago said he was a longtime employee with the company and "a beloved husband, father, son (in-law), brother (in-law), godfather, uncle and friend to many."
"We are so very grateful for the outpouring of prayers and support for Byron and our family," his family said. "We ask that you keep the victims, their families, and the first responders in your prayers."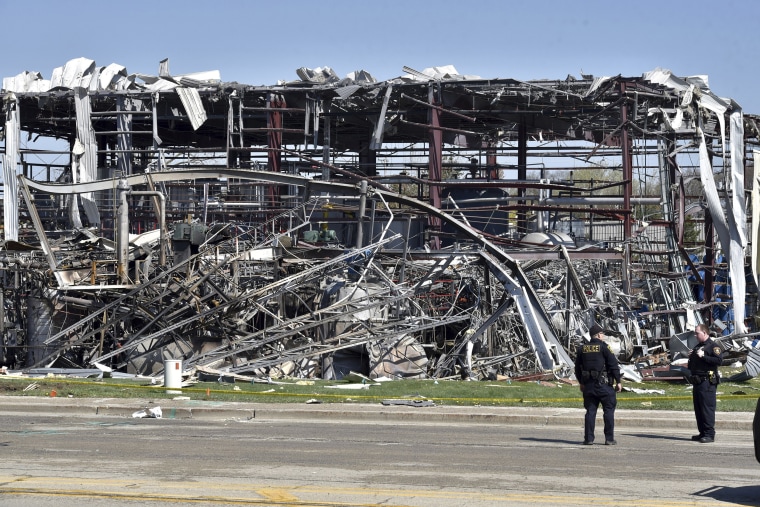 One of the three dead was found at the scene after the explosion, Stevens died at a hospital, and the body of the third worker confirmed dead was found in the damaged building Sunday afternoon, officials have said.
Nine people were inside the facility when the explosion occurred. Lenzi said some employees stayed behind to help others get to safety.
"We had five people survive a massive explosion," he said Monday. "There were heroes involved. There were heroes involved that got those people to safety."