For the first time ever, two women have successfully completed the Army's elite Ranger school, one of the toughest combat training courses in the world, the Army said Monday.
The female soldiers weren't identified beyond being described as West Point-trained officers. They were among 96 soldiers who will graduate Friday at Fort Benning, Georgia, with the coveted Ranger tab, the Army said.
The 96 soldiers were winnowed from 400 — 19 of them women — who started the course on April 20. Over the following weeks, more than three-quarters of the trainees fell short of making it through grueling training marked by limited meals, sleep deprivation and physical tests in harsh conditions — all while hauling a 60-pound rucksack.
"This course has proven that every soldier, regardless of gender, can achieve his or her full potential," Army Secretary John McHugh.
Women were admitted to the course this year in a one-time assessment of the program to determine how to open combat jobs to women after the Defense Department ordered that all occupations be open to women beginning in 2016.
"I get goose bumps thinking about it," retired Gen. Ann E. Dunwoody, the first female military officer to reach four-star rank in U.S. history, told NBC News.
Dunwoody joined the now-disbanded Women's Army Corps in 1975, at a time when women hadn't been integrated into other parts of the Army. "When I came into the military ... I just assumed that I would have to perform better in order to be accepted into the ranks in the military," Dunwoody said.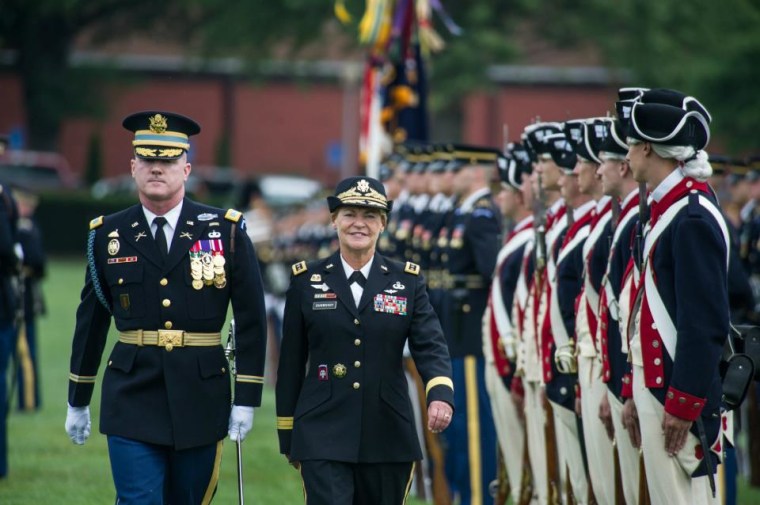 The elite Ranger course trains applicants in leading small units in woodlands at Fort Benning, mountainous terrain in Dahlonega, Georgia, and coastal swamp in Eglin Air Force Base, Florida.
To earn the Ranger tab, applicants must be able to complete 49 push-ups, 59 sit-ups, a five-mile run in 40 minutes, six chin-ups, a swimming test, a land navigation test, a 12-mile foot march in three hours, several obstacle courses, four days of military mountaineering, three parachute jumps, four air assaults on helicopters, multiple rubber boat movements and 27 days of mock combat patrols.
Retired Ranger Roger Carstens, a senior fellow in national security at the nonprofit Foreign Policy Research Institute, told NBC News that when he went through the course he thought women couldn't do it. Now, he said, he believes women can be integrated into all parts of the Army without compromising combat readiness.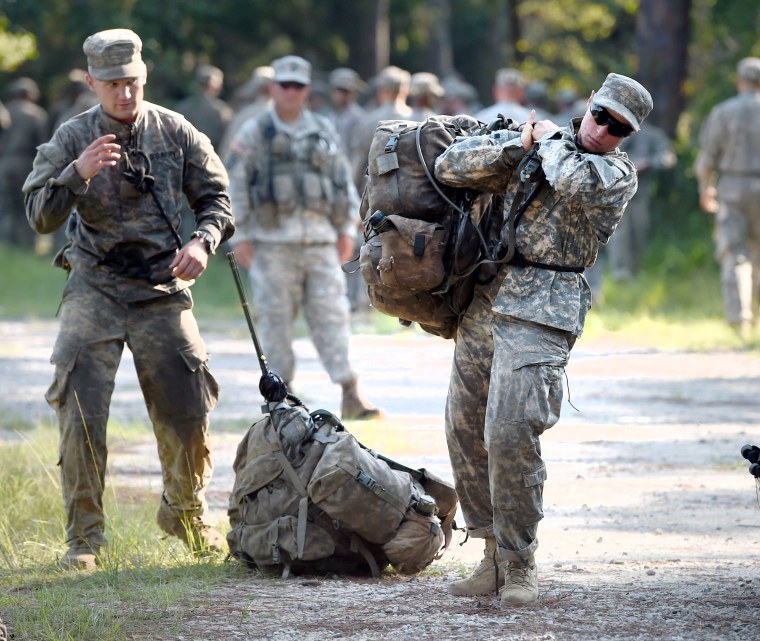 "The key is maintaining the standards," Carstens said. "To lower those standards to fit a quota is a disservice to comrades and country and could result in mission failure."
But historic barriers remain.
Unlike the 94 men who will graduate Friday, the two women won't be allowed to apply to join the join the 75th Ranger Regiment, the elite Special Operations force.
It remains closed to women.