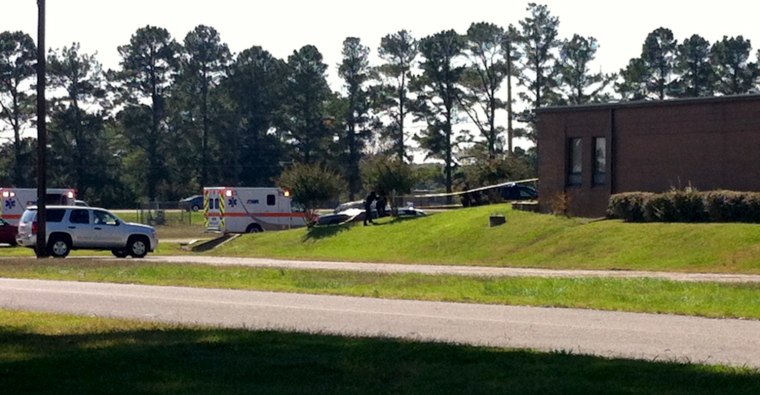 Tennessee National Guard workers managed to take down a  shooting suspect and hold him until police arrived Thursday after an argument at the Millington armory led to gunfire, authorities said.
According to a U.S. military official, three men got into an altercation at the National Guard Armory in Millington shortly before 1 p.m. local time and one pulled a small handgun. One guardsman was shot in the foot and the other in the leg, the official said.
The Navy base in Millington, Tenn., was briefly on lockdown on Thursday afternoon.
The incident did not take place on the base, the Naval Support Activity Midsouth in Millington, but at the armory, which is on Navy property.
"This is not Navy related," the military official told NBC News.
The wounds to the two victims, who were transported to the regional medical center, were not life threatening, officials said.
The suspected shooter -- who police said was apprehended by employees at the armory -- was in custody in the Millington jail, a former Navy brig.
Maj. Gen. Max Haston, Tennessee's adjutant general, told reporters Thursday evening that the suspect is a sergeant first-class, a recruiter who had worked for the guard for the past six or seven years. He did not identify him or provide a description.
The victims, a major and a sergeant major, were the suspect's superiors, Haston said. They expected to be released from the hospital soon. The two have more than 15 years of experience working for the Tennessee guard, he said.
Rita Stainback, the Millington police chief, did not provide details but did say the suspected shooter had been "taken down" when officers arrived on the scene.
Millington is a city of some 10,000 people about 9 miles north of Memphis.
The Associated Press contributed to this report.