The number of patients in Los Angeles' typhus outbreak has surpassed 100, according to figures compiled by NBC News.
The Los Angeles County Department of Public Health on Tuesday said there were 72 cases in its jurisdiction, which does not include the cities of Long Beach and Pasadena, which have their own health bureaucracies.
The latest figures for Long Beach and Pasadena obtained by NBC News, 15 and 20, respectively, bring L.A. county's total to at least 107 new typhus patients in 2018, more than half of what the entire nation usually observes in an entire year, according to the California Department of Public Health.
In the 2000s the number of patients diagnosed with typhus in Los Angeles county "did not exceed 20 cases per year," according to a county report. Observers say there's a correlation between the rise of typhus and the area's 47 percent increase in homelessness since 2012.
I'm not seeing the level of response that matches the emergency that this is."
Emily Holman, infectious disease coordinator for the Long Beach Department of Health and Human Services, said via email that there are additional cases in that city of 469,450 that were still "under investigation."
The city of Pasadena said in a statement Oct. 5 that the outbreak had reached "epidemic levels." However, since then that city has noted no new cases, public health director Michael Johnson said.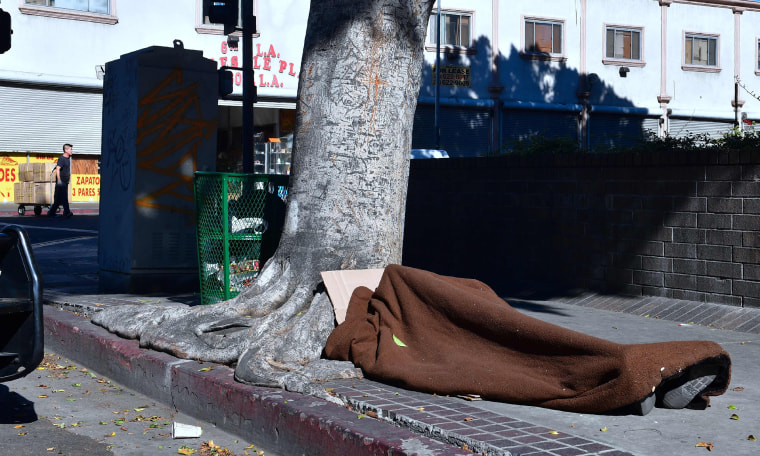 The year-to-date typhus number provided by the state of California for Los Angeles County was 98. A spokesman for the California Department of Public Health emphasized Tuesday that this is dependent on reporting from local jurisdictions.
The department also said no typhus deaths have been registered in 2018.
Nearly one in 10 area cases, according to the county's health department figures, was centered downtown, where squalid conditions in the skid row neighborhood, including piles of trash and conspicuous rats, have been blamed for exacerbating the outbreak.
The office of Los Angeles Mayor Eric Garcetti said earlier in October that it has dedicated an additional $300,000 to fortifying trash pickup, sidewalk washing and street cleaning in an area of downtown it labled the "typhus zone."
"We're deploying every available resource to help control and stop this outbreak," Alex Comisar, spokesman for Los Angeles Mayor Eric Garcetti, said at the time.
Estela Lopez, executive director of the Central City East Association, a business improvement district that overlaps with skid row, said she was informed by city officials that rat and flea eradication efforts, including spreading bug powder in the area, would begin in the days to come.
Still, she said, "I'm not seeing the level of response that matches the emergency that this is."
A typhus infection can cause headache, high fever and, in rare cases, meningitis and death. According to the L.A. county health department website, it's contracted when "the feces from infected fleas are rubbed into cuts or scrapes in the skin or rubbed into the eyes."
The L.A. County Homeless Services Authority counts 2,145 people living outdoors in the skid row neighborhood. The nonprofit research organization Economic Roundtable estimates that 102,955 homeless people call L.A. county home.
Andy Bales, CEO of the Union Rescue Mission, which has nearly 1,400 beds for the displaced, said the city and county governments can only do so much to alleviate a homeless problem that has sparked outbreaks of Hepatitis A, typhus and gang violence over the skid row drug trade.
He's calling on the federal goverment and the U.S. Federal Emergency Management Agency (FEMA) to help.
"It's a FEMA-like disaster and it needs to be treated as such," he said.