LOS ANGELES — Wholesale fish distributors, produce warehouses and homeless encampments line Ceres Avenue downtown, creating perfect conditions for rats.
Uneaten food is dumped on the street — a salad platter was recently splattered on the asphalt — and discarded clothing piles up only to be swirled into rats' nests.
Those rats, experts say, are likely contributing to the growing number of typhus infections cropping up on skid row and other parts of the region. The disease is spread by fleas, which are carried by rats, opossums and pets.
"You have constant activity that serves as a breeding ground for rats," said Estela Lopez, executive director of the Central City East Association, a business improvement district that overlaps skid row.
Los Angeles County's typhus outbreak, which began in the summer, has expanded to as many as 92 cases, including 20 in Pasadena and a possible 18 in Long Beach, where five were still under investigation by the Long Beach Department of Health and Human Services.
The average number of typhus cases the county sees in a year is 60, which itself has doubled in recent years, according to the Los Angeles County Health Department.
City officials recently declared downtown's skid row — roughly 54 square blocks where more than 4,000 homeless congregate — a "typhus zone."
"With increased rat density, diseases like typhus are very likely to occur," said Dr. Lee W. Riley, an infectious disease researcher at the University of California, Berkeley.
A typhus infection can cause high fever, headache, chills and, in rare cases, meningitis and death. It's contracted when "the feces from infected fleas are rubbed into cuts or scrapes in the skin or rubbed into the eyes," the county health department says on its website.
"We're deploying every available resource to help control and stop this outbreak," said Alex Comisar, spokesman for Los Angeles Mayor Eric Garcetti. "The city and county have formed a dedicated task force ... and we're putting new funding into intensifying cleanups in the affected area so that we can keep our streets and sidewalks safe for everyone."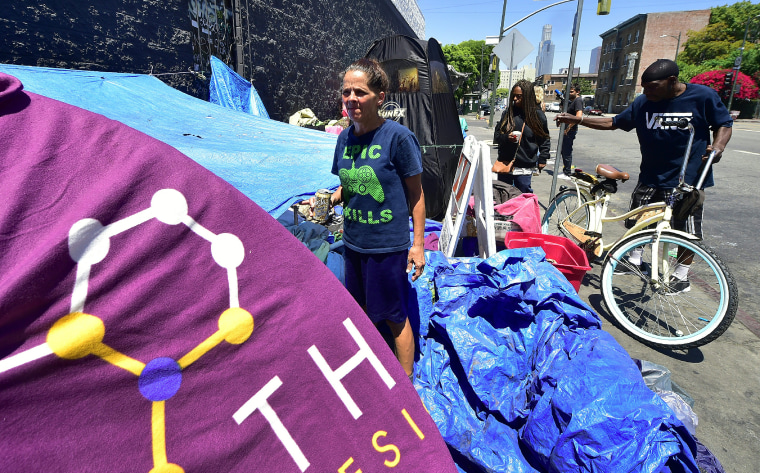 County health officials declined to comment.
Downtown's rat problem was exposed last week by NBC News' Los Angeles affiliate, KNBC, which documented piles of uncollected trash around Ceres Avenue on skid row. The station reported that despite 2,200 calls to a city help line in the last two years by people requesting trash pickup in the area, the city responded to less than half the complaints.
It's a situation Garcetti called "disgusting and it's unacceptable."
Los Angeles County Supervisors Kathryn Barger and Janice Hahn are expected to introduce a motion Tuesday that would create the Housing for Public Health program, a coordinated effort to reduce the spread of typhus and other diseases on skid row by cleaning, housing and educating the homeless.
Barger and Hahn introduced a motion last week to "seek flea collar donations that can be distributed to homeless individuals that have pets."
Lopez, of the Central City East Association, said "illegally dumping, food being discarded, accumulation of blankets and pillows, and human waste" is creating "Third World conditions."
"There's definitely an abundance of rats and roaches and horrible condition."
Jerry Jones, public policy director at the Inner City Law Center
At the Midnight Mission, which serves three meals a day to as many as 1,000 people, the scene outside its doors can be chaotic.
"If you walk out of our building, you're faced with the threat of assault, drug dealing and trash everywhere," said Georgia Berkovich, the nonprofit's director of public affairs.
Jerry Jones, public policy director at the Inner City Law Center, called the squalor and inhumanity on the streets "shocking" and "surreal."
"There's definitely an abundance of rats and roaches and horrible conditions," he said.
Social service providers say the county and city could reduce human waste by installing more 24-hour public bathrooms in an area that has only two. They also blame charities for handing out food and clothing that ends up being dumped on the spot, attracting rats.
On Saturday, nearly a dozen people from a local church handed out food on Ceres Avenue, which KNBC identified as a hot spot for rats. Volunteer Karina Dominguez-Gonzalez said the nondenominational group was careful to hand out only peanut-butter-and-jelly sandwiches in paper bags to those who asked.
She said she's seen other organizations put boxes of food "on the sidewalk, like people are going to rush in like animals."
In response to rats, trash and typhus, Garcetti recently dedicated another $300,000 to fortifying trash pickup, sidewalk washing and street cleaning in the skid row neighborhood that's home to an estimated 2,145 people living outdoors.
Each street in the area is visited by cleanup crews once every two weeks under the six-year-old Operation Healthy Streets initiative, according to Garcetti's office. But because of the typhus outbreak, the cleanups have been expanded from a nine-block area to 25 blocks, city officials said.
Nonetheless, the city's efforts are limited by litigation.
After being sued by homeless plaintiffs over the Los Angeles Police Department's sidewalk sweeps, officials agreed in 2007 to not remove people from sidewalks between 9 p.m. and 6 a.m. and to not trash a limited amount of their personal belongings.
In 2012, the rats nests, human waste and hypodermic needles got so bad on skid row that county health officials cited the city for health code violations and filthy conditions that the county later said contributed to a Hepatitis A outbreak.
The city responded by launching Operation Healthy Streets, but since then homelessness has exploded, increasing 47 percent from 2012, according to data from the county Homeless Services Authority. Many experts blame exorbitant housing costs.
The median rent for an apartment in Los Angeles is $2,483, which over 12 months comes to more than the individual median income of $29,301 for the county, according to data cited by the University of Southern California's Center for Social Innovation.
Activist "General" Jeff Page, who lives on skid row, fears the city is using the typhus outbreak as an excuse to push out the homeless and make the area more amenable to gentrification.
"They could be using typhus as a scam to rid the sidewalks of people," he said.
But there's often nowhere for them to go.
"Cities aren't willing to get their rental markets under control," said Jones, of the Inner City Law Center. "Until we build more housing, the squalor on skid row will continue."
Back on Ceres Avenue, Steve Jordan, 53, who said he's been living on the streets for two years, stood next to a tent covered by an American flag-themed blanket.
"We got wet," he said, referring to overnight rain. "I have a tent with a hole in it. Please help me, man."
A companion who identified herself as Natasha Armstrong spoke incoherently at times. She patted her bulbous belly and nodded when asked if she was pregnant.
Her fetus, she said, was "a rat in my stomach."