The United Nations has ended its campaign with Wonder Woman to promote gender equality after less than two months, DC Entertainment told NBC News on Monday — bringing to a close a venture that was loudly protested from the beginning.
DC Comics — the comics publishing division of DC Entertainment, which is part of Warner Bros. — announced plans in October for a campaign with the United Nations to promote women's advancement around the world well into 2017 — complete with a special edition of the comic book.
Courtney Simmons, a spokeswoman for DC Entertainment, said Monday that the company was "extremely pleased with the awareness" that the partnership brought to efforts to promote the rights and achievements of women and girls. Plans to release a Wonder Woman comic book next spring dedicated to the empowerment of woman and girls remain on course, she said.
"Wonder Woman stands for peace, justice and equality, and for 75 years she has been a motivating force for many and will continue to be long after the conclusion of her U.N. honorary ambassadorship," Simmons said.
Many at the United Nations, however, were uncomfortable with the promotion of a cleavage-baring woman of uncommon physical proportions in thigh-high boots as a positive image for women and girls.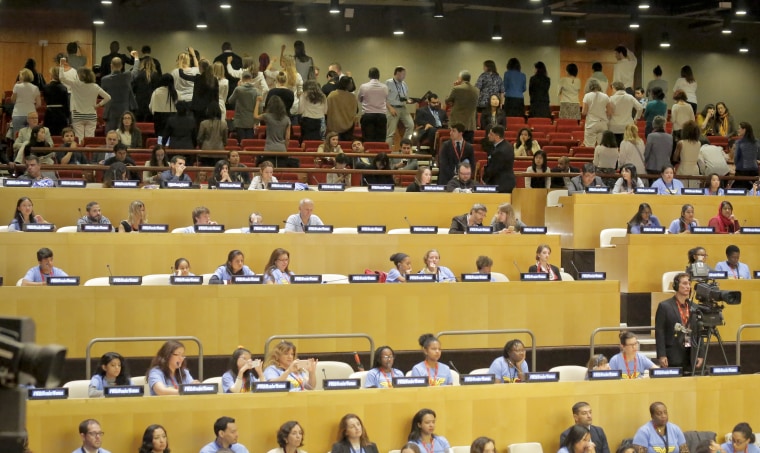 U.N. staffers silently stood and turned their backs on a presentation designating Wonder Woman as an ambassador on Oct. 21. And their online petition to fire her had reached almost 45,000 supporters by Monday evening.
"It is alarming that the United Nations would consider using a character with an overtly sexualized image at a time when the headline news in United States and the world is the objectification of women and girls," according to the petition.
"Having strong (living, breathing) female role models is a critical aspect of the goal of empowerment of women and girls," it says.
The United Nations didn't respond to NBC News' request for comment. A U.N. spokesman told Reuters that the character's role at the organization would end Friday.