Officials and heads of state from around the world were preparing for the United Nations 71st General Assembly in New York City on Sunday against a startling backdrop — an explosion on Saturday night less than two miles away that left 29 people injured and that New York Gov. Andrew Cuomo described as "an act of terrorism."
New York City Mayor Bill de Blasio told reporters on Sunday that the city's already expanded police presence — which includes a counter-terrorism unit launched last year known as the Critical Response Command — would now expand even more. The state was chipping in as well: Cuomo ordered 1,000 state police and National Guardsmen across the city.
"Now for all New Yorkers, a central message we want to give today is be vigilant," de Blasio said. "Be vigilant because the police need your help, and if you see anything that might be pertinent to this case, we need you to call it in."
President Barack Obama was expected to arrive in New York on Sunday. On Monday, he'll meet with Iraqi Prime Minister Haider al-Abadi to discuss the campaign against ISIS and Operation Conquest — the effort to take back the northern Iraqi city of Mosul.
On Tuesday, Obama will deliver his final General Assembly address, focusing on the Paris climate accord and the Middle East, among other things, said Deputy National Security Advisor Ben Rhodes.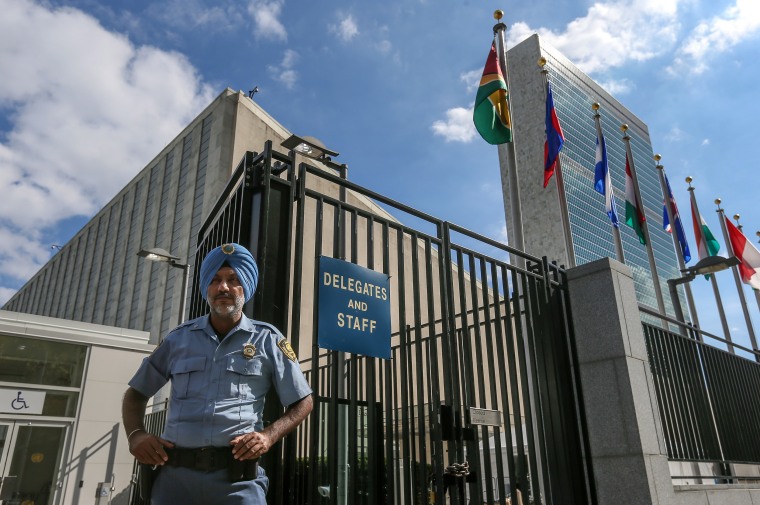 According to the UN Secretary-General Ban ki-Moon, the most pressing matter to be discussed at the General Assembly is the world's refugee crisis.
Related: U.S. to Boost Number of Refugees it Will Admit in 2017
"More countries must re-settle more people who have been forced from their homes," he said during a news conference last week. "More countries must recognize the benefits of migration. And everyone, everywhere, must stand up against the animosity that so many refugees, migrants and minority communities face."
During a summit on refugees and migrants on Monday, officials are expected to develop a more coordinated approach to protecting the world's nearly 65 million displaced people, the Associated Press reported. According to U.N. Ambassador Samantha Power, the summit will be led by Jordan, Mexico, Sweden, Germany, Ethiopia and the U.S.