Women long ago shattered the glass ceiling in the diplomatic world, but is the mother of all international organizations — the United Nations — ready for a female leader?
The answer to that question likely won't become clear until shortly before the end of the year, when South Korea's Ban Ki-Moon, 71, is scheduled to step down as secretary-general after completing his second term.
But a strong push is underway to appoint a woman to replace him, with proponents saying that selecting the U.N.'s first female secretary-general would send a message of equality that would be heard around the globe.
"For women around the world it would be such a wonderful symbol, the empowerment of women would take a huge step forward," said Jean Krasno, a professor at City College of New York's Colin Powell School and chair of The Campaign to Elect a Woman U.N. Secretary General.
The U.N.'s executive body — the Security Council — holds the keys to the secretary-general's office, as it is responsible under the U.N. charter for recommending a candidate to the General Assembly, which then votes to "appoint" the new executive. That means the U.S. and Russia, in particular, can be expected to exert considerable influence and pressure in the months remaining before the council makes its recommendation, a process that is expected to begin in late July and conclude by early September.
But there's also a new "absolutely revolutionary" wrinkle surrounding this succession, after members of the General Assembly informed the Security Council that "they want a strong voice in selecting the next secretary-general," said Krasno.
That led to creation of a process by which members can nominate candidates and could significantly change what has historically been a process decided in "always secretive meetings in the back rooms with the permanent members," said Krasno, who also teaches classes on the U.N. at Yale and Columbia universities.
The idea that the time is right for a woman to lead the U.N. has significant backing in many quarters, and no organized opposition has yet appeared.
A letter sent to permanent representatives of the U.N.'s 193 General Assembly members in December specifically recommended nominations of candidates of both genders.
"Convinced of the need to guarantee equal opportunities for women and men in gaining access to senior decision-making positions, member states are encouraged to consider presenting women, as well as men, as candidates for the position of secretary-general," it said.
So far there are seven official candidates, including three women — former Macedonian Foreign Minister Srgjan Kerim; former Croatian Foreign Minister Vesna Pusic; Montenegrin Foreign Minister Igor Luksic; former Slovenian President Danilo Turk; UNESCO Director General Irina Bokova of Bulgaria; former Moldovan Foreign Minister Natalia Gherman; and former U.N. High Commissioner of Refugees Antonio Guterres of Portugal.
But there is no formal deadline for nominations, and some observers say late entries — possibly someone with the stature of Helen Clark, U.N. Development Program administrator and former New Zealand prime minister — could significantly alter the race.
Bokova is currently considered the front-runner by many observers, both because she is highly qualified woman and hails from Eastern Europe. The second point aids her because of a practice of "regional rotation" that has been considered in selecting previous secretaries-general, dating back to the term of Boutros Boutros-Ghali from 1992-1996.
Russia's Ambassador to the U.N., Vitaly Churkin, already has made clear that Moscow believes the practice should continue, saying in September that it supports "an Eastern European woman for secretary-general."
But Thomas Pickering, who served as U.S. ambassador to the U.N. under President George H.W. Bush, said there is growing resistance to the notion of rotation.
"There are a number of people who believe, including me, that regional rotation is basically an artifact of the past rather than something that's important for the future," he said. "… The secretary general is supposed to represent all the regions of all the people of the world and act in a way that's above regional proclivities or sectional or ideological proclivities."
Whether or not "regional rotation" takes a back seat in the selection process, the U.S. can be expected to push strongly for a woman candidate, said Esther Brimmer, a former assistant secretary of state in the Obama Administration and now a professor of international affairs at George Washington University.
"The importance of women in diplomacy has been very important to this administration and to this administration's work at the United Nations," she said.
Krasno, the City College of New York professor, said the historic timing also is right.
"Maybe 10 or 20 years ago, it may not have worked because women around the world needed time to build on their empowerment to the point where they are ready to lead," she said. "But it can no longer be argued that there are no qualified women. We have chancellors, prime ministers. … There are so many talented people to choose from."
The campaign for a woman U.N. secretary general she heads will not endorse a candidate but has assembled a list of 39 worthy women candidates and plans to organize public events for any who visit New York in the coming months "so they can have a platform so that people can get to know them," Krasno said.
Russia's role in the selection process is harder to decode, but many experts say any candidate who has been critical of its foreign policy will face a big hurdle.
"I think it's unlikely to see Russia supporting a candidate that is very opposed to President (Vladimir) Putin or very opposed to many of Russia's policies over the last few years, said Rosemary DiCarlo, who served as deputy ambassador to the U.N. under President Barack Obama.
DiCarlo also said that finding a candidate acceptable to both Russia and the U.S. will be particularly difficult this time because of the two nations' complex relationship.
It will require a "good deal of discussion" and "quite a bit of compromise" to select a candidate that all sides can be satisfied with, she said.
Bokova's candidacy illustrates her point.
Russia has previously mentioned Bokova as a candidate it could live with. But UNESCO (the U.N. Educational, Scientific and Cultural Organization) has made some controversial decisions during her time at the helm, including granting Palestine full membership status, a move that prompted the U.S. to withhold funding from the organization.
That could bring a veto from the U.S., as occurred in 1996 when Washington nixed Boutros-Ghali's bid for a second term as secretary-general over his criticism of U.S. bombing of Bosnia and refusal to cut the U.N.'s budget.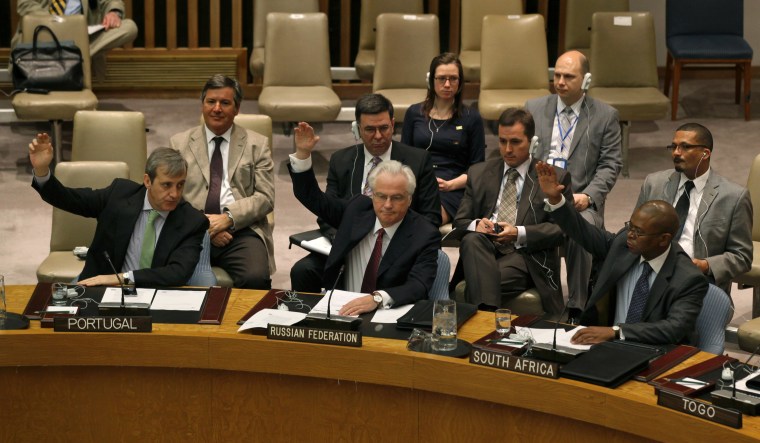 Nina Khrushcheva, a professor of international relations at the New School and the great granddaughter of former Soviet Premier Nikita Khrushchev, said that no matter how the back-and-forth in the backroom unfolds, the Russians will take the selection process very personally.
"Russians are generally thin skinned about everything," she said. "Due to (the country's) large size, there is actually a remarkable inferiority complex combined with an equal amount of superiority."
A spokesperson for the Russian Mission to the U.N. declined to comment to NBC News on whether Moscow will insist that the next secretary-general come from Eastern Europe or champion certain policies.
A U.S. Mission spokesperson said only that the Obama administration is "looking for the most outstanding candidate committed to the principles of the U.N. Charter but also capable of leading the organization in addressing today's rapidly evolving challenges and needs."