A search-and-rescue operation was underway Saturday after three Marines went missing when their aircraft crashed into the sea off the eastern coast of Australia during landing, the U.S. Marine Corps said.
While 23 of the 26 personnel aboard the Osprey heli-plane, also known as a tilt-rotor, were rescued, a flurry of small boats and aircraft searched for remaining service members.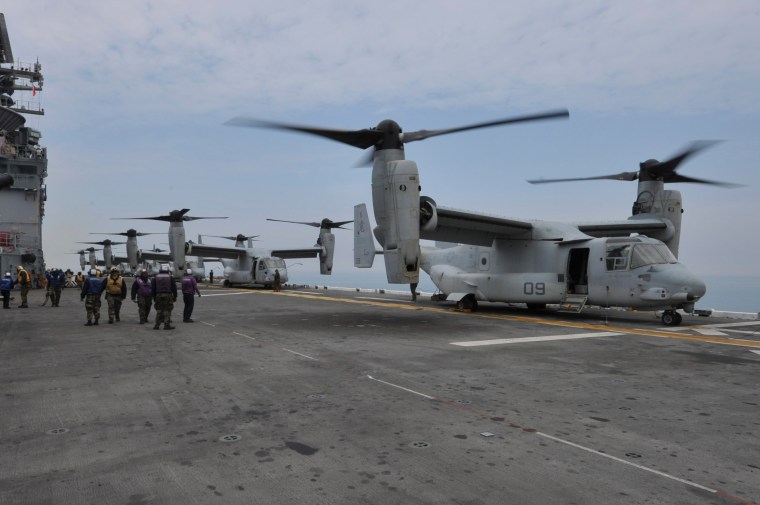 The aircraft had launched from the USS Bonhomme Richard (LHD 6) and was conducting regularly-scheduled operations when it crashed into the waters on its final approach to the USS Green Bay at 2:07 a.m. ET, NBC News learned. There were 21 passengers and five crew on board.
All went into the water with the aircraft.
Vessels and aircraft from the 31st Marine Expeditionary Unit and the Bonhomme Richard Expeditionary Strike Group immediately responded and were taking part in the rescue operation.
Rigid hulled inflatable boats from the USS Green Bay and an MH-60 Seahawk helicopter from the USS Bonhomme Richard began an immediate search.
Related: Death From Above: Air-Related Crashes Tear at Marines
By 3 a.m. ET, 23 marines were recovered safely, including one person with a non-life-threatening injury who was later medevaced to shore for treatment.
The USS Green Bay Flight deck was damaged and left inoperable.
The aircraft involved was described as a MV-22 and was assigned to the Marine Medium Tiltrotor Squadron 265 of the 31st Marine Expeditionary Unit.
Australian Defense Minister Marise Payne said no Australian defense force personnel were on board the aircraft.
She added that Australian Prime Minister Malcolm Turnbull had been briefed on the situation and had spoken with Secretary of Defense James Mattis.
The aircraft was in Australia for a joint military training exercise held by the U.S. and Australia last month in Shoalwater Bay. The Talisman Sabre exercise, a biennial event between the two nations, involved more than 30,000 troops and 200 aircraft.
At the time of Saturday's incident, the weather was described as good. The next of kin for the three missing Marines have been notified.
President Donald Trump, who was on a 17-day "working vacation" at his New Jersey golf club, was briefed Saturday morning on the crash by chief of staff John Kelly.
The Osprey, which lands like a helicopter but flies like an airplane, has been involved in a number of crashes in recent years and has had a checkered history.
In 2015, a U.S. Osprey crashed during a training exercise in Hawaii, killing two Marines. Last December, a U.S. military Osprey crash-landed off Japan's southern island of Okinawa. Its five crew members were rescued safely. And in January, three U.S. soldiers were wounded in the "hard landing" of an Osprey in Yemen.
The Marines began training in the aircraft 15 years ago. In its deadliest incident, 19 Marines were killed in April 2000 while trying to land during a training exercise in Arizona.
It later earned the unceremonious nickname of The Widowmaker.
CORRECTION (Aug. 5, 2017, 2:19 a.m.): An earlier version of this article misstated the type of crashed aircraft. It is a U.S. Marines aircraft, not an Army aircraft.