There was chaos in the U.S. Capitol Complex on Monday when police shot and wounded a suspected gunman in the visitors center.
The entire complex was immediately locked down as police raced inside and terrified tourists ran for cover.
"Police appeared out of everywhere and they were screaming, 'Run for it! Run for it! Run up that ramp!'" said witness Jill Epstein.
The shooting occurred shortly after 2:30 p.m. after the man set off an alarm while going through a metal detector and "drew what appeared to be a weapon and pointed it at a police officer," Capitol Police Chief Matthew Verderosa said.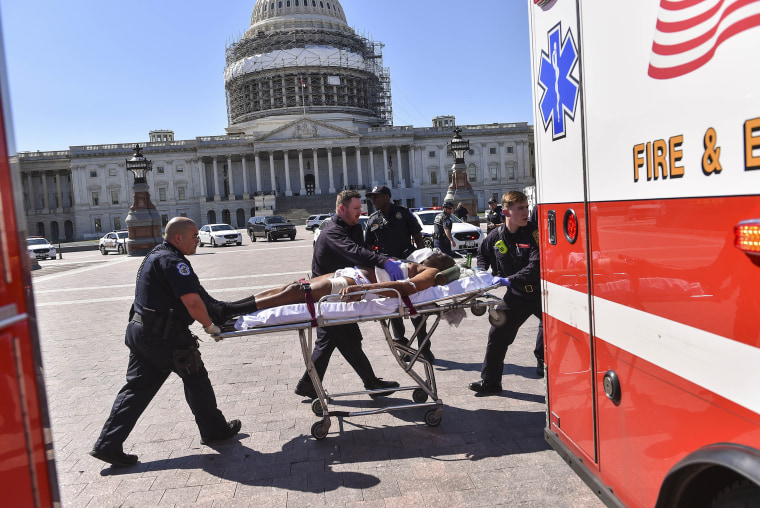 The gunman was immediately shot by a police officer, Verderosa said. He was undergoing surgery and his condition was not known, the chief added.
"We believe this is the act of a single person who has frequented the grounds of the Capitol before," Verderosa said.
The suspect was later identified as 66-year-old Larry Russell Dawson, from Antioch, Tenn. Sources said he had a realistic looking pistol-type pellet gun.
Late Monday, police announced that Dawson was charged with assault with a deadly weapon and assault on a police officer while armed. He was listed in stable but critical condition and will be arraigned when he is released, the Capitol Police said in a statement.
In October, Dawson was charged with disrupting a proceeding of the House of Representatives after he shouted about being a "prophet of God," sources told NBC News. He is also believed to have a history of mental health issues, the sources said.
Tennessee licensing records indicate Dawson is a former funeral director and embalmer.
Verderosa said a female bystander between the ages of 35 and 45 was also injured. He did not say how or what her condition was. Nor did he identify her.
The lockdown was lifted at 3:40 p.m and the "suspect's vehicle has been located on Capitol Grounds and will be cleared of all hazards and seized," the Capitol Police said in a statement.
Congress is currently in recess so lawmakers were never in any danger.
Epstein, executive director of the California Association of Marriage and Family Therapists, said she wandered over to the visitors center to "kill time" before a scheduled meeting with Sen. Barbara Boxer, D-California, when all hell broke loose.
"As we were literally going through the metal detectors, people started screaming, 'Get out! Get out!'" she said. "We didn't know which way to run. We ran out and they told us to get against the wall, so we were crouching against the wall outside the visitors center."
Epstein said the was struck by the jarring contrast between the chaos in the visitors center and the city outside.
"It was surreal," she said. "It was so beautiful out and the cherry blossoms are in bloom and people are running for their lives."
Ashley Rogers, 29, of Virginia, said she and her family were about to enter the tunnel to the visitors center when they saw a female police officer rush past with her hand on her weapon.
"We were like, 'Oh no'," she said. "And that's when police came out of every corridor. They were swarming the place and heading in the same direction she was and telling us to get out of the building."
Rogers said she, her husband McKay, and his mother, quickly scooped up their kids — Eva, 3, and Gabriel, 6 — and fled to the cafeteria beneath the Longworth Building.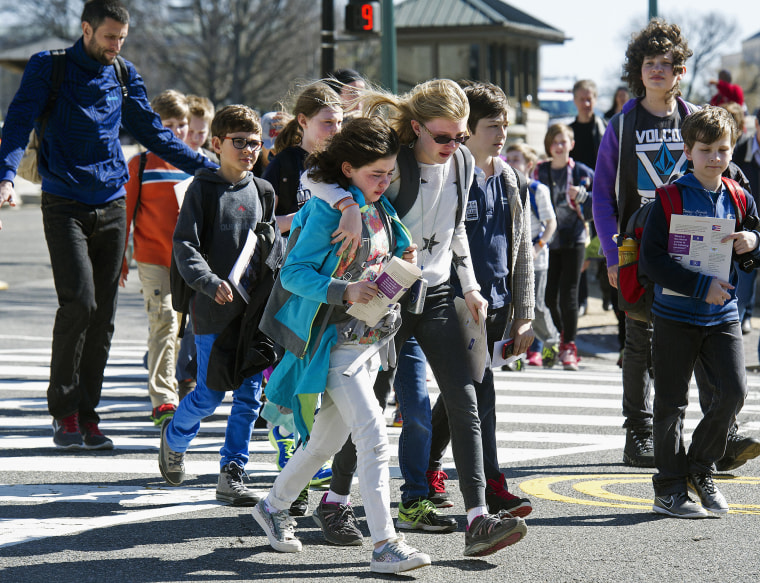 "There were lots of kids who were in there and who were crying and scared," she said.
Each year, an estimated three to five million from around the world visit the complex.
"Today we are reminded of the courage and daily sacrifice of the United States Capitol Police," House Speaker Paul Ryan (R-Wisconsin) said in a statement. "This evening our thoughts and prayers are with all those who faced danger today."