In the early morning hours of July 18, Mahmood Salem told his family over the phone that he had a gun in his hand and was going to kill himself.
The Yemeni U.S. citizen had called his family after turning off the lights, locking the doors and flipping the sign to closed at Fat Boys grocery store in Crowley, Louisiana, his family said. From his apartment in the back of the store, Salem, 31, phoned his wife and five children who were living in Djibouti on the east coast of Africa. Salem's three youngest kids are U.S. citizens, but his wife and two oldest are not — and they were denied visas under President Donald Trump's travel ban.
Salem was one of thousands of Yemeni-Americans separated from non-U.S. citizen family members by the presidential proclamation. The travel ban blocks immigration from seven countries, including business, visitor, lottery, or family reunification visas for Yemenis. In effect since December, the ban was upheld by the Supreme Court in June.
During his last phone call with his family in Djibouti, relatives said Salem told them he didn't have enough money to support them in Djibouti, where rent can be six times higher than in Yemen. Salem's brother said he borrowed $7,000 from family but still couldn't make ends meet. Meanwhile, Salem's children were sick, plagued by bug bites and rashes due to Djibouti's hot climate.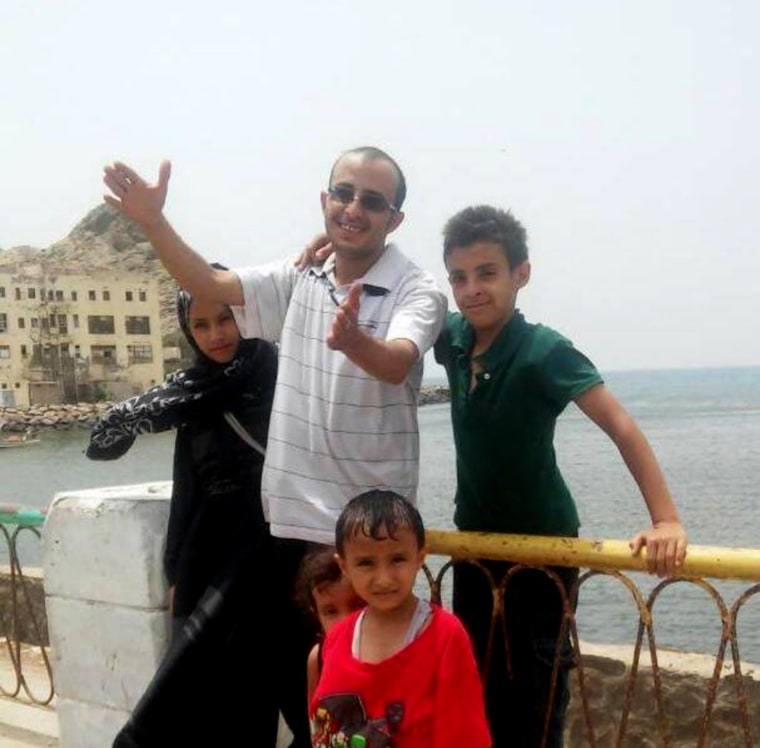 When Salem told his wife and kids he wanted to kill himself and hung up the phone, the family called back again and again with no answer, his brother said. Abdulrahman Ahmed, Salem's employer and childhood friend, told NBC News he received a frantic call from Salem's 14-year-old son asking him to go check on his father.
Ahmed found Salem at 3:30 a.m. in his room: He had died by suicide, fatally shooting himself. A shocked Ahmed told police Salem's only problem was trying to support and reunite with his family since war erupted three years ago in Yemen.
Salem's relatives and friends said there's no evidence he had mental health issues.
"We have a good relationship with each other. We don't have any problems. We had spoken with him, we never thought it would happen," said his older brother Mimun Salem, who lives in Michigan.
Mimun Salem said maybe his brother was lonely staying with friends in Louisiana since the beginning of this year, but believes the main motivation for his suicide was the denial of his family's visas under the travel ban six months ago.
"I'll say it's the first and main reason. Maybe there is other stuff, but I could give it 90 percent," Mimun Salem said. "He cannot bring them here and at the same time, he cannot take them back to Yemen because it's war."
As U.S. immigration policy divides families, Salem's death isn't an isolated case: In May, a Honduran father separated from his wife and child killed himself while in detention. Research reveals that immigration stress can escalate mental health risks.
Mona Amer, president of the American Arab, Middle Eastern, and North African Psychological Association, told NBC News that immigrants must overcome past trauma, leave support networks and adapt to a new culture where they may meet discrimination. These issues make them more likely to face depression, anxiety, insecurity and fear, she said.
After the travel ban, stress escalated for Yemeni-Americans with families caught in Yemen's war. Salem's father and grandfather are U.S. citizens, and he had lived in the U.S. since 2003. He married in Yemen and waited until 2013 to apply for his family's visas — something his brother said he regretted when war broke out.
In early 2015, the Iranian-backed Houthi rebel group ousted the Yemeni government. A Saudi Arabian-led coalition began a bombing campaign against the rebels armed by Western powers, including the U.S.
In the past three years, at least 10,000 Yemeni civilians have died, the United Nations calculates. More than 8 million people are at risk of starving. A cholera epidemic has infected 1 million and killed thousands. Boys as young as 11 are being recruited to fight.
To escape the war, Salem moved his family in 2016 to Djibouti, the location of the nearest U.S. Embassy. After the family's interview last November, they received visa approvals. They were elated, but their visas weren't processed before the travel ban went into effect a month later. In January, the visas were denied — triggering despair.
The State Department said it was prohibited from commenting on individual visa cases.
"Missions abroad are constantly reviewing their procedures and practices to ensure visa adjudications are made consistent with the law," a State Department official wrote in an emailed statement, adding that the embassy in Djibouti "is reviewing waiver eligibility of applicants whose visas were refused under" the travel ban.
Dr. Debbie Almontaser, one of the founders of the Yemeni American Merchants Association, said economic and emotional stress caused by the ban and war has drained the community.
"The fear tactic that many are feeling has made them feel very isolated," Almontaser said. "They're not going to mosques and community gatherings and they are really afraid."
Salem was one of them.
Five days after his suicide, the government issued waivers for his family. Waivers are exemptions from the travel ban granted if the government decides that the denial of visas would cause undue hardship, their issuance are in the U.S. interest and the applicants don't pose security risks.
"The only visas that are getting issued are extreme cases that hit the media," said Julie Goldberg, an American lawyer with an office in Djibouti. In June, Goldberg won a class action lawsuit in federal court to reissue visas for Yemenis in Djibouti, like Salem's family, who had theirs revoked after the travel ban.
"It shouldn't be a tragedy that happens in order for someone to get a waiver," Goldberg said.
A week after Salem died on July 18, his family stepped onto U.S. soil — too late to attend his funeral.
If you or someone you know wants to speak with a mental health professional, call the National Suicide Prevention Lifeline at 1-800-273-8255.