The federal government will no longer provide heavy military equipment like tanks and grenade launchers to local cops following weeks of backlash against officers who confronted protesters in Ferguson, Missouri, in armored vehicles and camouflage last year, President Barack Obama said Monday.
And if they want other, less-imposing military equipment, local law enforcement agencies will have to submit to stringent federal oversight and restrictions, according to the White House.
"We've seen how militarized gear can sometimes give people the feeling like there's an occupying force — as opposed to a force that's part of the community that's protecting them and serving them," the president said Monday, adding that such gear "can alienate and intimidate residents and make them feel scared."
Obama outlined the reforms during a visit to Camden, New Jersey, for years one of the most dangerous cities in America but a place the president highlighted as having made great strides in reducing violent crime and building trust between law enforcement and the community.
Camden accomplished this, the president said, by doubling the size of its police force, moving more officers out into the community to set up basketball games and visitING schools and businesses. The city is also participating in a police data initiative that, for example, could help localities track incidents of police force.
If such an effort can work in Camden, "it can work anywhere," the president said.
The president's remarks are part of a recent series of comments Obama has made underscoring the nation's need to do some "soul searching" on such issues as race, poverty and the strained relationship between law enforcement and the minority communities they serve.
The president said a community task force on policing that the White House convened suggested restricting providing military-style equipment to local law enforcement from the federal government. The recommendations also included enhanced officer training, improving the use of body cameras and other technologies.
A White House official told NBC News that the Justice Department is seeking to strike a balance by making only appropriate equipment available, and with clear operating standards, training and safety procedures.
The measures are the followup to an executive measure Obama issued in January to crack down on the intimidating image presented by local agencies patrolling the streets bristling with advanced military weaponry.
RELATED: Did Ferguson Cops Fuel Mob Psychology by Donning Battle Gear?
The controversy was fueled when Ferguson police took to the streets in camouflage with military gear after the police shooting of 18-year-old Michael Brown, who was unarmed. But complaints about paramilitary-style equipping of local police have been widespread at least since protests over the World Trade Organization exploded into riots in Seattle in 1999.
Local law enforcement agencies have been eligible to receive surplus military equipment through a Defense Department program enacted in 1997.
Some in Congress have been very reluctant to cut back on the equipment because of the program's popularity with many police departments, and previous legislation stalled.
Sen. Claire McCaskill, D-Missouri, and Rep. Lacy Clay, a Democrat whose Missouri district includes Ferguson, applauded the White House's actions. The lawmakers have introduced a measure aimed at reducing excessive police force.
"Our bill directly addresses the excessive militarization of local police, which I witnessed first-hand in Ferguson," Clay said in a recent statement before the White House's announcement.
RELATED: 'Militarized' SWAT Teams Under Scrutiny as Toddler Recovers From Grenade
The equipment that's being banned Monday includes tanks and other tracked armored vehicles, weaponized aircraft and vehicles, firearms and ammunition measuring .50-caliber and larger, grenade launchers and bayonets, the Justice Department said.
Restrictions and conditions will be put on other types of equipment — including armored tactical vehicles like those used in Ferguson, as well as many types of firearms, ammunition and explosives.
The conditions are likely to rankle some local agencies.
Besides having to give the feds a "clear and persuasive explanation of the need for the controlled equipment," local law enforcement agencies won't be eligible unless they've adopted what are known as General Policing Standards. Those include so-called community policing programs, with foot cops on the beat interacting with the public and regular consultation with community groups — a different approach from the "zero tolerance" policies adopted in recent years by many big-city police agencies.
Algonquin, Illinois, Police Chief Russell Laine, president of the International Association of Police Chiefs, said adopting community policing philosophies "allows law enforcement agencies to develop a partnership with their community to create a safer environment while combating traditional crimes, supporting homeland security and providing services to our community."
But their adoption has been slow in many police departments.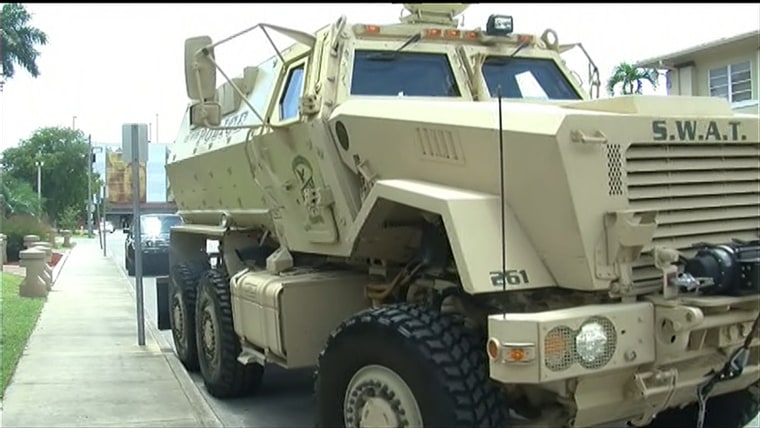 In December, a month after a Cleveland officer shot Tamir Rice, an unarmed 12-year-old African-American boy, a Justice Department report heavily criticized the city for having inadequately implemented community policing, resulting in what it called a "level of distrust between the police and the community [that] interferes with CDP's ability to work the various communities it serves."
And in its investigation of Ferguson police in March, the Justice Department said the abandonment of community policing principles had "resulted in practices that not only violate the Constitution and cause direct harm to the individuals whose rights are violated, but also undermine community trust, especially among many African Americans."
RELATED: Ferguson Mayor Defends Police Reaction to Michael Brown Protests
Agencies in more conservative communities suspicious of federal authority may have a particular problem with the new rules. Another primary condition of getting military equipment will be acceptance of close federal oversight and monitoring overseen by a new federal agency with the power to conduct local compliance reviews.
They'll also have to collect and retain data whenever such equipment is involved in a "significant incident" and make those data available to the federal government and, in some cases, the public.
One of the things the new agency will specifically be looking for, according to the White House: "protection of civil rights and civil liberties."
Halimah Abdullah of NBC News contributed to this report.