A bizarre diplomatic disagreement erupted Wednesday when the Kremlin insisted that relations between Russia and the U.S. had all but ceased, prompting Washington to provide evidence rebutting that assertion.
"Almost every level of dialogue with the United States is frozen," Kremlin spokesman Dmitri Peskov told a state-sponsored news agency. "We don't communicate with one another, or (if we do), we do so minimally."
Officials at the U.S. State and Defense departments quickly refuted that notion by releasing information about recent, high-level contacts between the two governments.
Watch Cynthia McFadden on NBC Nightly News with Lester Holt for More
"Dialogue has not been broken," State Department spokesman John Kirby told reporters, noting that Secretary of State John Kerry spoke on the phone Tuesday with Russian foreign minister Sergei Lavrov after a meeting on Syria in Moscow.
The Pentagon, meanwhile, issued a statement about a video conference between Russian and U.S. defense officials to discuss de-conflicting military flights on Syria.
The call was co-chaired by Acting Assistant Secretary of Defense for International Security Affairs Elissa Slotkin and Air Force Maj. Gen. Richard Clarke, a senior planner at the Joint Chiefs of Staff, Pentagon spokesman Peter Cook said.
"The video conference was the latest in a continuing dialogue with the Russian Defense Ministry under the memorandum of understanding for the safety of flight in Syria," Cook added, "to ensure that each side continues to adhere to agreed-upon measures to mitigate incidents in the air."
Michael McFaul, who was U.S. ambassador to Russia from 2012 to 2014, put the bulk of the blame for strained relations on Russia. "They've annexed Crimea, they supported separatists in Ukraine, they are fighting a war to support Assad in Syria and then punctuating it all, they've interfered in our presidential elections," said McFaul, now a professor at Stanford University. "Of course Americans should distrust the Russians right now, and it's incumbent upon the Kremlin to change that dynamic moving forward."
Related: What the U.S. Said to Russia About Election Hacks
On Monday, NBC News reported exclusive details about a rare and highly classified communication between the two countries that occurred just days before the U.S. presidential election — the U.S. use of the so-called Red Phone system to warn the Kremlin against interfering in the vote.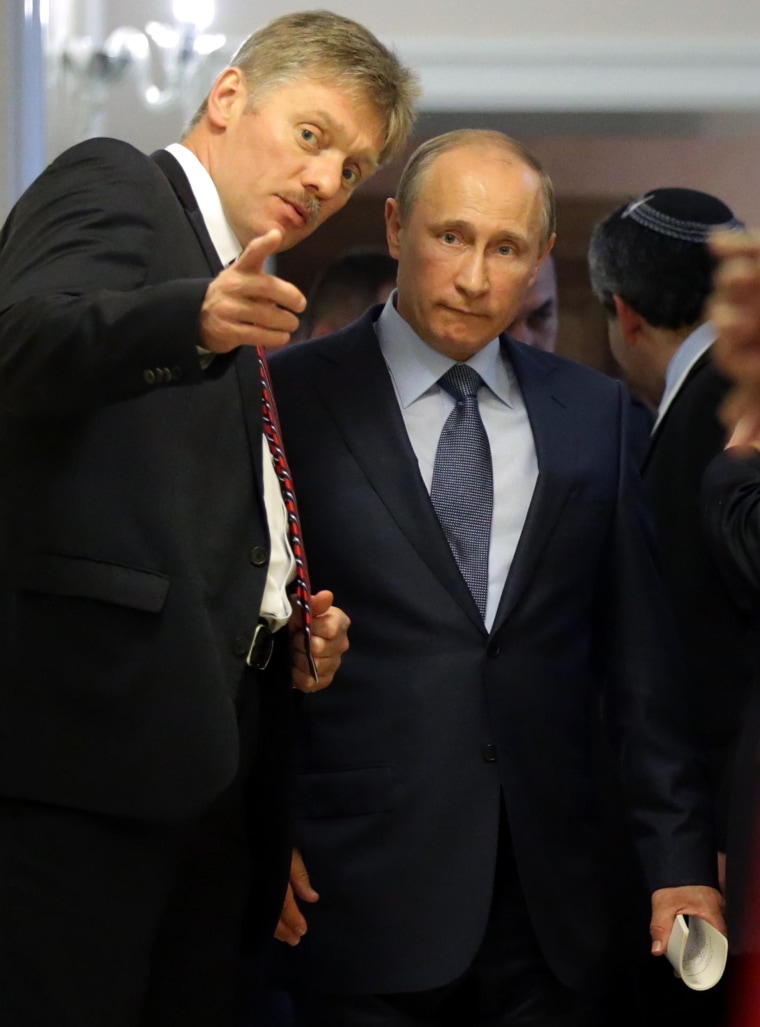 Peskov also confirmed that the Kremlin had indeed heard from the White House using the secure system, which was set up in its original form after the Cuban Missile Crisis.
According to a senior U.S. intelligence official, part of the message read:
"International law, including the law for armed conflict, applies to actions in cyberspace..."
"We will hold Russia to those standards."
Related: Why Obama Didn't Do More About Russian Hacks
At least one of President Obama's senior advisers urged him to warn the Russians that any tampering on Election Day would be considered an act of war. The president declined — concerned that such a threat would go too far.
But a senior intelligence official told NBC News, in his opinion, the message ultimately sent to the Kremlin was "muddled."
The Russians seem to agree.
"We were never able to get any cohesive explanation of these accusations, any concrete facts or anything. So these accusations are completely baseless and not backed by any arguments," Peskov said.
Obama administration officials told NBC News the White House believes its message was clear and effective and ensured there was no Russian meddling on election day.
"There was nothing muddled or ambiguous about that message," one official said. "It was about as clear as it could be."
Related: FBI Agrees With CIA Assessment That Russia Wanted Trump to Win
Russia denies U.S. intelligence assertions that its spy agencies hacked into the Democratic Party as a way of interfering with the American election. There is little doubt that the flap over the matter has inflamed tensions between the two powers.
"Our bilateral relations are currently accompanied by extreme distrust," Peskov said. "And President [Vladimir] Putin has consistently advocated for ending this state of relations."
State Department spokesman Kirby said: "Certainly on the major issues and the issues that matter most there continues to be dialogue, so I'm just not really sure what to make of these comments. They certainly are not reflective of how we see communications between Moscow and Washington."
Abigail Williams contributed to this report