WASHINGTON — American citizens will soon be banned from traveling to North Korea after the U.S. State Department announced on Friday it would be issuing a "geographical travel restriction."
Heather Nauert, a spokeswoman for the State Department, said a Federal Register notice would be published next week and 30 days after the notice is published, the restriction will become active.
"The safety and security of U.S. citizens overseas is one of our highest priorities," Nauert said. "Due to mounting concerns over the serious risk of arrest and long-term detention under North Korea's system of law enforcement, the Secretary has authorized a Geographical Travel Restriction on all U.S. citizen nationals' use of a passport to travel in, through, or to North Korea."
Exceptions to the travel restriction can be made for "certain limited humanitarian" reasons, according to the statement. However, U.S. citizens seeking to travel for an acceptable reason will need to apply to the State Department for a special passport.
The new restrictions come a month after the death of Otto Warmbier, a U.S. college student who passed away after falling into a coma while imprisoned in North Korea.
Secretary of State Rex Tillerson previously floated the idea of travel restrictions to the reclusive nation during testimony last month before the House Foreign Affairs Committee.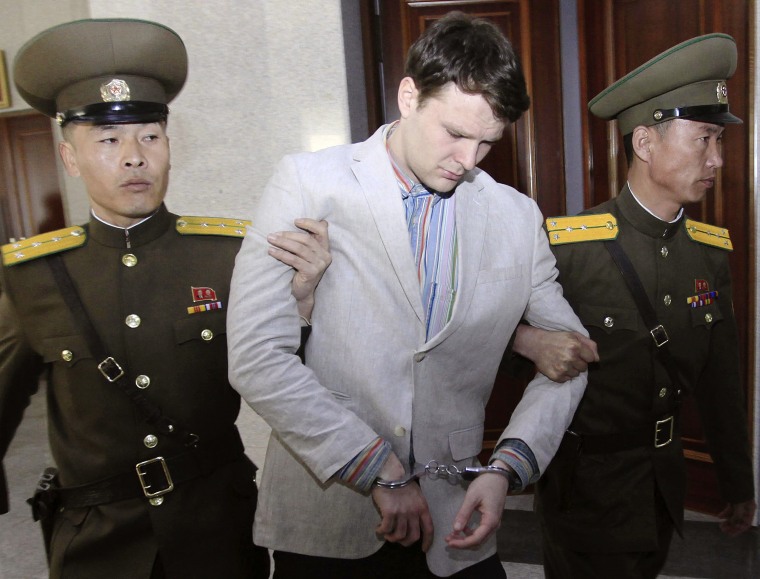 "We have been evaluating whether we should put some type of travel visa restriction to North Korea," Tillerson told the committee. "We've not come to a final conclusion, but we are considering it."
Warmbier died on June 19, less than a week after he returned to America following more than a year in custody for trying to steal a North Korea propaganda banner from his Pyongyang hotel. Warmbier, whose cause of death remains unclear, was sentenced to 15 years in prison with hard labor and was sent home after 17 months.
Related: How Tour Operators Sell Unrest, Crises to Travelers
A day after Warmbier's death, Nauert said "we are contemplating" further travel restrictions.
The group that arranged Warmbier's visit, Young Pioneer Tours, said they would no longer bring Americans to North Korea because the risk "has become too high."
On Friday, Young Pioneer Tours wrote on its website that, "We have just been informed that the U.S. government will no longer be allowing U.S. citizens to travel to the DPRK (North Korea). It is expected that the ban will come into force within 30 days of July 27."
Another tour group, Koryo Tours, also said in a statement that the U.S. government will introduce a travel ban that will take effect in late August. "This news has been expected but nevertheless is something of a shock, and we're sorry for anyone who had planned a trip or who had hoped to visit and who now will not be permitted to do so," the group said on its website.
Related: North Korea Crisis: How Events Have Unfolded Under Trump
The secretary of state has discretion to impose travel restrictions on specific countries if one of the three following conditions exist: the country is at war with the United States; armed conflict exists within the country; or an American traveler faces imminent danger in the country.
The ban would be implemented through what is known as a Geographic Travel Restriction making all U.S. passports invalid for travel in, or through, a specific country. There are currently no such restrictions in place.
The use of such restrictions dates back to the Civil War but more recently were imposed for Iran (1980-1981), Lebanon (1987-1997), Iraq (1991-2003), Libya (1981-2004) and Cuba (1963-1977). It has been rare that individuals violating such a restriction have been prosecuted.