Bleary eyed sports fans in the U.S. stayed up well past their bedtimes — or woke up before dawn — to catch a first glimpse of pandemic era competitive baseball on TV early Tuesday.
With virtually all pro sports on a coronavirus-forced timeout, competition-starved Americans welcomed the NC Dinos and Samsung Lions of South Korea on to their screens, via ESPN, in a potential preview of what MLB games could resemble if it returns in 2020.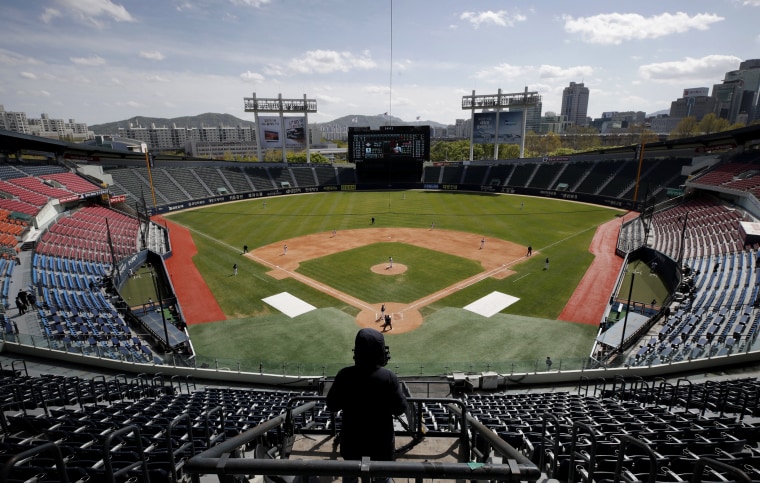 ESPN announced Monday it had struck a deal to televise six Korea Baseball Organization games a week to baseball-craving Americans.
South Korea and Taiwan had been widely praised for their aggressive public-health efforts to combat COVID-19, and not so coincidentally they're the only two nations now staging pro baseball.
The most obvious and jarring visual of Tuesday's 1:30 a.m. ET Dinos-Linos game in the southeast city of Daegu — beyond seeing uniforms without "Red Sox," "Cubs," "Dodgers" or "New York" on them — was the empty Samsung Lions Park, without a shred of Opening Day color or pageantry.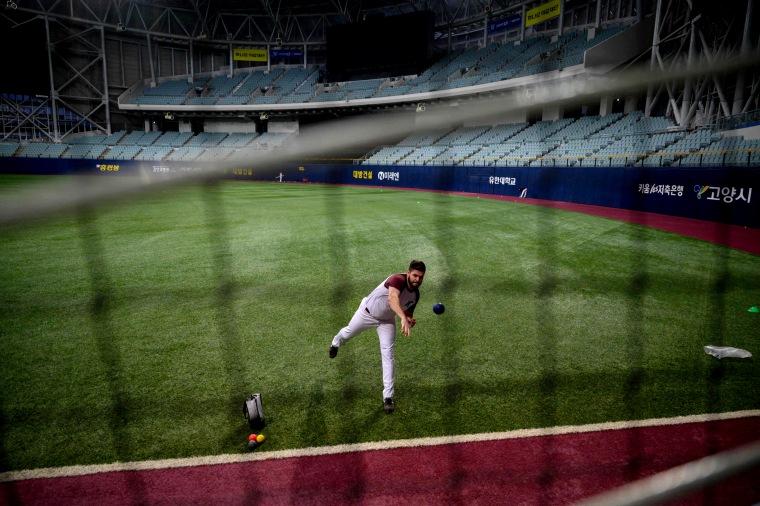 At another opening day game, this one in the northwest city of Suwon-si, the ceremonial first pitch of the KT Wiz was from a 9-year-old boy inside a plastic bubble done up to look like a baseball, rolling himself from the pitcher's mound to home plate.
It was a safe, socially distant journey of nearly 60 feet, 6 inches.
ESPN's Karl Ravech and Eduardo Pérez did the play-by-play and commentary of the Dinos and Lions from thousands of miles away in the U.S., safely locked inside their own homes in the middle of the night.
Understandably and through no fault of their own, the veteran broadcasters verbally stepped on each other throughout the telecast and struggled through other technical issues.
Handshakes and spitting, the latter a vulgar but well-accepted element of America's pastime, were supposed to be banned — or at least heavily discouraged — from the Korean game to keep everyone safe.
But the expectoration of saliva on the diamond could not be avoided on Tuesday.
Congratulatory fist bumps, high-fives and pats on the back were on full display throughout the KBO action.
Gamblers will be getting their risk-taking fix via overseas baseball.
FanDuel takes bets for Taiwan's Chinese Professional Baseball League in Colorado, New Jersey, West Virginia and Pennsylvania. KBO wagers, via FanDuel, are accepted in all those states, plus Indiana, and daily fantasy games on Korean baseball are available nationwide.
Rival DraftKings is also conducting Korean baseball fantasy games nationwide and taking KBO and CPBL bets in Colorado, Iowa, New Hampshire, Pennsylvania, Indiana, West Virginia and Jersey.
Noted British bookmaker William Hill is taking bets on both Asian leagues in Nevada and Jersey and accepting wagers on Korean baseball in Iowa.
A host of potential restart plans for MLB, based mostly on anonymous industry sources, have been floated in recent weeks. Virtually all of them call for empty stadiums, like what was seen in Korea on Tuesday, and quarantined players.
The fans who traded American REMs for Korean RBIs said they were grateful for any live baseball, even half a world away with players they had never seen before.
"For me, watching a baseball game where I didn't already know the outcome was very exciting. It was also fun to learn about baseball in another culture," Jeremy Shermak, a professor in the communications Department at Cal State Fullerton, told NBC News.
"There are differences, but in the end, it is still the game that is so familiar that we love."
Shermak said he was surprised how much he enjoyed the most boring details of a typical baseball game.
"I appreciated the rather mundane moments, like pick off attempts, walks and visits to the mound," he said. "The only baseball I've watched lately were replays of these epic games. It was nice to take a breath. It wasn't boring. It was peaceful."
Another night owl baseball fan, James Hatten, on faculty at the University of South Florida, observed via Twitter: "I don't know any of these guys but I'm loving it."