The House of Representatives on Wednesday passed a bill that would authorize grants to train students, law enforcement and teachers to identify the signs of school violence before it occurs.
The 407 to 10 vote was held exactly one month after a gunman opened fire on Marjory Stoneman Douglas High School in Parkland, Florida, killing 17 people on Valentine's Day.
Photos: Students demand action on gun violence in nationwide school walkouts
The "Students, Teachers, and Officers Preventing (STOP) School Violence Act of 2018" would authorize $50 million annually in grants to strengthen school security, pay for "school threat assessment" teams to train students and staff to report threats and other measures over 10 years.
The bill passed by the House does not include provisions to arm teachers, which is something that President Donald Trump has called for.
Both the NRA and the gun-reform group Sandy Hook Promise, which is led by some parents of children killed in the 2012 elementary school shooting in Newtown, Connecticut, praised the House passage of the bill.
A similar bill has already been introduced in the Senate.
Nicole Hockley, managing director of Sandy Hook Promise, said on Twitter that the bill "doesn't solve everything, but is an important step in preventing all forms of violence" in schools.
The group's co-founder, Mark Barden, said in a statement that "We were proud to work with the champions of this legislation to pass this bill that will ensure millions more students will be trained to know the signs of violence and lives will be saved."
"This important bill will help stop school violence before it happens," said Chris W. Cox, executive director, National Rifle Association's Institute for Legislative Action, in a statement. "Identifying individuals at risk for violence is a critical part of securing our schools. This bill will give communities the tools they need to stop school violence through early intervention."
Sen. Orrin Hatch, R- Utah, who helped introduce the Senate version of the bill, hailed the House passage Wednesday, and said on Twitter "Now let's pass it in the Senate!"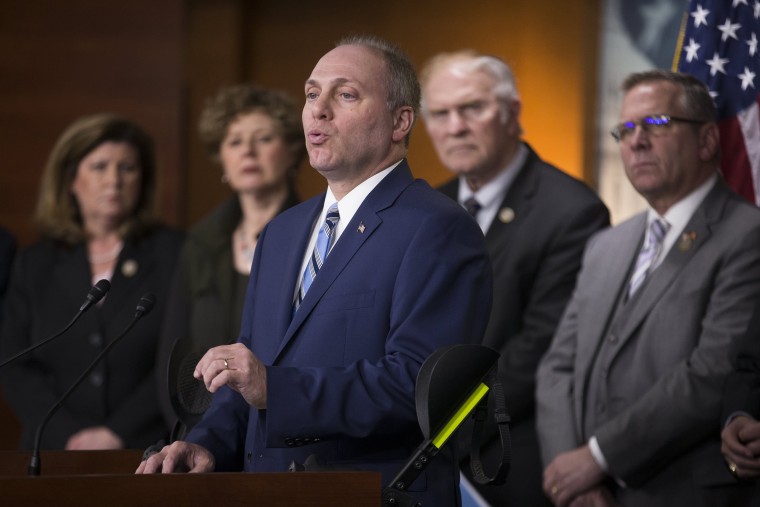 House Majority Whip Rep. Steve Scalise, R-Louisiana, who was shot and seriously wounded when a gunman opened fire on a Republican congressional baseball team practice in June, noted missed signals by law enforcement before the shooting at the high school in Parkland, which included a tip that the FBI said was not properly acted upon.
"When so many students knew this was going to happen, I think the thing that irritates people the most is that something wasn't done to stop it before it did happen," Scalise said Wednesday after the vote. "And we need to focus on stopping those tragedies before they happen."
The White House said in a statement that President Donald Trump applauded the House passage of the bill: "This legislation helps protect our Nation's youth and educators by authorizing State-based grants that will support evidence-based violence prevention programs."
The House bill passed on the same day that thousands of students across the country staged walkouts to protest gun violence and call on Congress to do more to protect children.
The Parkland school shooting has prompted calls for tougher gun control laws around the nation, and Florida last week passed a bill raising the age to buy most firearms to 21 — but also allowing for the arming of some teachers.
The alleged gunman in the Parkland school shooting, 19-year-old Nikolas Cruz, used an AR-15 rifle that he purchased legally, authorities have said. Some survivors of the Marjory Stoneman Douglas High School shooting have called on assault-style weapons like the one used to be banned.
Trump last month had raised the idea of upping the age for buying semi-automatic firearms to 21, but the White House did not call on Congress to increase the federal age limit a in a policy paper released Sunday. Instead the White House said a commission chaired by Education Secretary Betsy DeVos would further study that issue.
Related: Gun violence: What Trump said vs. what Trump did
Federal law already prohibits licensed firearm dealers from selling handguns to people younger than 21 years old, but the age for rifles and shotguns is 18.