The U.S. government must turn over the legal memo justifying its killing of Anwar al-Awlaki, the American citizen who was blown to bits by two CIA drones in Yemen in 2011, a federal court ruled Monday.
A panel of the 2nd U.S. District Court of Appeals in New York unanimously rejected the government's argument that it could withhold its reasoning for assassinating al-Awlaki, a radical cleric born in New Mexico who it said was a senior recruiter for al-Qaeda, and another U.S. citizen who was with him on Sept. 30, 2011.
It's the first time a court has ever ordered the unveiling of a secret document supporting the U.S.'s targeting of American citizens in the war on terrorism. The American Civil Liberties Union, which challenged the government's withholding of the 2010 memo, called the ruling a "resounding rejection of the government's effort to use secrecy and selective disclosure to manipulate public opinion about the targeted killing program."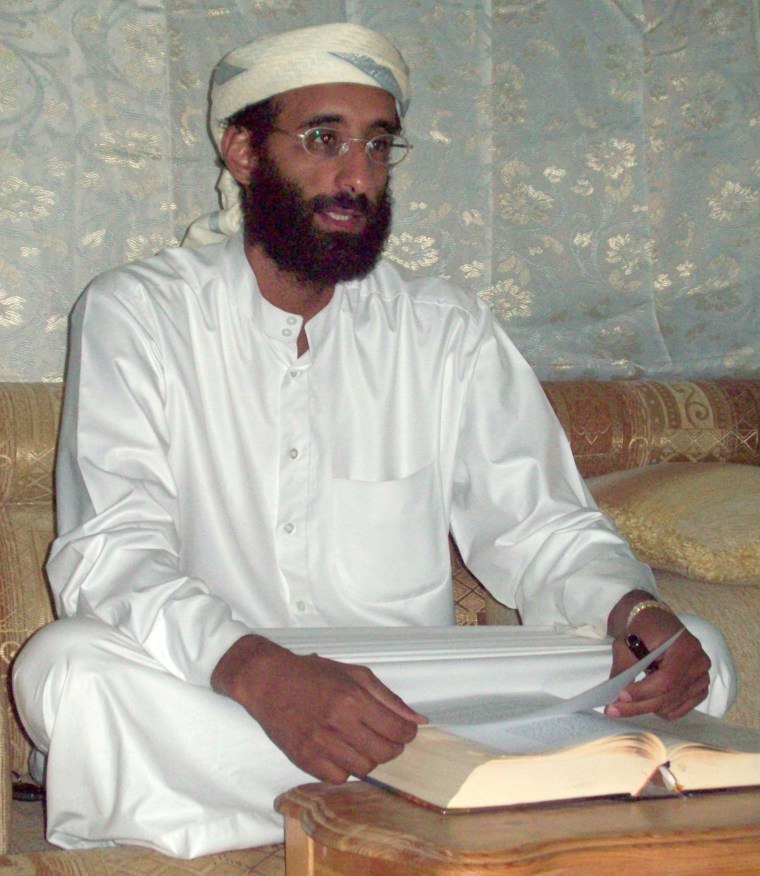 The case began with a freedom-of-information lawsuit by The New York Times seeking the memo, which was combined later with the ACLU's broader challenge to the government's secrecy claims about the assassination program.
U.S. District Judge Colleen McMahon threw out the Times' suit last year, but even she criticized the government's stance, saying she was bound by previous precedents.
"The Alice-in-Wonderland nature of this pronouncement is not lost on me," she wrote at the time.
In essence, the appeals panel said Monday that the government couldn't have it both ways after it leaked some documents bolstering the constitutionality of its program but not others. It specifically cited a Justice Department white paper (PDF) obtained early last year by NBC News that laid out a general legal framework for the program.
By arguing that the targeted killing of al-Awlaki wouldn't violate federal law, the white paper acknowledges that such a program exists, so "whatever protection the legal analysis might once have had has been lost by virtue of public statements of public officials at the highest levels and official disclosure of the DOJ White Paper," the court said (PDF).
"The government can't legitimately claim that everything about the targeted killing program is a classified secret while senior officials selectively disclose information meant to paint the program in the most favorable light," Jameel Jaffer, who argued the case for the ACLU in October, said Monday.