WASHINGTON — The Pentagon successfully tested a U.S. long-range interceptor missile over the Pacific Ocean on Tuesday in an exercise aimed at helping gauge American readiness to counter a potential threat from North Korea.
During the test, the Pentagon's Missile Defense Agency launched an interceptor rocket from an underground silo at Vandenberg Air Force Base in California. The interceptor hit and destroyed an intercontinental-range missile fired from a test site on Kwajalein Atoll in the Pacific, the Pentagon announced.
U.S. Missile Defense Agency Director Vice Adm. Jim Syring called the test a "critical milestone" in a statement.
"This system is vitally important to the defense of our homeland, and this test demonstrates that we have a capable, credible deterrent against a very real threat. I am incredibly proud of the warfighters who executed this test and who operate this system every day," Syring said.
The U.S. military's test comes on the heels of North Korea's reported launch of a military projectile Monday morning that landed in Japan's maritime economic zone. It also comes amid heightened tensions between the U.S. and Pyongyang over North Korea's continued provocations under leader Kim Jong Un.
North Korea has said it is working on an ICBM, which could potentially hit the West Coast, and American officials are concerned about the possibility the North Koreans could miniaturize a warhead to put on an ICBM.
General John Hyten, the head of U.S. Strategic Command, has said Pyongyang already has ICBM capability, but still lacks a miniaturized warhead.
The $244 million test does not necessarily confirm that the American military is capable of defending itself against an intercontinental-range missile fired by North Korea. Pyongyang also is understood to be moving closer to the capability of putting a nuclear warhead on such a missile and could have developed decoys sophisticated enough to trick an interceptor into missing the real warhead.
President Donald Trump was briefed after a North Korean missile test earlier this month and the White House said in a statement at the time that "North Korea has been a flagrant menace for far too long."
During a recent visit to South Korea, Secretary of State Rex Tillerson said "the policy of strategic patience (with North Korea) has ended," and he added that military action could be on the table if North Korea elevates the threat of its weapons programs.
Before Tuesday, the most recent intercept test, in June 2014, also was successful, but the longer track record is spotty. Since the system was declared ready for potential combat use in 2004, only four of nine intercept attempts have been successful.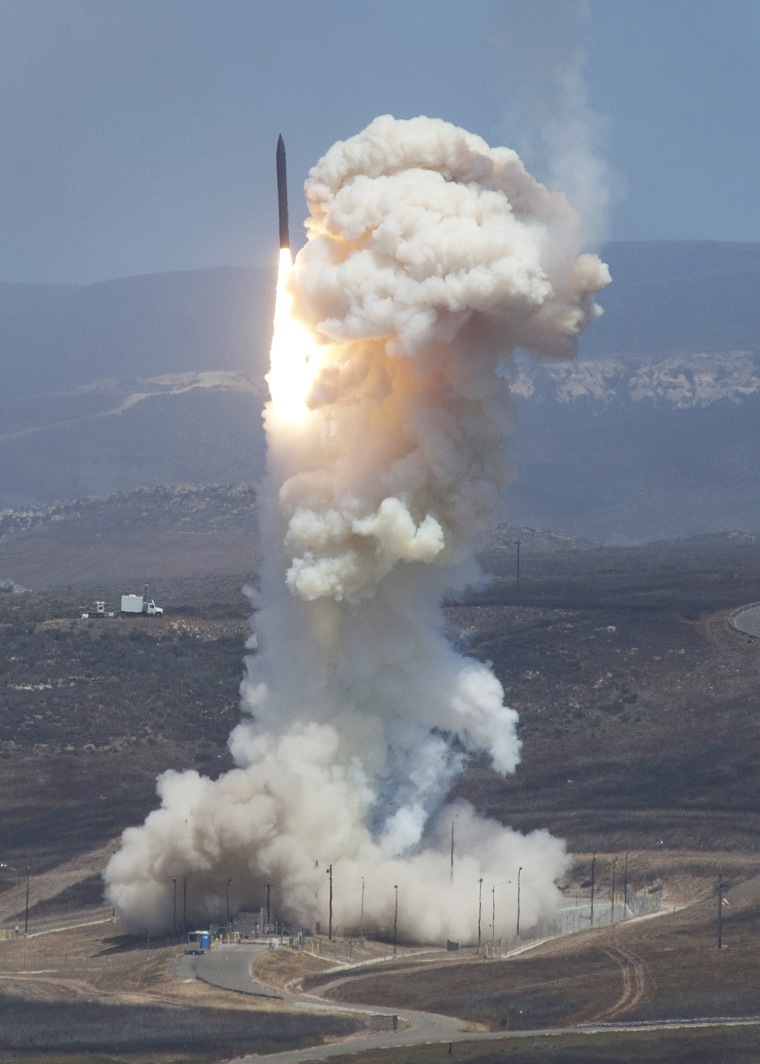 North Korea says its nuclear and missile programs are a defense against perceived U.S. military threats.
Laura Grego, senior scientist at the Union of Concerned Scientists, which has criticized the U.S. missile defense program, calls the interceptor an "advanced prototype," meaning it is not fully matured technologically even if it has been deployed and theoretically available for combat since 2004.
The interceptors are, in essence, the last line of U.S. defense against an attack by an intercontinental-range missile.
The Pentagon has other elements of missile defense that have shown to be more reliable, although they are designed to work against medium-range or shorter-range ballistic missiles. These include the Patriot missile, which numerous countries have purchased from the U.S., and the Terminal High-Altitude Area Defense, or THAAD, which the U.S. deployed this year to South Korea to defend against medium-range missiles from North Korea.