ANNAPOLIS, Md. — Beneath the magnificent cupola of the Navy's most recognizable religious structure, two men — accompanied by their two children and about 100 guests — gathered here Saturday for the U.S. Naval Academy Chapel's first-ever same-sex wedding.
For the Naval Academy, it was an historic milestone that David Bucher, a 49-year-old Academy graduate who works at the Pentagon, and partner Bruce Moats, 50, tied the knot.
Before the ceremony got underway, the couple's wedding day jitters mingled with concerns they had about opposition to their nuptials.
Moats said that while he and Bucher are not advocates trying to make a political statement with their wedding, they do want to continue the efforts of those fighting for gay rights.
"We're here to break barriers — and take advantage of the rights we have," Moats said, beaming.
The wedding was not widely publicized, and it wasn't surprising to Naval Academy spokesman Cmdr. John Schofield to see no Academy opposition to the ceremony.
"The Naval Academy is all about creating leaders for the future and embodying and promoting a culture of dignity and respect," Schofield said. "And I think that it's in line with those values, those tenets that we hold dear, that we have our first same-sex marriage here."
He said the Academy was proud to hold the wedding — in line with Maryland law. Same-sex marriage went into effect in 2013.
As groundbreaking as the wedding was for the Academy, it stuck to tradition with formal prayers, a reading from Corinthians and the United States Navy Hymn.
But Academy Chaplain Lt. John Connolly, who officiated the ceremony, said the run-up to the memorable day wasn't all smooth sailing.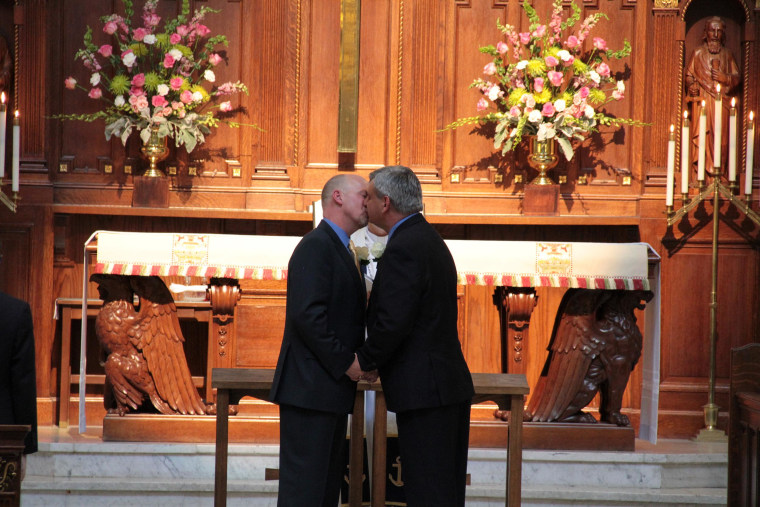 "Not everyone agrees that this should be happening and it took a significant amount of discernment on my own part as well as this couple's as they were preparing for the day," Connolly said.
But as he got to know Bucher and Moats, he understood how in love they were.
"The more I met with this couple, the happier I was to be presiding today," he added.
The road for this gay couple has not been easy. Moats, a director of communications for the World Bank, grew up in rural West Virginia. He said he swam against a tide of poverty and prejudice.
While getting married at the Naval Academy's chapel, he stood in awe of the venue.
"It's intimidating to be in this grandiose setting," he said, adding that his pre-wedding nerves were compounded by "knowing there are some who don't approve."
"We're here to break barriers — and take advantage of the rights we have."
But for David Bucher, the day was especially momentous — and tinged with a sense of redemption.
The son of an Ohio country judge, he graduated from the Naval Academy and served at the time of Operation Desert Storm in the early 1990s. But after five years, and against his own wishes, he said, he left the Navy.
"As a gay man in the military, the military didn't want me," Bucher said. "There was some aspect of my personal being that made me less qualified, they thought, so that was why I exited the Navy. There was a certain level of rejection there."
But on Saturday, returning to the place where Bucher began his career — and sensing an extraordinary effort to welcome him and his partner — there was also a feeling of victory.
He's working at the Pentagon, has a family and is married to the love of his life.
"To me," he said, "that is a triumph."