Two senior U.S. officials tell NBC News that thousands of ground troops are massing around Aleppo and they worry that the war-torn city could soon fall.
The officials said on Friday they were awaiting a major ground operation as troops representing a mix of Syrian regime, Iranian Quds Force, Hezbollah, paid fighters from Iraq (Badr Brigade) and from Afghanistan gather.
Russian fixed wing and Syrian regime helicopters continue to pound the city from the air and they are still striking Aleppo with artillery batteries outside the city. The officials expect this to continue once the ground forces move in.
The senior U.S. officials told NBC News they hoped the rebels and residents could hold out a few more weeks, but that water is in such short supply, making the situation for those within the city's confines more desperate.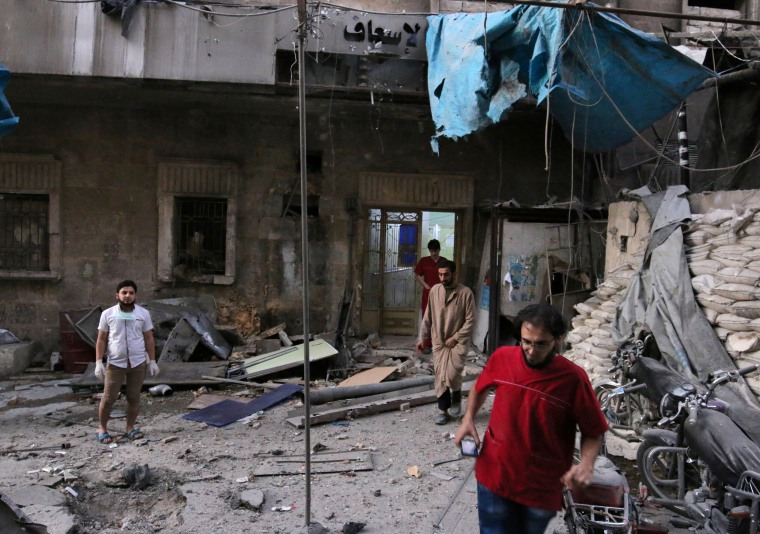 The State Department said they are watching the situation "very closely" and that the fall of the war-torn city "could be soon."
"It's hard to say when and if a city or population center could fall. But, you know, given the uptick in violence, given the intensity of it, it's hard, it's, it could be soon," deputy spokesperson Mark Toner told reporters in a press briefing on Friday.
The U.S. is expected to announce in the next day or so that the U.S. personnel that had been sent forward to establish the Joint Implementation Center (JIC) are packing up and leaving Geneva. The U.S. military has fewer than 20 personnel who have been there waiting to set up the JIC— a place to share targeting information with the Russians.
The fight for Aleppo intensified after the recent collapse of a U.S.-Russia brokered cease-fire. Syria's military launched an aggressive offensive to wrest control of rebel areas.
Related: At a Hospital in Aleppo, Evidence of a Detested Weapon
Syrian aircraft have pounded the city. Government troops have squared off with the rebels in the streets.
Citizens have been caught in the middle.
Secretary of State John Kerry spoke with Russian Foreign Minister Sergey Lavrov for the third day in a row Friday morning but, despite earlier threats to suspend U.S.-Russia diplomatic relations in Syria, Toner said the U.S. has not closed the door.
"This is on life support," he said. "But it's not flat lined yet."
Secretary Kerry was on the plane with President Obama returning from Israel when the phone call was made.
Also on Friday, comments Kerry made on the sidelines of the United Nations General Assembly meeting in New York indicated his frustration at not providing more support to the rebels fighting Bashar al-Assad.
In a 40-minute taped discussion with Syrians, diplomats and others, Kerry said the administration had failed to make any threat of military force that gave him leverage with Russia.
"I think you're looking at three people, four people in the administration who have all argued for use of force, and I lost the argument," Kerry told the group, according to a recording of the session obtained by The New York Times.
On Wednesday, Kerry informed the Russian foreign minister that the U.S. needed to see "immediate steps to end the assault on Aleppo" or the U.S. would start "making preparations to suspend the U.S.-Russia bilateral engagement on Syria."
Toner argued that they have not yet reached that threshold.
"I don't want to get into the conversations that are still ongoing, but we've seen enough that we don't want to definitively close the door yet," Toner said. "Now as I said, that may change in the next — in the coming hours or days. I just don't have a clear time frame."
Friday marks one year since Russia actively began their military campaign to prop the Syrian regime and its leader, al-Assad , reportedly killing 2700 civilians in the process.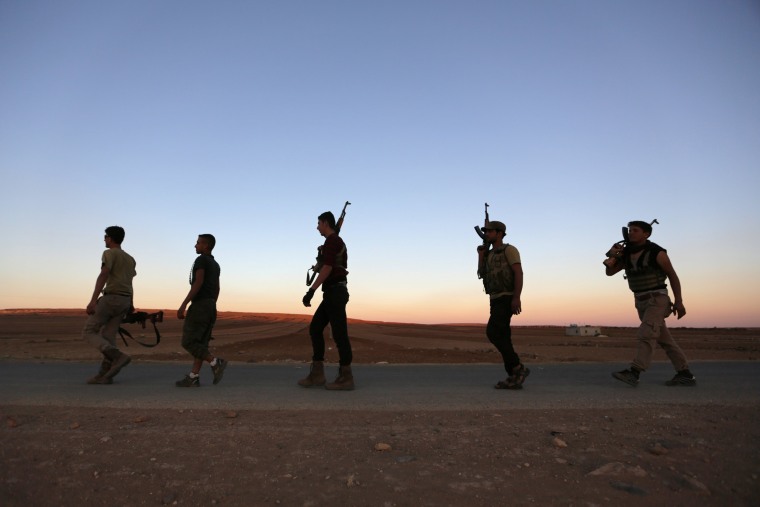 "It is a grim anniversary," Toner said. "It is hard not to assess that they have succeeded in bolstering the regime."
In an interview with the BBC on Friday, the Russian Foreign Minister argued the U.S. had not lived up to their own obligations under the U.S.-Russia agreement to separate moderate Syrian opposition from the al Qaeda affiliated group al Nusra.
"They still, in spite of many repeated promises and commitments... are not able or not willing to do this and we have more and more reasons to believe that from the very beginning the plan was to spare Nusra and to keep it just in case for Plan B or stage two when it would be time to change the regime," Lavrov said.
Toner called the allegations, "absurd."
"Our challenge was to try as best we can to reach out to the moderate opposition and make clear to them what they needed to do in order for this thing to work. And we did that," Toner said. "Were we 100 percent effective? No. But were we effective? Yes."
Toner said the fall of Aleppo would be a defeat for the world.
"It's just going to create a greater hardship for the Syrian people," Toner told reporters. "It's going to create more chaos within Syria and allow what are clearly terrorist groups like ISIL and Nusra with aims to carry out terrorist attacks not only within Syria but more broadly, to consolidate and to strengthen. So, it's a losing proposition no matter who you are."