The embattled CEO of the U.S. Olympic Committee resigned Wednesday, citing health problems, as the organization announced new initiatives to protect athletes from abuse.
Scott Blackmun, who has headed the committee since 2010, has been under fire for weeks in the wake of the Larry Nassar sexual abuse scandal. He did not attend the Winter Games in PyeongChang, South Korea, citing treatment for prostate cancer.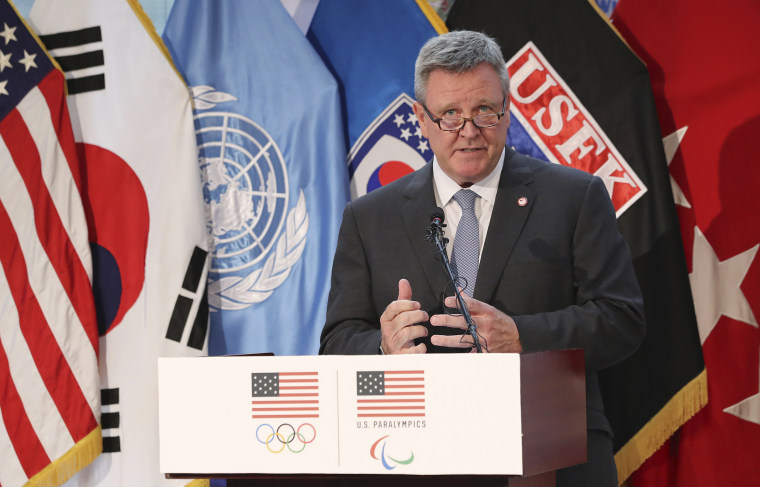 "Given Scott's current health situation, we have mutually agreed it is in the best interest of both Scott and the USOC that we identify new leadership so that we can immediately address the urgent initiatives ahead of us," USOC Chairman Larry Probst said in a statement.
"The USOC is at a critical point in its history. The important work that Scott started needs to continue and will require especially vigorous attention in light of Larry Nassar's decades-long abuse of athletes affiliated with USA Gymnastics."
Nassar, the former team doctor for USA Gymnastics, has been convicted in three courts of charges that include possession of child pornography and abusing his former patients. More than 200 victims, including Olympic gold medalists Aly Raisman and Jordyn Wieber, testified against Nassar at his sentencing hearing.
Many victims have blasted the U.S. Olympic Committee for not doing more to keep athletes safe and for waiting too long to force changes at USA Gymnastics after Nassar was first revealed to be a serial sexual predator.
"Under his leadership, USOC has focused nearly all its efforts on money and medals while the safety of our athletes has taken a back seat," said attorney John Manly, who represents many of the victims.
"It was the courage of these brave women, speaking out about the failure of USOC to protect our athletes, that forced Mr. Blackmun to resign."
Last month, the USOC apologized for not attending the marathon sentencing hearing and announced a belated independent investigation into the handling of accusations against Nassar. But as the Winter Games got underway, Probst publicly defended the CEO.
"With regard to Scott, he has served the USOC with distinction since he rejoined the organisation in 2010," he said to a reporter's question about calls for Blackmun's resignation.
"We think that he did what he was supposed to do, and did the right thing. But again, that investigation will be transparent, it will become public and whatever actions are required and appropriate based on that investigation will be taken by our board."
U.S. Sen. Jeanne Shaheen, D-N.H., who called for Blackmun's ouster and has called for a special congressional committee to investigate the matter, said the resignation is "long overdue."
"The U.S. Olympic Committee must now bring on new leadership determined to deliver answers and accountability regarding how Larry Nassar was able to freely abuse young girls for decades, as well as answers to questions about abuse in other Olympic programs," she said.
Board member Susanne Lyons will take over as acting CEOof the USOC — which controls a budget of more than $300 million — until a permanent replacement for Blackmun is found.
Blackmun is just the latest resignation in the wake of the Nassar case. The former CEO of USA Gymnastics and its entire board were replaced, and the president of Michigan State University, where Nassar had his medical practice, also was forced out.