The Obama administration on Friday for the first time squarely blamed Russian President Vladimir Putin's government for a wave of hacking attacks and email leaks, saying the goal was "to interfere with the U.S. election process."
"The U.S. Intelligence Community (USIC) is confident that the Russian Government directed the recent compromises of e-mails from U.S. persons and institutions, including from U.S. political organizations," the Department of Homeland Security and the Office of the Director of National Intelligence said in an extraordinary gloves-off statement.
"We believe, based on the scope and sensitivity of these efforts, that only Russia's senior-most officials could have authorized these activities," said the statement — which was promptly dismissed by Moscow as "nonsense."
NBC News reported last week that intelligence officials had no doubt that the Russian government was behind the series of pre-election hacks and leaks; classified material, prepared for briefings of Donald Trump and Hillary Clinton, revealed that officials had found "direct links" to Putin's government.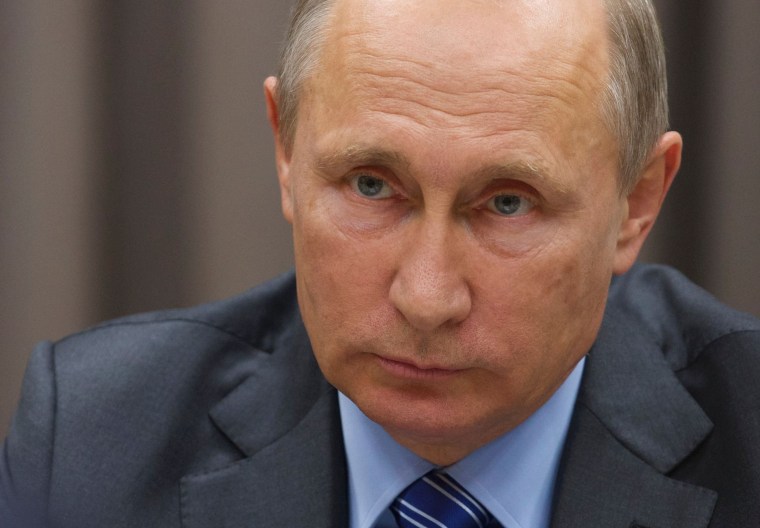 But Friday's statement — based on forensic analysis, according to a senior official — marks the first explicit public accusation from Washington.
The statement linked the Kremlin to disclosures by DCLeaks.com, WikiLeaks and Guccifer 2.0, which have leaked emails from the Democratic National Committee and former Secretary of State Colin Powell, among others.
Related: Hackers Target Election Systems in 20 States
It also confirmed that recent scanning and probing of state election systems originated on servers operated by a Russian company, though the intelligence community is "not now in a position" to attribute that activity to the Russian government.
But a senior administration official told NBC News that intelligence officials do believe the Putin government is behind attempted hacks on election systems, and that they are aggressively trying to confirm that as part of an effort to protect the upcoming vote from outside interference.
Although hackers have breached online voter registration databases in Illinois and Arizona, Homeland Security and the Director of National Intelligence took pains to reassure the public that the chance of the actual presidential election being hijacked is minuscule.
"It would be extremely difficult for someone, including a nation-state actor, to alter actual ballot counts or election results by cyber attack or intrusion," the statement said.
"This assessment is based on the decentralized nature of our election system in this country and the number of protections state and local election officials have in place. States ensure that voting machines are not connected to the Internet, and there are numerous checks and balances as well as extensive oversight at multiple levels built into our election process."
Related: New Cold War? Russian-U.S. Relations at a 40-Year Low
Russian news agency Interfax quoted Putin spokesman Dmitry Peskov as scoffing at Washington's statement.
"That's some nonsense again!" Peskov said. "Tens of thousands of hackers attack Putin's site every day. Many attacks are traced to US territory. But we're not blaming the White House or [CIA headquarters] Langley every time."
A senior U.S. official told NBC News the statement shows the administration "is under the illusion that naming and shaming may work on Russia."
But Rep. Adam Schiff, the ranking Democrat on the House Intelligence Committee, applauded the administration for calling out Russia.
"We should now work with our European allies who have been the victim of similar and even more malicious cyber interference by Russia to develop a concerted response that protects our institutions and deters further meddling," he said.
A senior administration official said all involved agencies moved exceptionally quickly to investigate the hacks and assign attribution to Russia, even though some lawmakers have complained the process was too slow.
"As the intelligence community gathered new information, it was able to reach increasingly higher degrees of confidence about which actors were responsible," the official said. "Everyone has to coalesce, and have the same degree of confidence on any given intelligence matter. And this is the point where it all sort of coalesced."
The next step was determining what could be disclosed publicly that wouldn't jeopardize intelligence-gathering sources and methods. "That is the one thing we cannot and will not compromise," the official said.
The White House also had to balance the geopolitical pros and cons of blaming such a serious campaign of cyberattacks on a nation already perceived as belligerent, the official said.
"Once we were all sure, it was time to let the public know what they should know," the official said.
Sen. Ben Sasse, a member of the Senate Homeland Security Committee who has been outspoken on Russia, said Friday there must be consequences.
"Today was just the first step — Russia must face serious consequences. Moscow orchestrated these hacks because Putin believes Soviet-style aggression is worth it," Sasse said in a statement. "The United States must upend Putin's calculus with a strong diplomatic, political, cyber, and economic response."