The United States is pulling more than half its diplomatic personnel out of Cuba and warning Americans not to visit in response to mysterious sonic incidents that sickened 21 embassy staffers and their families.
"Some very bad things happened in Cuba," President Donald Trump said after the announcement by the State Department on Friday. "They did some bad things."
In addition to ordering all nonessential personnel and their families to leave, the U.S. will also suspend the processing of visas in Cuba, senior officials said.
"I was ordered to leave Cuba by Monday with whatever could be carried in a suitcase," one embassy employee, who asked not to be identified, told NBC News.
The State Department said the U.S. is maintaining diplomatic relations with Havana and the staff reduction, which was first reported by The Associated Press, is meant to ensure the safety of Americans.
But Cuba called the decision "hasty" and said it was sure to affect bilateral relations.
Cuba has repeatedly denied any involvement in the baffling incidents and invited the FBI to Havana to investigate. But neither government has determined who is responsible.
"We're no closer to solving this. We have no idea where it came from," a senior U.S. intelligence official told NBC News. "There are lot of theories about what it could be, but nothing concrete to go on."
Sen. Patrick Leahy, an advocate for closer relations between the U.S. and Cuba, said in a statement that the culprit "obviously is trying to disrupt the normalization process."
"Some very bad things happened in Cuba."
"Someone or some government is trying to reverse that process," the Vermont Democrat said. "We should do all that is possible to minimize the effects of these protective steps on our diplomacy and on our ability to assist Americans in Cuba. And we must do all we can do solve this mystery so that our embassy personnel can safely return as quickly as possible."
The incidents began in the fall of 2016 and continued until August. The union that represents foreign service workers says employees have been diagnosed with mild traumatic brain injury and permanent hearing loss and have suffered from headaches, loss of balance and cognitive problems. They reported bizarre acoustic or sonic events at their homes and at a Havana hotel.
The FBI is one of several U.S. government entities working on the issue. Intelligence agencies are also involved and are consulting other pockets of the federal government that have technical expertise, the senior intelligence official said.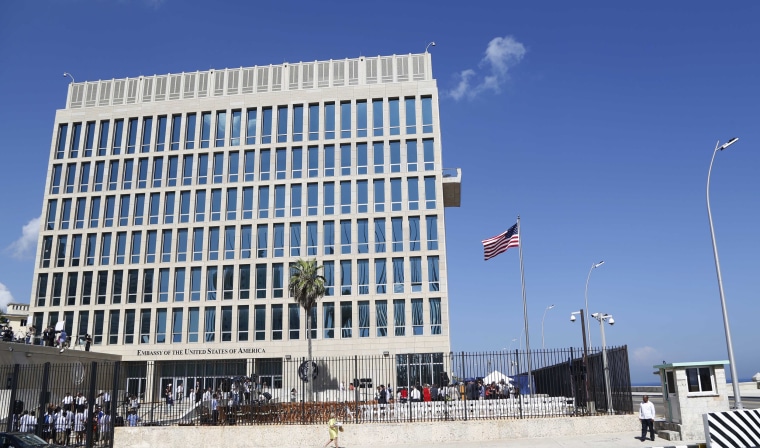 Cuban President Raoul Castro, in a highly unusual move, has given his personal assurance to the top American diplomat in Cuba that Havana is not orchestrating or allowing the attacks.
In May, the U.S. expelled two Cuban diplomats on the grounds that an agreement to keep American diplomats safe had been breached. This week, Secretary of State Rex Tillerson met with Cuban foreign minister Bruno Rodriguez Parrilla in Washington for what was described as a "frank and firm" discussion.
Parrilla urged Tillerson "not to politicize a matter of this nature," and "advised him not to take any hasty decisions which are not based on evidence," according to a statement from Cuba.
Then on Friday came news of the personnel drawdown, followed by a travel warning that said U.S. employees "have been targeted in specific attacks" and "suffered significant injuries as a consequence of these attacks."
"Cuba has told us it will continue to investigate these attacks and we will continue to cooperate with them in this effort," Tillerson said in a statement.
The American Foreign Service Association, which represents embassy employees, expressed opposition to the departure order.
"AFSA's view is the American diplomats need to remain on the field and in the game. We have a mission to do, and we're used to operating with serious health risks in many environments, whether it's parasites that rip up our guts in Africa, exposure to Zika virus and dengue fever, or air pollution in China and India," it said in a statement.
"It's a complicated question regarding what is actually causing the health issues in Cuba, but our members are clear that they have a mission to do."
Sen. Marco Rubio, R.-Fla., complained the U.S. response didn't go far enough.
"So Castro regime allows attacks on Americans forcing us to drawdown to keep them safe but he gets to keep about same # of people here?" he wrote on Twitter.
While U.S. embassy staffers have not spoken publicly about the incidents, one vented on social media last month that Washington wasn't doing enough to protect diplomats and their families still in Havana.
"Make America great again one brain injury at a time," he wrote in a Facebook post.