The United States on Friday once again saw a record number of Covid-19 cases, when more than 98,500 infections were reported, according to an NBC News tally.
It's the fifth time since Oct. 22 that a new daily case record was set. Across the country, 98,583 new infections were reported Friday.
The U.S. reported 978 deaths Friday, according to an NBC News count.
The last benchmark of 90,456 cases was hit Thursday, just hours after the U.S. logged its 9 millionth coronavirus case and shattered the previous daily record of 80,662 infections, set a day earlier.
Thursday was the first time the nation recorded a case number above 90,000.
Also, the 540,035 new Covid-19 cases reported from Oct. 23 to Thursday was the most for any seven-day period since July, the figures showed.
And with Election Day now just days away, the grim numbers stood in sharp contrast to President Donald Trump's oft-repeated campaign claim that "we are rounding the turn" on the pandemic.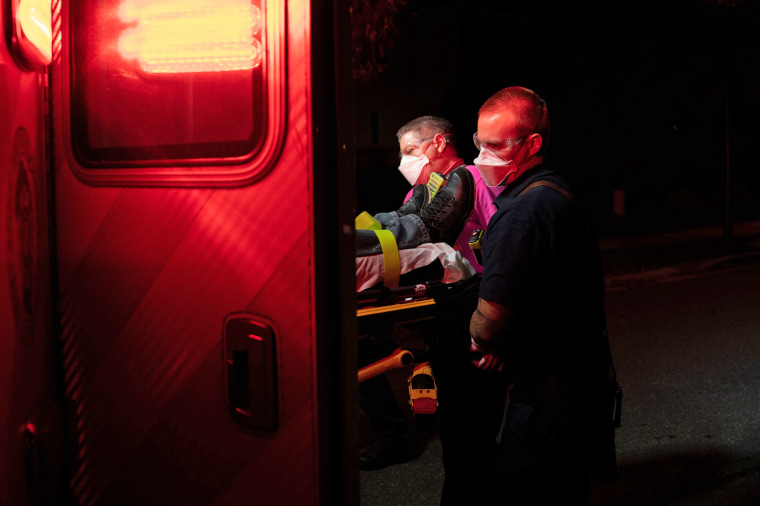 Covid-19 infections have actually been increasing across the United States at the fastest rate since the start of the pandemic, and overnight more than 30 states reported having more than 1,000 new cases.
The U.S. now leads the world in the number of Covid-19 cases and deaths, with nearly 230,000 deaths, according to the John Hopkins University Covid-19 dashboard.
"The virus is a global scourge, but it has been an American fiasco, killing more people in the United States than in any other country," the House subcommittee on the coronavirus crisis said in a scathing report Friday, which blasted the Trump administration's response to the pandemic as "among the worst failures of leadership in American history."
---
In other coronavirus news:
Donald Trump Jr. falsely claimed Thursday that Covid-19 deaths have dwindled to "almost nothing," despite there being around 1,000 reported in the United States that same day. The president's son, who is not a physician, also said on Fox News' "The Ingraham Angle" that the medical experts who have been talking about a surge in cases are "truly morons."

Nursing homes, small physician offices and rural clinics have been struggling to secure N95 masks and other PPE because bigger and wealthier health care facilities have been stockpiling them, NBC News reported.
Restaurant owners who made it through the summer by serving patrons outside are worried they might not survive the winter as the weather turns colder and renewed restrictions are being considered as new Covid-19 cases are surging.
San Francisco hit the brakes on further reopening the city after a slight-but-worrisome uptick in new coronavirus cases, The San Francisco Chronicle reported. "We are tired of COVID-19 but COVID-19 is not tired of us," Mayor London Breed said.
The temperature was expected to hit the freezing mark in Chicago on Friday night, but if you wanted to have a drink or meal inside a bar or restaurant you're out of luck. New pandemic restrictions are in effect. And last call for outside drinking or dining is 11 p.m.
Ninety-percent of the students and counselors who took part in a Wisconsin faith-based retreat over the summer came down with coronavirus infections, the federal Centers for Disease Control and Prevention said in a new report. One student was the source of an infection that was able to spread through the camp because there was no mask-wearing or social distancing.
With Europe now being battered by the second wave of the pandemic, hospitals in major cities in the United Kingdom like Manchester were running out of ICU beds and countries like Romania and Belgium were reporting record numbers of new cases. The Polish government announced all the cemeteries will be closed Sunday on All Saints Day, which is when relatives gather to visit the graves of loved ones.
In Mexico, where nearly 913,000 cases have been reported, All Saints Day is known as the Day of the Dead and the cemeteries will be closed there as well on Sunday.
---
Trump, who was recently hospitalized with a case of Covid-19, has held a spate of campaign rallies of late where there has been little mask-wearing or social distancing. He has been accused of sowing coronavirus disinformation and politicizing the use of masks by refusing, until recently, to wear one in public.
Dr. Anthony Fauci, the nation's leading infectious disease expert and a frequent Trump target, acknowledged that part of the reason some Americans resist wearing masks or practice social distancing is "that feeling of independence and not wanting to be told by authority of what to do."
But absent a vaccine, it's all we can do, Fauci said on on SiriusXM's "Doctor Radio Reports."
"It isn't perfect, it isn't 100 percent, but it unquestionably works," he said.
The World Health Organization has advised governments to maintain Covid-19 testing positivity rates at 5 percent or lower for 14 days before reopening,
But 35 states, including some of the key battlegrounds where Trump and challenger Joe Biden are vying for votes, and some U.S. territories, recorded dangerously high infection rates Friday, both NBC News and the Johns Hopkins Covid-19 tracking project reported Friday.
The pivotal state of Ohio topped its daily Covid-19 record for the second day in a row with 3,845 new cases reported on Thursday, according to The Cincinnati Enquirer. Once a success story, Ohio now has a positivity rate of 5.97 percent.
In Georgia, a state that went for Trump in 2016 but where Biden has been polling strongly, Rep. Drew Ferguson announced he tested positive and a short time later Gov. Brian Kemp and his wife announced they were heading into quarantine as a precaution. Both Republicans, Kemp and Ferguson took part in a "MAGA Meetup" earlier in the week where few of the Trump supporters were wearing masks.
Trump-friendly South Dakota, the site of an August motorcycle rally that turned into a "superspreader event" and resulted in hundreds of infections across the Midwest, had the highest infection rate of all the states with 46.34 percent, according to the Johns Hopkins database.
Neighboring North Dakota, which has an infection rate of 11.76 percent, set records for the number of active cases, hospitalizations and newly confirmed cases, The Bismarck Tribune reported.
The state reported 184 Covid-19 hospitalizations, an uptick of 1,222 new cases and a record 6,771 active cases on Thursday, shortly after previous highs within the last week, the newspaper reported.
Wisconsin, where Trump campaigned Friday and where the pandemic response has been paralyzed at times by political infighting, had a 13.25 percent rate.
Wyoming, which has reported a 650 percent spike in Covid-19 deaths in the last 14 days, had a rate of 31.75 percent. The 10 death reported there Thursday boosted the state's total number of coronavirus fatalities to 87 and three of the victims were residents of a long-term care facility in Goshen County, the Wyoming Department of Health reported.
While those numbers are tiny compared to New York, Texas and California, the states with the most deaths, Wyoming is least populated state in the country.