Following protests from a women's national team member last year, U.S. Soccer has ordered all players to "stand respectfully" during the playing of the national anthem.
Adopted by the U.S. Soccer Board of Directors last month and originally reported by Fox Soccer TV analyst Stuart Holden, the policy reads: "All persons representing a Federation national team shall stand respectfully during the playing of national anthems at any event in which the federation is represented."
The president of the U.S. Soccer Federation, Sunil Gulati, indicated that consequences would be addressed "as it happens," with no preset repercussions, according to Holden.
U.S. Soccer didn't respond to a request for comment from NBC News, but after a loss on Saturday, women's national team coach Jill Ellis said she was "pleased" with the new policy.
"I've always felt that that should be what we do, to honor the country, have the pride of putting on the national team jersey. I said that previously. I think that should be the expectation," she told The Associated Press.
The new policy comes after midfielder Megan Rapinoe knelt while in uniform as "The Star Spangled Banner" played before games against Thailand and the Netherlands in September. At the time, she said she was standing in solidarity with Colin Kaepernick, the San Francisco 49ers quarterback who made headlines for weeks for kneeling during the anthem to protest alleged police brutality.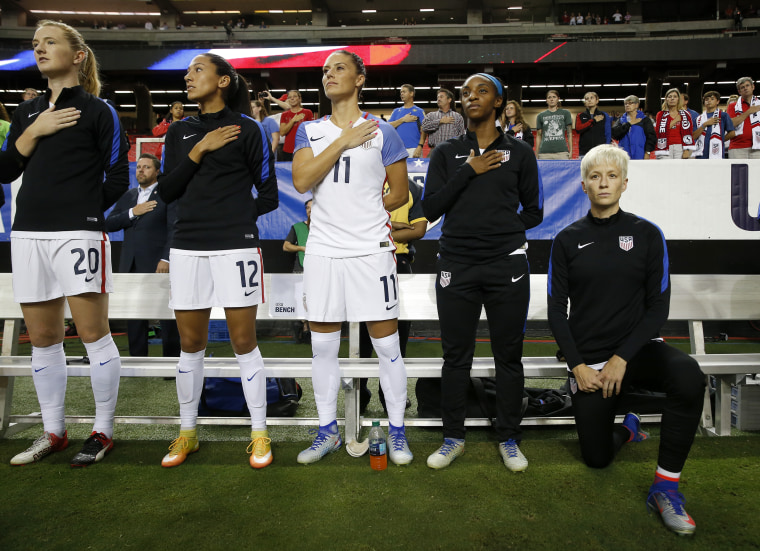 Rapinoe said that as a gay woman, she was also protesting injustices against the LGBTQ community.
"I thought a lot about it, read a lot about it and just felt, 'How can I not kneel too?'" Rapinoe said in Time's October issue. "I know what it's like to look at the flag and not have all your rights."
U.S. Soccer released a statement to ESPN following the Sept. 14 game denouncing Rapinoe's actions:
Representing your country is a privilege and honor for any player or coach that is associated with U.S. Soccer's National Teams. Therefore, our national anthem has particular significance for U.S. Soccer," the statement read. "In front of national and often global audiences, the playing of our national anthem is an opportunity for our Men's and Women's National Team players and coaches to reflect upon the liberties and freedom we all appreciate in this country. As part of the privilege to represent your country, we have an expectation that our players and coaches will stand and honor our flag while the national anthem is played.
According to ESPN, U.S. Soccer decided not to punish Rapinoe for kneeling.