President Donald Trump's move to impose tariffs on $50-$60 billion of Chinese imports sent U.S. stock prices tumbling Thursday.
Fearing a possible trade war between the world's biggest economies, worried investors rushed to park their money in the bond markets.
The S&P 500 index dropped 2.6 percent, while the tech-focused Nasdaq composite gave up about 179 points, or 2.4 percent, according to Google Finance.
The Dow Jones industrial average closed down 724 points, or nearly 3 precent, to 23,959. It was the biggest point decline since Feb. 8, when it fell by more than 1,000 points.
The heavy selling on Wall Street came as investors were already rattled by the continued weakness in shares of Facebook, which has been dealing with public outcry and government inquiry into how a data firm associated with Trump's 2016 presidential campaign acquired the user data of 50 million people.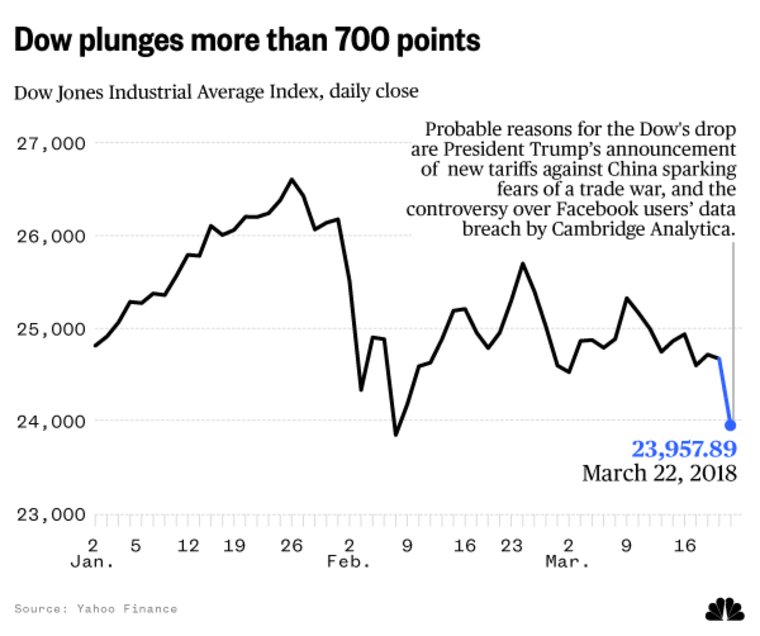 There are also nagging concerns about how rising interest rates will affect an economy that rebounded from the recession under President Barack Obama and continues to grow under Trump.
Trump set off the selling spree by signing a presidential memorandum that could impose tariffs on up to $60 billion worth of imports from China.
Under the terms of the memorandum, Trump will begin targeting the Chinese imports only after a consultation period.
Nevertheless, the Chinese vowed to defend themselves and respond in kind if necessary.
Peter Donisanu, an investment strategy analyst for the Wells Fargo Investment Institute, told the Associated Press the risk of a trade war is low because the Trump administration is targeting goods that aren't central to China's economy. That could change if it puts tariffs on electronics or appliances.
"If the Trump administration really wanted to hurt China and start a trade war, then they would go after those larger sectors," he said.
Those sentiments were echoed by Kevin Rudd, former prime minister of Australia. In a tweet, Rudd warned of the consequences of Trump's economic plans.
"And so the trade war begins," he tweeted. "Easy to start. Hard to stop. Fasten your seat belts folks."