With Italy in dire need of medical equipment, an economic superpower stepped in to help.
No, not the United States.
It was China.
Beijing last week promised Rome a thousand ventilators and 2 million masks, part of a global outreach effort that includes massive donations across Africa and a $20 million gift to the World Health Organization earmarked to fight the coronavirus pandemic.
The Trump administration, meanwhile, proposed slashing the U.S. contribution to the WHO last month and has said very little about international cooperation to stop the spread. Instead of providing aid abroad, Trump has been soliciting it. According to a readout by the South Korean government, Trump on Tuesday asked that country's president if he could provide medical equipment to the U.S.
It was an extraordinary request from a U.S. president and a jarring contrast to the role America usually plays in a global crisis. Meanwhile, international observers have watched as American governors have squabbled with the president over whether he is properly managing the response in his own country.
As those scenes play out daily, China senses a moment of opportunity to portray itself as a powerful and competent player on the world stage, former officials and experts told NBC News.
"We're bungling this in a fairly open and transparent manner," said Jude Blanchette, who holds the Freeman Chair in China Studies at the Center for Strategic and International Studies. "Beijing's push for global leadership is able to get so much tailwind by virtue of the relative absence of any U.S. leadership."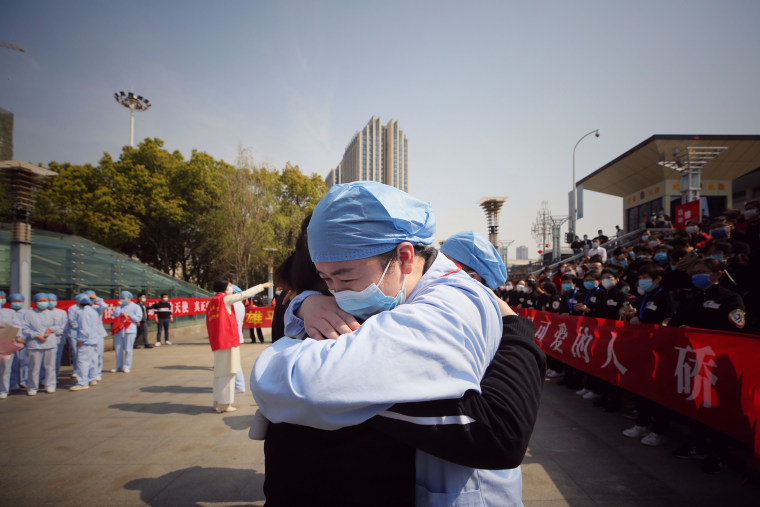 To be sure, there is broad consensus among health experts that China's initial efforts to cover up the virus outbreak fueled what has become a global contagion. The U.S. remains the largest funder of the WHO and most international organizations, and the Trump administration ponied up $14.7 million for the WHO coronavirus fund.
In interviews, Trump administration officials strongly rejected the idea that China had any chance of exploiting the outbreak, saying Beijing's international assistance was limited and politically motivated, and that the rest of the world would not forget where the virus came from.
"They lit the fire and they are only selectively providing firefighting equipment to those they want to save," a senior administration official said, citing the assistance to Italy as an example.
China scholars consulted by NBC News don't disagree, but many also say that what counts most now is not how the outbreak started, but how it ends.
"China is now working very hard to position itself as the country that got out ahead on this virus, took extraordinary measures to contain it and that saved a lot of lives abroad … and that is now willing to share its capabilities and its knowledge and its finances to help others around the world deal with it," Kenneth Lieberthal, senior fellow emeritus at the Brookings Institution, said.
Trump's message "has been that America is going to look out for its own interest, not for the interest of others," former CIA Director John Brennan, an NBC News contributor and frequent Trump critic, said. "That's why China and Russia are stepping in. They see the U.S. retreat in many respects from its traditional leadership role as presenting opportunities to them to demonstrate that they are an available alternative."
Chinese leaders saw the 2008 financial crash as a historic shift in the global order, a telltale sign of decline in American power and influence. Now they see the U.S. response to the coronavirus in a similar light, and they have ramped up their propaganda in an attempt to seize the initiative, Ely Ratner of the Center for a New American Security think tank, said.
"Beijing is going for the knockout punch. There's no hiding what they're doing here," said Ratner, who served as the deputy national security adviser to former Vice President Joe Biden.
"The Trump administration's incompetence at home and its lack of leadership abroad is creating a completely open field for them to run down," he said.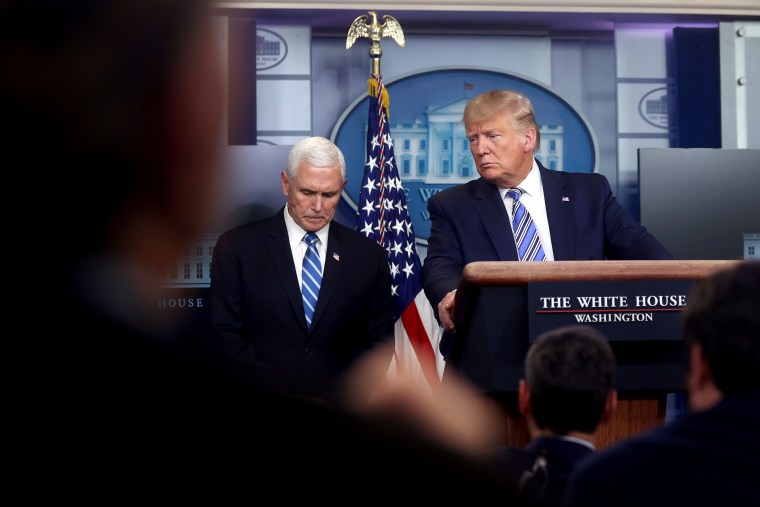 Six years ago, the U.S. led an international effort to combat the Ebola virus outbreak in West Africa, deploying thousands of troops and medical teams, setting up treatment centers and mobile testing units. But this time, Trump's "America First" outlook, and the scale of the crisis in the U.S., has created an international vacuum that Beijing is eager to fill, experts said.
To make its case, China has unleashed a stream of propaganda, touting its delivery of medical supplies from Serbia to Indonesia to Ethiopia, and dismissing the U.S. response as a failure. Beijing is even spreading brazen disinformation suggesting without evidence that the U.S. military somehow was behind the outbreak, despite all signs pointing to the epidemic starting in the city of Wuhan in China's own Hubei province.
"Washington has the most to lose here because the U.S. has more moral credibility," Blanchette said. "Beijing doesn't have to win — it just needs the U.S. to lose."
The Trump administration and its allies say China is trying to distract attention from its own failures in handling the outbreak, including silencing doctors and others who tried to alert the world to the gravity of the epidemic.
"Since the virus started in China in December, the Chinese Communist Party has retaliated against its citizens and journalists in China for making information public, launched disinformation campaigns around the world, and limited the international community's access to valuable public health information," a senior administration official said.
The official said China "started the pandemic" and yet provided a "paltry" $20 million into the WHO's coronavirus response fund, less than 3 percent of the $675 million the world body hopes to raise by April.
"That's shocking and a disgrace," the official added.
Dan Blumenthal, of the American Enterprise Institute think tank, dismissed the idea that China could replace the U.S. as a credible international leader, and said he's convinced that once the crisis passes, Washington would resume its traditional role.
"Sending out masks and attacking the U.S. through a disinformation campaign is not taking the reins of global leadership," Blumenthal, who served in the Pentagon under the George W. Bush administration, said.
China also will be hounded by questions over missteps in its initial response and the regime's reported attempts to cover up the extent of the outbreak, he said.
But the world will not soon forget the image of a U.S. president asking for basic supplies from the leader of a country, South Korea, it once liberated in war, former U.S. officials and foreign affairs experts said.
It's too early to predict how the coronavirus outbreak will shape the global order, but it is clear the U.S. at a minimum will suffer a black eye to its reputation, Michael Green of the Center Strategic and International Studies, said.
"We're going to take a huge soft power and PR hit over the next two months, partly because we're an open society," said Green, who oversaw Asia issues on the National Security Council in the George W. Bush White House.
In the longer run, the U.S.-China competition could depend on which nation develops a successful vaccine or how quickly either country bounces back from the coming global recession. "Then it's a question of how do we recover, and what does it take?" Green said.
China could prove more vulnerable to the recession caused by the outbreak, as its economic might is heavily tied to foreign markets, particularly in the U.S., Green said. "China cannot grow without the global economy," he added.
When it comes to providing material assistance in the current crisis, China enjoys an advantage over the U.S. China is a leading manufacturer of surgical masks, N95 respirators needed by health workers and pharmaceutical ingredients used to make antibiotics — all crucial for the public health challenge produced by the pandemic.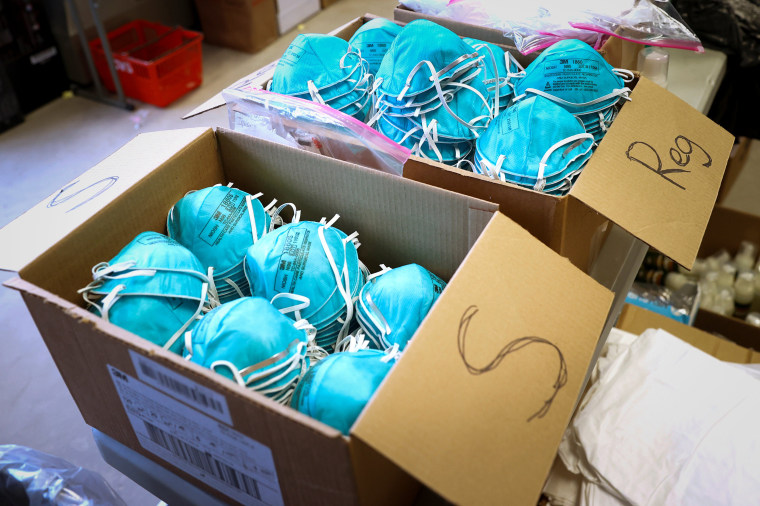 That competitive edge has prompted renewed calls in Washington to reduce America's dependence on supply chains linked to China, particularly for strategic or critical goods such as medical equipment or sensitive technology. White House trade policy adviser Peter Navarro said earlier this month the administration plans to introduce a "buy American" executive order intended to decrease U.S. reliance on Chinese-produced medicine and supplies.
Another consequence of the jockeying by Beijing, and the response from Washington, is that the two global powers are not working together to solve the crisis. Instead, they have been sniping at one another.
Tensions were running high between Washington and Beijing even before the epidemic. But the two sides have engaged in a bitter war of words in recent days that has raised the specter of a new cold war.
Trump and his deputies repeatedly have referred to the "Wuhan virus" or the "China virus," infuriating China. Critics say the Trump administration's finger-pointing has been counterproductive, at a time when the world needs both countries to find common ground to combat the virus.
After national security adviser Robert O'Brien said China's response to the epidemic may have cost the world two months time, Beijing's foreign ministry spokesman Zhao Lijian fired off a tweet in English, suggesting the U.S. could be behind the outbreak, without citing evidence.
"When did patient zero begin in U.S.? How many people are infected? What are the names of the hospitals? It might be U.S. army who brought the epidemic to Wuhan," Zhao wrote.
"I keep thinking we've reached the nadir for U.S.- China relations and we keep finding there is a new trough just around the corner," Blanchette said. "An existing low level of trust has exacerbated a public health disconnect between the two countries at the very center of this global pandemic."
Lawmakers in Congress have expressed outrage at China's disinformation efforts. Republican Rep. Mike McCaul of Texas and others have called on Twitter and other social media companies to purge their platforms of Chinese propaganda.
In recent days, both sides have pulled back. The Chinese ambassador to Washington gave a conciliatory interview this week to Axios, distancing himself from the conspiracy theory that the coronavirus started in America, drawing praise from the Department of State.
Trump, in turn, appeared to dial back his tone in the past few days, dropping his reference to the "China virus."
Administration officials said Trump's change stemmed from a decision at the White House to ease up on the rhetoric, which was in part driven by a recognition that the U.S. needed key medical supplies from China, including protective equipment and drugs.
But Trump said Tuesday that he started calling it the Chinese virus because Beijing was falsely saying it came from U.S. troops, and he's stopped using that label now because it's clear to the world where the virus came from. "Look, everyone knows it came out of China, but I decided we shouldn't make any more of a big deal out of it," Trump said during a town hall with Fox News.
The U.S. and China should find a way to work together, experts said.
"There are some issues that are simply transnational and to treat them otherwise is to display a level of ignorance that is profoundly damaging to everyone," Lieberthal said.