U.S. authorities have not determined the identity of a 10-year-old boy featured in an ISIS propaganda video or verified his claim that he's American, officials told NBC News.
Multiple agencies are working to gather information about the boy, who spoke fluent English with what sounded like an American accent. He claimed to be the son of an American soldier and said he left the United States for Syria two years ago.
"His story doesn't match up with anyone else that we have in our database of American ISIS travelers," said Seamus Hughes, a former U.S. intelligence official who helps run the Program on Extremism at George Washington University.
"It's possible it's a new unknown case, and it's entirely possible ISIS is distorting the truth for the propaganda benefits."
The boy, who gave his name as Yousef, appeared to be reading from a script during the slickly produced seven-minute video. Footage showed him playing with a friend in a deserted playground and getting weapons training from ISIS fighters.
"My father's an American soldier who fought the mujahideen in Iraq," he said into the camera. "I didn't know much about Islam except the name. When me and mom came to the Islamic State, we started learning the correct Islamic creed."
Related: Deprogramming the Kids ISIS Taught to Kill
He also mentioned President Donald Trump and made threats against the U.S.
State Department spokeswoman Heather Nauert called the video "depraved."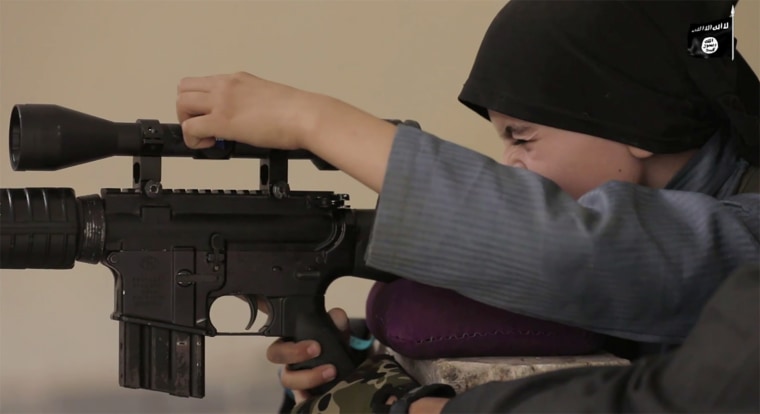 "We have seen ISIS as they have recruited children, as they have used them as human shields. We have seen ISIS use children the age of some of our own children here as suicide bombers, as homicide bombers. It is sick, it is depraved and it is another example of just how wrong and how evil ISIS is."
ISIS has frequently spotlighted so-called "cubs" of the caliphate in its propaganda, but analysts said this is the first time a purportedly American youngster was put in front of the camera.
In the video, the boy says he is in Raqqa, where an estimated 2,000 ISIS fighters are locked in battle with U.S.-backed forces for control of the rubble-covered city.
The United Nations called Thursday for a pause in hostilities to allow the remaining civilians in Raqqa to flee.