WASHINGTON — The United States has spotted "potential preparations for another chemical weapons attack" by the Syrian government, the White House said late Monday in a statement that took some defense and military officials by surprise.
The statement warned that Syria would "pay a heavy price" if any such attack proceeds.
It gave no details of the purported preparations or of how they had been detected, saying only that "the activities are similar to preparations the regime made before its April 4, 2017, chemical weapons attack."
At least 100 people, including 25 children, were killed in the April 4 attack in a rebel-held area of Syria. Two days later, the U.S. fired 59 Tomahawk cruise missiles at the Syrian airfield believed to have been used to carry out the strike.
"As we have previously stated, the United States is in Syria to eliminate the Islamic State of Iraq and Syria," the White House warned the government of President Bashar al-Assad. "If, however, Mr. Assad conducts another mass murder attack using chemical weapons, he and his military will pay a heavy price."
PHOTOS: Rescuers Treat Dozens in Syria Chemical Attack
Nikki Haley, the U.S. ambassador to the United Nations, tweeted a similar warning to Russia and Iran a short time later, saying any attack would be blamed not only on Assad, "but also on Russia & Iran who support him killing his own people."
Five U.S. defense, military and intelligence officials told NBC News they were caught off guard by the White House statement and could not even guess what a possible target would be.
"I don't know what the [White House] statement is," one responded.
The U.S. Navy already has a strike group off the coast of Syria, so wouldn't need to move anything to conduct strikes similar to the ones carried out in April.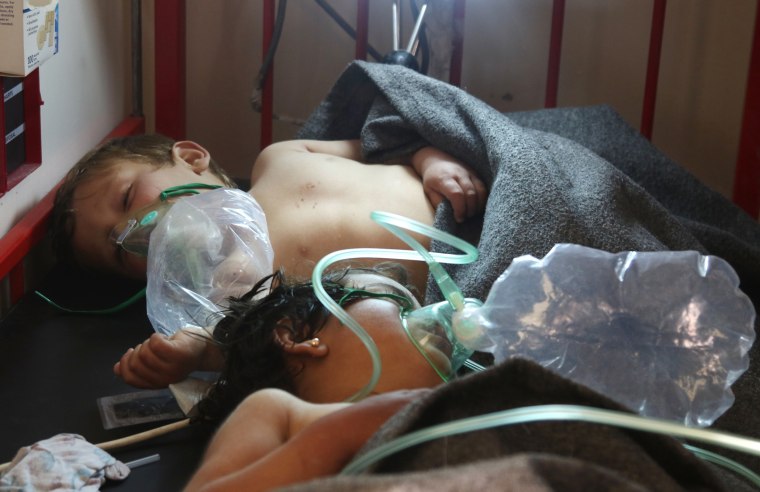 All the officials spoke to NBC News on condition of anonymity because they are not allowed to comment on such matters.
A Syrian minister dismissed the White House statement, saying Damascus has not and will not use such arms. Ali Haidar, the minister for national reconciliation, told The Associated Press that the allegation foreshadowed a "diplomatic battle" that would be waged against Syria at the U.N.
Russian officials accused the U.S. of laying the groundwork for an attack on Syrian forces.
"I am not aware of any information [or] threat of the use of chemical weapons," Kremlin spokesman Dmitry Peskov told reporters Tuesday, suggesting any such attack could be the work of anti-Assad rebel groups that Moscow describes as "terrorists."
"You know, there have been numerous cases of use of poisonous chemical substances by militant terrorists of the ISIS and other criminal groups," Peskov said. "Perhaps, there is a potential danger of repeating such provocations. But once again, I'd like to repeat that I don't have exact information."
Frants Klintsevich, deputy head of the defense and security committee in Russia's upper house of Parliament told state-run RIA Novosti news agency that the U.S. was "readying a new attack on Syrian forces," adding: "A new cynical, unprecedented provocation is underway."
The State Department and the Defense Department didn't immediately respond to requests for comment. But a Trump administration source told NBC News that the White House believed an attack could be imminent and said that if the U.S. statement deters another attack, lives will have been saved.
Courtney Kube, Hallie Jackson and Abigail Williams reported from Washington. Alex Johnson reported from Los Angeles. Mansur Mirovalev reported from Moscow. Alastair Jamieson reported from London.