/ Source: Associated Press
SAN JUAN, Puerto Rico — A billion-dollar emergency loan approved by Congress to help Puerto Rico deal with the effects of Hurricane Maria has been temporarily withheld by federal officials who say the U.S. territory is not facing a cash shortage like it has repeatedly warned about in recent months.
Officials with the Federal Emergency Management Agency and the Treasury Department said in a letter to the director of the island's fiscal agency that Puerto Rico has had a central cash balance exceeding $1.5 billion in the nearly four months since the Category 4 storm. Federal officials also noted the local government released documents in late December showing it had nearly $7 billion available in cash. The letter was first published Wednesday by the newspaper El Nuevo Dia.
Federal officials said the U.S. government will create a cash balance policy to determine when the funds will be released via the Community Disaster Loan Program. They said in the letter that the cash balance level will be decided on by the federal government in consultation with Puerto Rico officials and a federal control board overseeing the island's finances. Once the central cash balance decreases to that level, the funds will be released, officials said.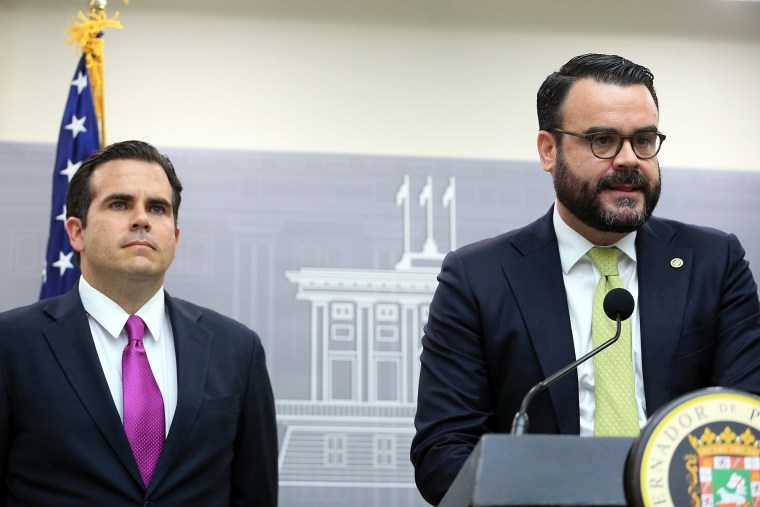 They added that Puerto Rico's 78 municipalities could separately apply for loans.
The announcement came just weeks after the control board rejected legislation that would have created a $100 million emergency fund for municipalities struggling in the hurricane's aftermath.
Local officials have warned that Puerto Rico's power and water and sewer companies will run out of money this month. Both companies say their funds have dwindled since the storm caused up to an estimated $95 billion in damage, knocking out power to the entire island. Nearly 40 percent of power customers remain in the dark.
Related: In remote areas of hurricane-ravaged Puerto Rico, volunteers are a lifeline
On Wednesday, Gov. Ricardo Rossello announced he had signed a measure prohibiting the power company from charging customers for power produced by private generators. A growing number of Puerto Ricans have complained about receiving such bills.
Gerardo Portela, director of the island's Fiscal Agency and Financial Advisory Authority, said in a statement Wednesday that he has urged federal officials to finalize under what terms and conditions they would distribute federal funds already approved by U.S. lawmakers. He said the delay has forced local officials to start a process in which the central government would loan money to Puerto Rico's power and water and sewer companies.
"These public corporations are facing severe liquidity problems that threaten essential services to the people of Puerto Rico if their operations are interrupted for lack of immediate action," he said.
Puerto Rico Rep. Luis Vega Ramos called the decision by federal officials to withhold money a "rogue move." He said that while the lack of transparency and other issues within Rossello's administration has led to the situation, it remained unacceptable.
"The administration of President Donald Trump, through FEMA, is extorting the people of Puerto Rico and our government so that it submits itself even further to the federal control board and new austerity measures," he said.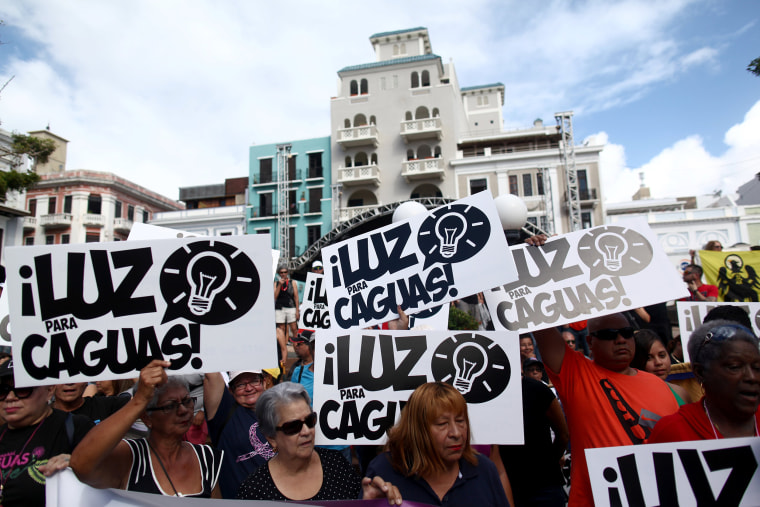 A spokeswoman for Rossello did not return a message for comment.
The 32BJ SEIU union, which represents property service workers, called the withholding of funds a "cruel and arrogant" decision.
"It is unconscionable that FEMA and the Treasury Department are withholding the disaster aid funding approved three months ago for Puerto Rico," it said. "Despite being unable to carry out many vital functions, Puerto Rico is deemed by these federal agencies as not poor enough to qualify for emergency loans."
Related: Ex-FEMA nominee helps win $133M Puerto Rico hurricane contract
On Wednesday, the federal control board announced it would hold a public hearing Friday into why nearly $7 billion is being held in local government accounts, where that money came from and how it will be used.
Puerto Rico is seeking hurricane emergency loans as it struggles to restructure a portion of its $73 billion public debt and reach agreements with certain creditors more than two years after the government said it was unable to pay its debt obligations.
A study released Tuesday by economists including Nobel Prize winner Joseph Stiglitz found in part that prior to the hurricane, Puerto Rico needed to cancel 50 percent to 80 percent of its debt to regain economic stability.
"The debt restructuring will not be a sufficient but just a necessary condition for economic recovery," the study stated. "Puerto Rico needs more than just the restoration of debt sustainability: it needs a new economic growth strategy that replaces the old one that has clearly failed."