An Uber driver who filmed his argument with the company's CEO told NBC News on Wednesday that the firm does not care if drivers are "not even making minimum wage."
Fawzi Kamel was giving a ride to Uber boss Travis Kalanick when he took the opportunity to complain about falling fares. This resulted in a heated exchange, ending with Kalanick saying: "You know what? Some people don't like to take responsibility for their own s***. They blame everything in their life on somebody else. Good luck!"
The 40-year-old CEO got out and slammed the door. Kamel gave him a one-star rating and handed dashcam footage of the incident to Bloomberg.
Kamel, who is 37, told NBC News why he chose to stand up to Kalanick.
"Uber kept dropping prices every season to gain more ridership to satisfy their growth, and it didn't matter to Uber if the driver is not even making minimum wage," he said. "And the worst part is, they call us partners, [but] they make the rules, set the price and they even choose the cars you can use."
The video was reportedly filmed on Feb. 5 — the same night as Super Bowl Sunday — but only surfaced Tuesday.
The report prompted an email apology from Kalanick to his staff. He said that "to say that I am ashamed is an extreme understatement" and vowed that "I must fundamentally change as a leader and grow up."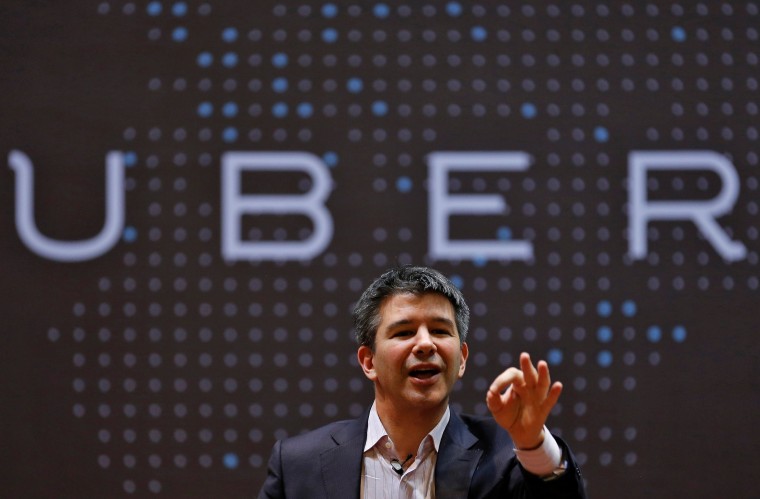 He added: "This is the first time I've been willing to admit that I need leadership help and I intend to get it."
Kamel, who is a driver for Uber's luxury service, Uber Black, did not seem satisfied with this apology.
He said that Uber Black drivers like him are expected to drive recent versions of certain models of car but have been squeezed by the company's shift toward the budget end of the market.
He told NBC News that veteran drivers for Uber Black, which was Uber's original service, should be treated with more respect because of their investment in high-end vehicles.
"The real issue is that the first Uber black car drivers are the real investors in Uber," he said. "How come the angel investors in Uber turned their $20,000 into millions, but the original Uber Black car drivers got nothing?"
He added that he and fellow luxury drivers have been "undercut with cheaper products [such as UberX and UberSelect] and they lost their capital because Uber decided they don't want Lincoln Town Cars anymore," referring to a model previously favored by the company.
The video comes during a rough few months for the San Francisco-based company.
In January, more than 200,000 people removed the app and #DeleteUber trended on Twitter after the company temporarily lifted surge-pricing during a protest over President Donald Trump's travel ban. Kalanick later resigned from the president's advisory council.
Uber has also faced accusations of sexual harassment, and it is being sued by Google's self-driving car division, which alleges one of its ex-engineers downloaded 14,000 files before leaving to start his own self-driving car company, later acquired by Uber.
Editor's Note: This story was updated to reflect that Uber temporarily turned surge-pricing off during the protest against Trump's immigration ban. A previous version of the story reported the company turned surge-pricing on.