The CEOs of two of Silicon Valley's biggest rideshare companies, Uber and Lyft, found themselves embroiled in the political firestorm over President Donald Trump's executive order on immigration.
It began Saturday, when the New York Taxi Alliance called off pickups at John F. Kennedy Airport for one hour as hundreds of people flocked to the airport to protest Trump's order, which barred citizens from seven Muslim-majority countries from entering the U.S. for 90 days and Syrian refugees indefinitely.
Hours later, Uber tweeted that surge pricing would be turned off at the airport, which many interpreted as breaking the hour-long taxi strike. Social media users reacted swiftly to condemn the move using the hashtag #DeleteUber, alleging that the rideshare company was profiting off of a refugee ban.
Political strategist and Trump supporter Roger Stone commended the company in a tweet, while others began posting screenshots of themselves deleting their Uber accounts and encouraging friends to do the same.
One user wrote, "Goodbye to Uber, who's like that dependable friend you later find out is supporting an evil dictator..."
Uber quickly clarified that the company did not intend to break the strike and pointed to CEO Travis Kalanick's earlier statement, noting the company reached out to dozens of employees affected by the recent executive order and planned to compensate them pro bono for three months. Kalanick, who is scheduled to attend Trump's first business advisory group meeting, said he would raise issues surrounding the ban at the meeting Friday.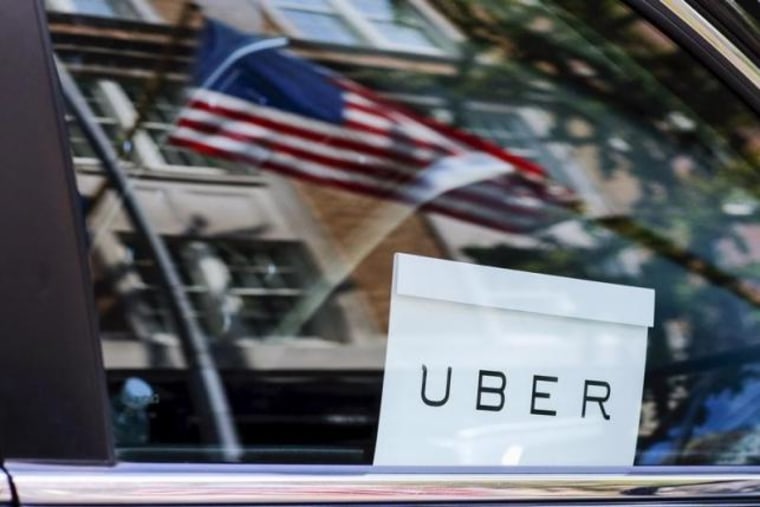 Kalanick garnered criticism for joining Trump's 18-member economic advisory board, along with SpaceX CEO Elon Musk and PepsiCo chairman and CEO Indra Nooyi. Protesters blockaded Uber's headquarters during the president's inauguration. But the CEO defended his seat on the council in the statement released Saturday.
"Ever since Uber's founding we've had to work with governments and politicians of all political persuasions across hundreds of cities and dozens of countries. Though we share common ground with many of them, we have had areas of disagreement with each of them," Kelanick said. "In some cases we've had to stand and fight to make progress, other times we've been able to effect change from within through persuasion and argument."
And while Uber was struggling with a social media backlash, Facebook and Twitter users were flocking to rival rideshare company Lyft. Many praised Lyft for its explicit condemnation of Trump's immigration order and its $1 million donation to the American Civil Liberties Union (ACLU).
In a statement titled "Defending Our Values," Lyft co-founders John Zimmer and Logan Green said, "Banning people of a particular faith or creed, race or identity, sexuality or ethnicity, from entering the U.S. is antithetical to both Lyft's and our nation's core values. We stand firmly against these actions, and will not be silent on issues that threaten the values of our community."
Uber issued another statement on Sunday outlining steps the company planned to take in order to support drivers from the seven countries listed in Trump's order, including a $3 million legal defense fund and around-the-clock legal assistance for drivers who are citizens of Iran, Iraq, Syria, Libya, Somalia, Sudan and Yemen and have left the U.S.