HILLSBOROUGH, N.C. — A graduate student at the University of North Carolina-Chapel Hill was charged Tuesday with fatally shooting a professor — the latest incident in a spate of national gun violence — leaving a college community reeling and authorities trying to determine a motive.
Tailei Qi, an applied physical sciences major from China, made his first court appearance in Orange County Court, where he was charged with first-degree murder and ordered held without bond.
Qi, 34, was shackled in an orange jumpsuit and relied on a Chinese translator. He was also charged with possession of a gun on an educational property, which is expected to be upgraded from a misdemeanor to a felony.
His public defender made no public statement after the hearing. A probable cause hearing was scheduled for Sept. 18.
The murder charge carries a punishment of a life sentence without parole. Jeff Nieman, the district attorney for Chatham and Orange counties, said after Tuesday's hearing that he would not seek the death penalty.
So far police have not said why Qi is believed to have targeted Zijie Yan, an associate professor in the applied sciences department since 2019.
Aidan Carter Scott, 22, a computer science major, said Yan had been one of the suspect's advisers.
"I had had contact with the shooter two semesters ago and had helped him with his homework in our machine learning class," Scott said.
Scott said Qi struggled to keep up with the course material.
"It always seemed to me like he didn't really know what was going on in the class, but it always seemed like he meant well and was doing his best to stay on track," he said. 
A university department web page that has been removed had listed Qi as being a member of Yan's lab group.
Qi was arrested Monday afternoon after the shooting at Caudill Labs, a science building on campus, which prompted an hourslong lockdown that forced students and faculty members to barricade themselves in classrooms and dorms as authorities searched for the shooter.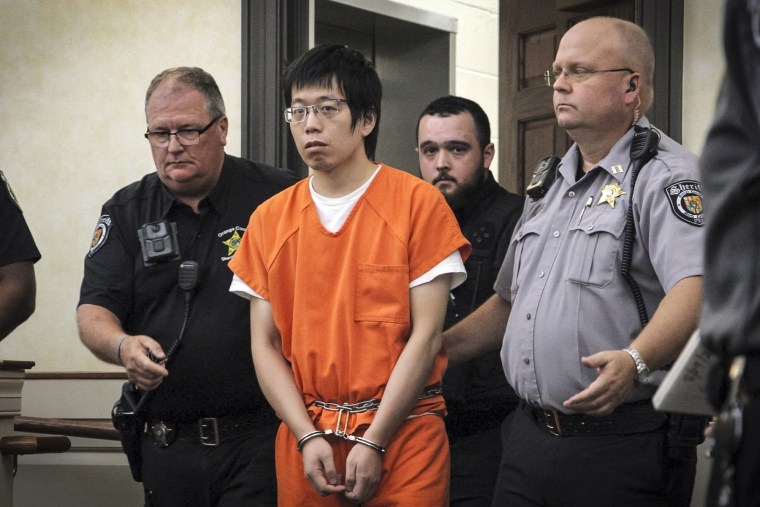 The attack, which occurred in the second week of the fall semester, began when students were alerted to an armed and dangerous person after 1 p.m. The university said in another alert at 2:24 p.m. that the shooter remained at large. A photo of an unnamed person was released, and Qi was arrested later in a residential neighborhood near campus.
Videos shared on social media showed panicked students hiding in classrooms and others climbing out of the windows of a campus building. The lockdown was lifted at about 4:15 p.m.
UNC Police Chief Brian James said the lockdown, which included neighboring public schools, continued even after the suspect was taken into custody as law enforcement agencies verified his identity and investigated reports of potential other victims.
"We had to ensure that the entire campus was safe," he said Monday.
No other injuries were reported.
James declined to say Tuesday whether other people may have been in the room when the shooting occurred. He said that officers responding to the scene did not encounter Qi and that "he must have exited that building very quickly."
On his LinkedIn profile, Qi says he enrolled at UNC's flagship campus in January 2022 as a graduate student and research assistant, and he shares links to papers about his research in metal nanoparticles. A paper published last month in the journal Advanced Optical Materials was co-written with Yan.
Qi's LinkedIn profile says he previously studied at Louisiana State University and schools in China, including Wuhan University, before he came to North Carolina.
The firearm, described as a 9 mm handgun, was not immediately recovered. Authorities said they would be interviewing Qi about a motive.
James said that investigators were still trying to determine the nature of the relationship between the suspect and the victim and that they would be reviewing any social media accounts Qi appeared to use.
Investigators are "looking at what his intentions were and why he actually did it," James told reporters Tuesday.
Qi has had previous contact with law enforcement. He was pulled over for allegedly speeding in Orange County in February and then again two days before the shooting, when a state trooper issued him a citation for driving about 20 mph above the speed limit on an interstate, according to the court in neighboring Alamance County.
Kevin Guskiewicz, UNC-Chapel Hill's chancellor, said Tuesday that classes would be canceled again Wednesday and that the bells in the campus' well-known Bell Tower would ring in honor of Yan at 1:02 p.m.
"We will continue to ask questions and find ways to make our safety procedures even more effective," Guskiewicz said. "We know that the wounds of this tragedy will not heal quickly."
Kate Martin reported from Hillsborough and Erik Ortiz from New York.