A student at the University of North Carolina at Chapel Hill claims she was raped by a football player on campus, then "treated like a suspect" while her alleged attacker went free.
Delaney Robinson, 19, flanked by her father and attorney, held a news conference Tuesday in which she slammed her school for not taking action after she was allegedly assaulted on Valentine's Day.
"I did everything a rape victim is supposed to do," Robinson said. "I reported it. I allowed the rape kit to be taken. I gave a statement. I cooperated with law enforcement and the Title IX office. But six months later, the university has done nothing."
Related: What Advocates Are Doing to End Sexual Assault on Campus
Robinson says she had been drinking and enjoying a night out with friends when she found herself alone with a football player whom she hadn't met before. She says he then raped her.
NBC News does not normally identify survivors of alleged sexual assault but is doing so in this case because Robinson chose to publicly come forward.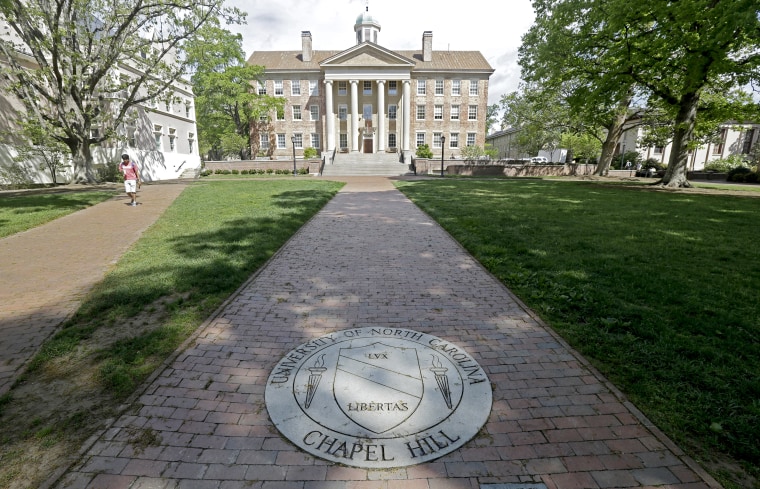 The university's department of public safety, which handles investigations into violations of the Title IX law that prohibits discrimination on the basis of sex in federally funded education programs and activities, told Robinson in June that the investigation was closed, she said.
But she was allowed to see the file, including recorded interviews with the accused student athlete — which she said only "further victimized" her.
"Rather than accusing him of anything, the investigators spoke to him with a tone of camaraderie. They provided reassurances to him when he became upset," Robinson said. "They even laughed with him when he told them how many girls' phone numbers he had managed to get on the same night he raped me. They told him, 'Don't sweat it, just keep on living your life and playing football.'"
UNC-Chapel Hill said it was prohibited from responding to Robinson's allegations under federal privacy law.
"The University of North Carolina at Chapel Hill is deeply committed to the safety and well-being of our students and takes all allegations about sexual violence or sexual misconduct extremely seriously," Joel Curran, the vice chancellor for communications and public affairs, said in a statement.
"These matters are complex and often involve multiple agencies including law enforcement," he added. "While the University always tries to complete an investigation as quickly as possible, our priority is to ensure that the factual investigations are complete and conducted in a fair and thorough manner."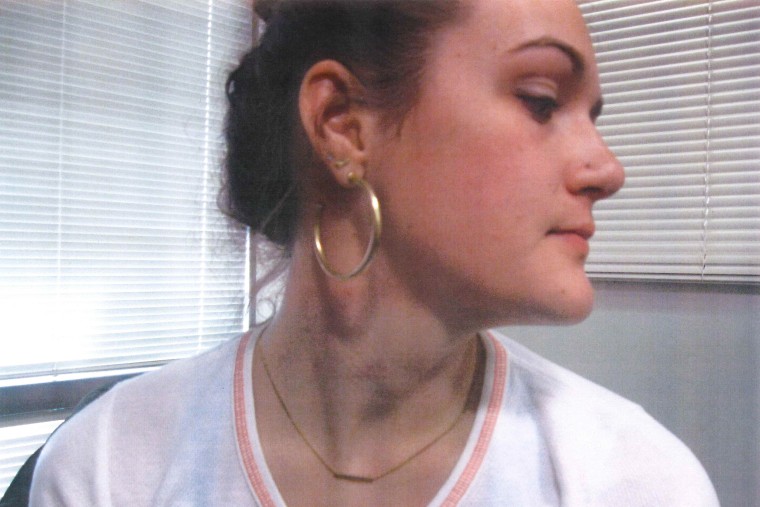 An exam at the hospital revealed "blunt force trauma to my client's genital area," Robinson's attorney, Denise Branch, said at the news conference. She added that Robinson also had marks on her neck, and held up a photo that showed apparent bruising.
No charges have been filed in the case, but Orange County District Attorney Jim Woodall told NBC News it's "still an open case," pending lab results and the investigation.
While the UNC department of public safety is the investigating agency that would normally bring charges in a case like this, Woodall said, his office could also file charges.
"But based on the evidence, we don't disagree" with the decision thus far to not file any, he added.
In the meantime, Robinson swore out warrants for misdemeanor assault on a female and misdemeanor sexual battery to try to get the case prosecuted. The football player did not immediately return calls from NBC News.
Robinson, a pre-business major from Apex, North Carolina, who dances on the school's hip-hop team, said she went public with her story because she wants to see a change in university policy.
"The biggest reason why I thought it was necessary to do this is because if the student before me had the capability to come forward, I might not be in the position I am today, and I can't continue on today knowing that the student who does come after me will be put in this position," she said.
Her father, Stacey Robinson, added: "What happened to my daughter is a crime and should be investigated by a professional and capable police force. UNC parents should know that their children are vulnerable and at risk."
Robinson's accusations follow national outrage over a sexual assault on the Stanford University campus in which former Stanford swimmer Brock Turner was given just six months behind bars after being convicted of three counts of felony sexual assault. He was released after only serving three months.
The case raised questions over whether Turner was treated with leniency due to his status as an athlete.
Robinson's attorney said Tuesday she didn't know if the fact that Robinson's alleged rapist was a football player had granted him immunity from charges.