A football player at the University of North Carolina at Chapel Hill who has been accused of rape turned himself in to authorities Wednesday morning on misdemeanor warrants.
Allen Artis, a 21-year-old junior linebacker, was subsequently released on a $5,000 bond, the Orange County District Attorney's Office told NBC News.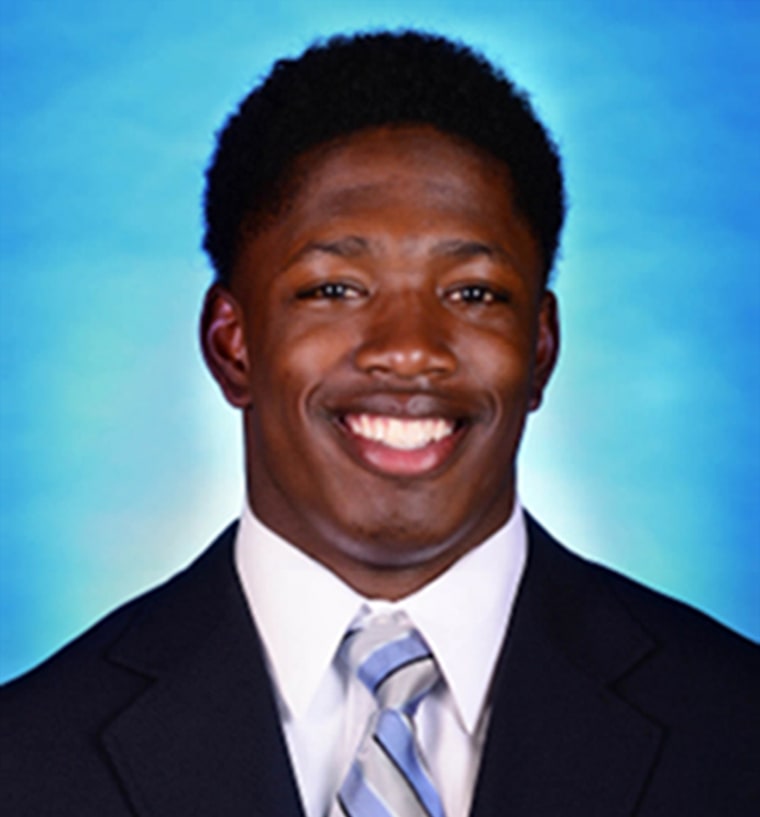 Artis, of Marietta, Georgia, was suspended from the football team Tuesday per university policy after his accuser — also a UNC student — came forward publicly in a news conference.
Delaney Robinson, 19, said the assault occurred on Valentine's Day of this year at an on-campus apartment while drinking with friends. She said she did not know her alleged attacker.
NBC News does not normally identify survivors of alleged sexual assault but is doing so in this case because Robinson chose to identify herself.
She said she "did everything a rape victim is supposed to do" by contacting police, the school and getting a rape kit procedure done — but became frustrated when the university's investigation appeared to stall.
Prosecutors have not charged Artis with a felony in the case, although the Orange County Magistrate's office issued arrest warrants for misdemeanor assault on a female and misdemeanor sexual battery filed by Robinson, a pre-business major from Apex, North Carolina.
Her attorney, Denise Branch, said those warrants were the "result of the Orange County District Attorney's refusal to prosecute the case despite sufficient physical evidence."
Orange County District Attorney Jim Woodall told NBC News on Tuesday that its case was still open pending lab results and further investigation.
Neither Artis nor his attorney could not immediately be reached for comment Wednesday. At a court hearing in the afternoon, a judge agreed to set another date for Sept. 29.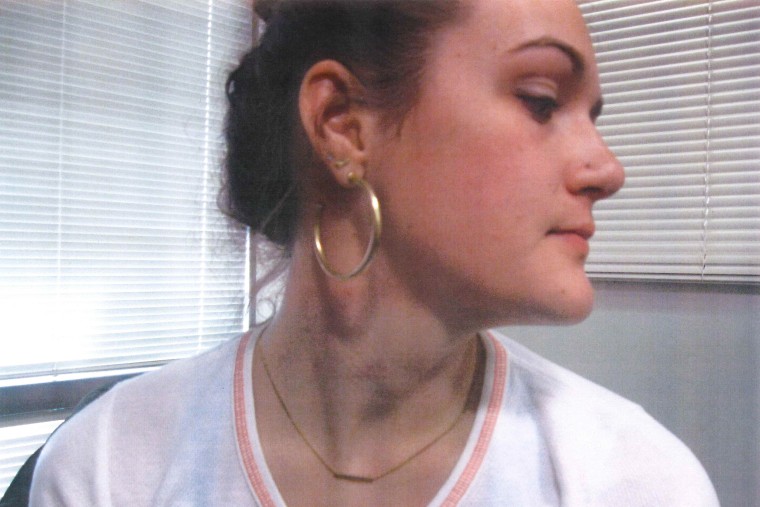 At Tuesday's news conference, photos were released showing Robinson with apparent bruising on her neck after going to the hospital. An exam revealed "blunt force trauma to my client's genital area," Branch added.
Robinson said she felt as if she were being treated as the suspect in the case. The university's department of public safety closed its investigation in June.
Branch added that the university failed on a number of fronts: The school's Title IX office, which oversees the law that prohibits discrimination on the basis of sex in federally funded education programs and activities, violated its own rules by not making a decision in Robinson's case within 90 days and by trying to obtain her blood-alcohol content.
"The university failed either by being uninformed or by completely disregarding the new Title IX guidelines that they so publicly pronounced being put in place," Branch said.
UNC-Chapel Hill cannot comment on Robinson's allegations under federal privacy law, but says it believes in fostering a safe school environment.
Related: What Advocates Are Doing to End Sexual Assault on Campus
"The University of North Carolina at Chapel Hill is deeply committed to the safety and well-being of our students and takes all allegations about sexual violence or sexual misconduct extremely seriously," Joel Curran, the vice chancellor for communications and public affairs, said in a statement.
"These matters are complex and often involve multiple agencies including law enforcement," he added. "While the University always tries to complete an investigation as quickly as possible, our priority is to ensure that the factual investigations are complete and conducted in a fair and thorough manner."
The Tar Heels' head coach, Larry Fedora, said in a statement that he was aware of the misdemeanor charges against Artis.
"We take these matters very seriously and are fully cooperating with the appropriate authorities," he said.
The accusations against a UNC football player follow an increased national focus on campus sexual assaults and the treatment of student athletes.
Ex-Stanford swimmer Brock Turner was given a six-month jail sentence — and served just three months of it this year — after he was convicted of three counts of felony sexual assault. Police said Turner raped a woman in January 2015 outside of a fraternity house. Protesters argued that the sentence handed down by a judge was too lenient for the severity of the crime.