In the summer of 2015, as Memphis exploded with protests over the police killing of a 19-year-old man, activists began hearing on Facebook from someone called Bob Smith. The name was generic, and so was his profile picture: a Guy Fawkes mask, the symbol of anti-government dissent.
Smith acted as if he supported the protesters, and, slowly, they let him into their online community. Over the next three years, dozens of them accepted his friend requests, allowing him to observe private discussions over marches, rallies and demonstrations. In public postings and private messages he described himself as a far-left Democrat, a "fellow protester" and a "man of color."
But Smith was not real. He was the creation of a white detective in the Memphis Police Department's Office of Homeland Security whose job was to keep tabs on local activists across the spectrum, from Black Lives Matter to Confederate sympathizers.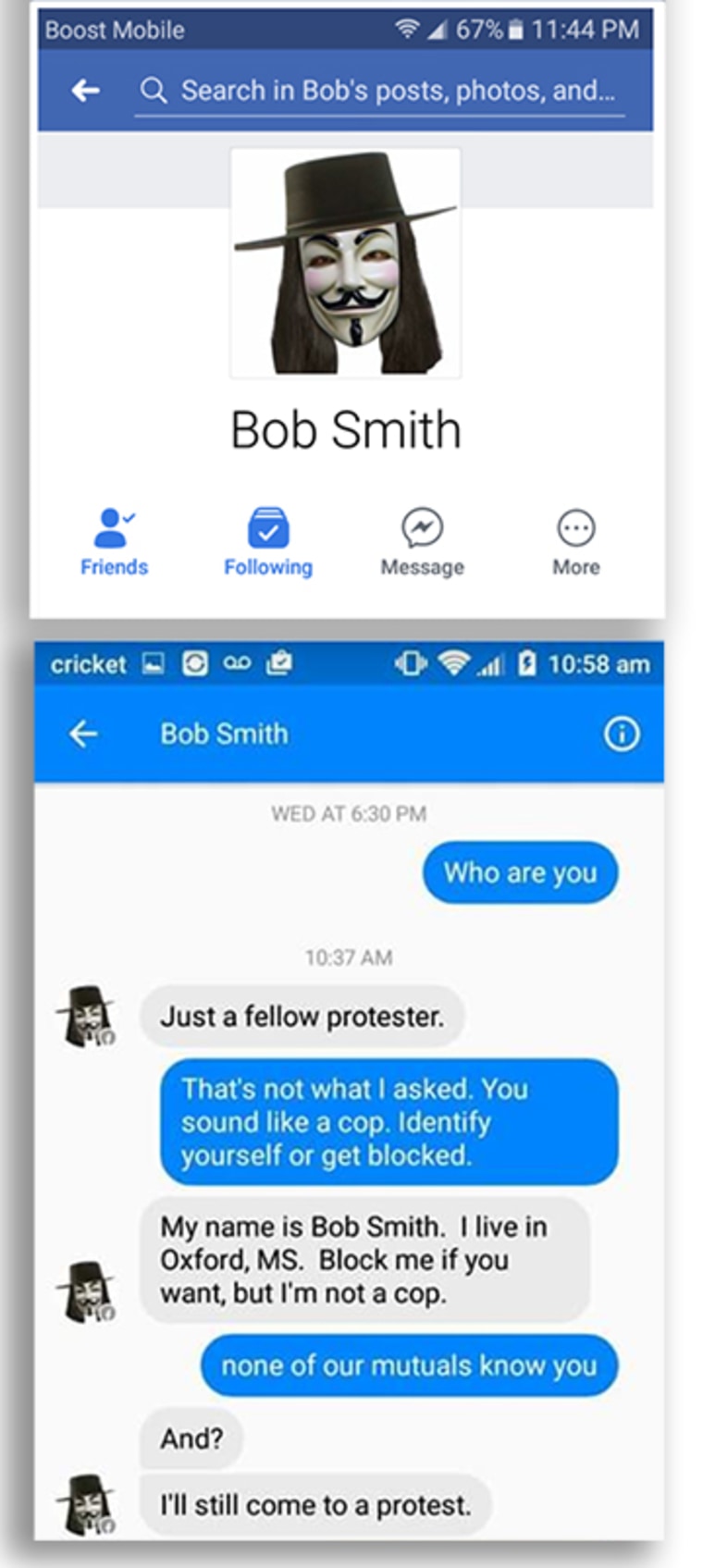 The detective, Tim Reynolds, outed himself in August under questioning by the American Civil Liberties Union of Tennessee, which sued the police department for allegedly violating a 1978 agreement that prohibited police from conducting surveillance of lawful protests. The revelation validated many activists' distrust of local authorities. It also provided a rare look into the ways American law enforcement operates online, taking advantage of a loosely regulated social media landscape — and citizens' casual relinquishing of their privacy — to expand monitoring of the public.
Police officers around the country, in departments large and small, working for federal, state and local agencies, use undercover Facebook accounts to watch protesters, track gang members, lure child predators and snare thieves, according to court records, police trainers and officers themselves. Some maintain several of these accounts at a time. The tactic violates Facebook's terms of use, and the company says it disables fake accounts whenever it discovers them. But that is about all it can do: Fake accounts are not against the law, and the information gleaned by the police can be used as evidence in criminal and civil cases.
Investigators know this, which is why the accounts continue to flourish.
"Every high-tech crime unit has one," said an officer who uses an undercover account to monitor gang members and drug dealers in New Jersey and who spoke on the condition of anonymity to avoid having the account exposed or shut down. "It's not uncommon, but we don't like to talk about it too much."
A FLOOD OF FAKE ACCOUNTS
The proliferation of fake Facebook accounts and other means of social media monitoring ─ including the use of software to crunch data about people's online activity ─ illustrates a policing "revolution" that has allowed authorities to not only track people but also map out their networks, said Rachel Levinson-Waldman, senior counsel at New York University School of Law's Brennan Center for Justice.
She is among many scholars who worry that expanded social media surveillance could make people less likely to engage in online activities protected by the First Amendment, from sharing their opinions to organizing protests of the government. But there are few laws governing this kind of monitoring. Few courts have taken up the issue. And most police departments don't have policies on how officers can use social media for investigations, according to Levinson-Waldman's research.
"It's pretty open territory," she said.
Judges in New Jersey and Delaware have upheld investigators' use of fake social media profiles. U.S. Immigration and Customs Enforcement, the Cincinnati Police Department and the Chicago Police Department have publicly boasted of using undercover Facebook accounts in cases against accused child predators, gangs and gun traffickers. Following an outcry after a Drug Enforcement Administration agent created a fake Facebook account in a suspect's name to catch members of a drug ring, the Department of Justice promised in 2014 to review the agency's policies ─ but the department did not respond to multiple requests to say what has changed.
Several law enforcement agencies, including the New York Police Department, the Georgia Bureau of Investigation and the Indiana Intelligence Fusion Center, have policies that explicitly allow the creation of fake profiles, with some conditions ─ including obtaining prior approval from a superior and limiting interactions with targets.
The only reprisals come from Facebook itself, which says it strictly enforces its ban on users pretending to be someone they're not. Every day, it says, the company's "detection technology" blocks millions of attempts to create fake accounts ─ and detects millions more within minutes of creation. But Facebook won't say how often it has taken action against a law enforcement agency for using fake accounts, only that it has done so "many times."
Despite this, police agencies have been able to keep undercover accounts for years without Facebook discovering them.
"I'm skeptical that law enforcement is going to look at Facebook saying this and suddenly change their practices," said Dave Maass, an investigative researcher at the Electronic Frontier Foundation, a civil liberties group.
Facebook took action against the Memphis Police Department only after the foundation alerted the company to coverage of the Bob Smith account on The Appeal, a criminal justice website. Facebook disabled the Smith account and then found six more fake accounts linked to the department, which it also cut off.
The Memphis Police Department declined to comment about its use of social media, including the Bob Smith account, noting that the lawsuit alleging illegal surveillance remains unresolved. In July, city officials insisted that the police had not violated anyone's rights, or prevented anyone from demonstrating.
Monitoring social media posts, the city said in a statement, "is a necessary and common technique in law enforcement; in fact it is viewed as best practice."
HOW POLICE USE SOCIAL MEDIA
Creating an undercover social media profile often starts with a good photo.
Unlike Reynolds, the officer behind the Bob Smith account, many investigators seek to use the image of a real person, to make their creation appear authentic.
"You look for pictures of someone overseas, to make sure that person isn't going to run into your circles," said the New Jersey investigator, who created a fake Facebook account about five years ago.
The investigator said his goal was to lure gang members, so he chose a photo of a woman who was "cute and well put-together." Then he began building out the page with "filler pictures" and began liking and posting content. He had no problem getting friend requests, or getting his own accepted by his targets. He became so close to them that he was able to watch them boast about making large amounts of money or flash stacks of cash. He was invited to parties. His agency sent out plainclothes detectives to sit in a car nearby, to watch for people suspected in violent crimes.
But the investigator said he avoids engaging targets in conversations, out of fear of blowing his cover.
"It's like putting an undercover guy out on the street. He may get recognized. Then you have to start over again," he said.
While Facebook has strict policies against fake accounts, Twitter has so such restrictions. But Facebook is more widely used, and offers more opportunities to observe people and networks.
An investigator in Indiana who maintains two Facebook accounts ─ among several within his agency across several social media sites ─ said he, too, set up his profiles with pictures of women. That's particularly effective for identifying sexual predators, he said. But he said his agency's undercover profiles have also been helpful in catching people trying to fence stolen goods and monitoring motorcycle gangs and anti-police groups.
Like the New Jersey investigator, he spoke on condition of anonymity out of concern that publicity would hurt his investigations and cause his fake social media profiles to be disabled.
Asked if his agency had a policy on the use of such accounts, the Indiana investigator said, "Currently we do not, and that is good for us and our investigations."
BOB SMITH'S WORK
The summer of 2016 was a turbulent one in Memphis. It included the anniversary of the July 2015 police shooting of Darrius Stewart, 19, by a city police officer, which coincided with unrest over the police killings of black men in Baton Rouge, Louisiana, and suburban Minneapolis and a sniper's killing of five officers in Dallas. Black Lives Matter organized Memphis protests that shut down an Interstate 40 bridge and blocked the entrance to Graceland, the Elvis Presley mansion and a major tourist attraction.
The police department realized that it had to do more to keep up and turned to social media for help. They used software that analyzed social media traffic to determine where large public gatherings might develop and whether there was reason to suspect violence. And they relied on Bob Smith.
Reynolds had created the Bob Smith account several years earlier, he said under oath during an August hearing related to the ACLU lawsuit. But he said he didn't use it much until Stewart's death, when he began posing as a sympathizer of protesters, seeking their online friendships and sharing news articles with them. The point, Reynolds testified, was to keep an eye on protests that did not have city permits, and to check for threats against police officers. He was accepted into a circle of activists who shared some of their plans, which included a December 2016 "die-in" outside the mayor's home.
Among those who accepted Bob Smith's friend request was Keedran Franklin, one of the city's best-known activists and a self-described professional organizer. Franklin, who is black, suspected that the police were trying to follow and intimidate him, but it didn't occur to him that Smith had anything to do with it. At one point, he discussed with Smith plans to obtain a protest permit, and Smith had access to his private postings, including his wedding photos, Franklin, 32, said in an interview.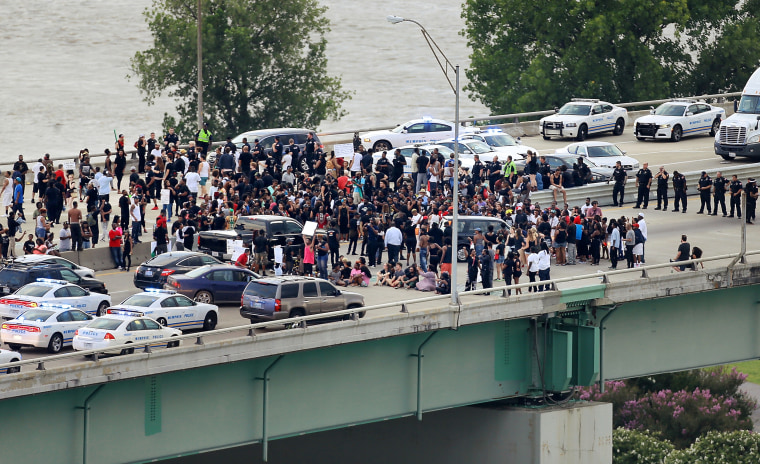 Things began to turn in early 2017, when Franklin and several other activists found out that they had been put on lists that barred them from the mayor's property and required that they be given escorts while in City Hall. Those lists were compiled, in part, with information Reynolds gleaned from his Facebook monitoring. But that wasn't revealed until the ACLU of Tennessee began collecting information for its lawsuit, which led to the August trial in which Reynolds testified.
"They had 22,000 pages of documents on me and the people around me," Franklin said, adding that the surveillance has hurt his ability to do his job as an organizer-for-hire. He's been arrested several times in recent months on charges related to protesting activity, as well as drug charges. He maintains he's done nothing illegal.
Also on the barred list was Elaine Blanchard, 66, a minister and writer who worked as program director for a nonprofit group that helped sex workers and trafficking victims rebuild their lives. Inspired by friends who were part of Black Lives Matter, she joined the Graceland protest and was troubled by what she described as lenient treatment by police of white protesters like herself compared to black activists. Before driving home, she posted her thoughts on her Facebook page, which is open for anyone to see. Later that night she was startled when a police vehicle passed her home and shined a spotlight into her living room. She came to believe that police had tracked her, although she couldn't prove it.
Months later, Blanchard learned that her name had been put on a list of people ordered to stay off the mayor's private property. Because of that, she said, her supervisor at the nonprofit where she worked decided not to renew her contract. Unable to afford her mortgage payments, Blanchard and her wife sold their house and moved into an apartment.
"It began to feel like I was a target of the police department," Blanchard recalled. "This kind of thing is crazy-making."
About a year ago, she got a friend request from Bob Smith on Facebook. By then she was suspicious enough not to accept. And eventually her name was removed from the mayor's list. But she agreed to sign onto the ACLU lawsuit ─ and testified against the city.
"The police department said that my name was on the list because I'm a threat to the city," Blanchard said. "And so that͛'s why we went to court. And that͛'s why we sued the police department."
A RIGHT TO KNOW
A judge has ruled partially in favor of the ACLU, but has not made a final determination on whether Memphis violated the 40-year-old anti-surveillance agreement enforced in federal court. That decision will cover only that issue, not the larger questions about when and how police can use social media to keep track of citizens.
That leaves privacy and civil rights advocates to press police agencies to impose their own rules on the use of social media, and the creation of fake profiles.
Barry Friedman, director of the Policing Project at the NYU School of Law, is trying to help departments develop policies dealing with officers' use of technology.
He isn't opposed to undercover accounts. But he believes the public has a right to know whether their police agencies are using them. Police agencies should also have clear policies on how they are used, and the public should be part of that debate, he said.
"They shouldn't be doing it without a policy that explains what they're doing and the purpose of it, or without a supervisor's written authorization," Friedman said.
That is not happening. Only a handful of state or local governments have applicable transparency laws on the books.
At several points during the August trial in Memphis, Reynolds was asked to explain why he'd posted a particular link or comment in the name of Bob Smith. He said he sometimes researched current events or historical figures that activists expressed interest in.
One such figure was Saul Alinsky, a community organizer and mentor to 1960s counterculture protesters who wrote "Rules of Radicals."
After seeing an Alinsky reference by a Memphis activist, Reynolds looked up the book. He found a quote he found relevant and posted it: "Pick the target, freeze it, personalize it, and polarize it."