A Japanese clothing retailer warned on Wednesday that it would close its U.S. stores if forced to manufacture in the United States — a policy change championed by President Donald Trump.
Tadashi Yanai — chairman and president of Fast Retailing Co., which includes the U.S. subsidiary Fast Retailing USA, Inc. and owns the casual clothing retail chain Uniqlo — told the Japanese newspaper The Asahi Shimbun he would act decisively if told to move manufacturing to the United States.
"If I was directly told to do so, I will withdraw from the United States," Yanai told the Japanese paper.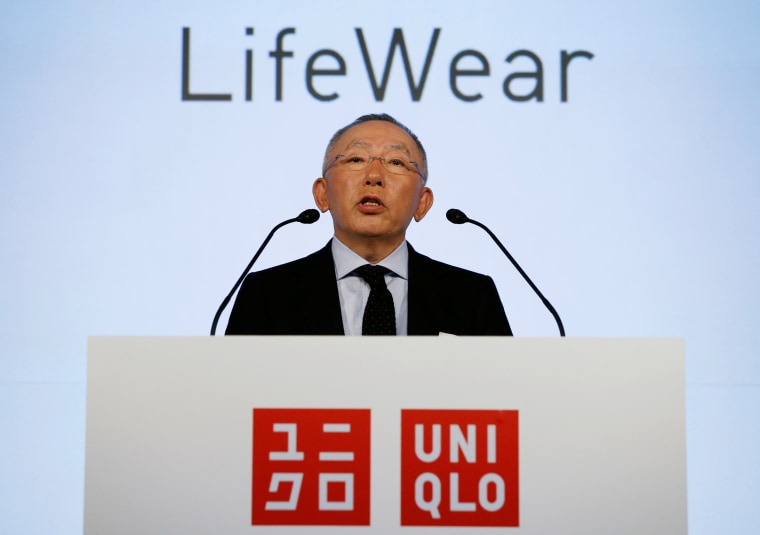 Trump, who promised on the campaign trail to revitalize U.S. manufacturing, has floated measures to make goods manufactured in the United States competitive, including a tariff on goods coming into the country that economists say would increase prices for consumers.
At other times, carmakers and other manufacturers have been urged by the administration, or been pushed via the president's tweets, to move manufacturing to the United States.
But Yanai said Trump's approach wouldn't benefit U.S. consumers.
Making quality goods in the United States that are affordable for consumers would be impossible, he said.
"Anyone will think that it is an open-and-shut and impossible situation," Yanai told Asahi Shimbun. "If [manufacturing products in the United States] is not a good decision for consumers, it is meaningless to do business in the United States."
The White House did not immediately respond to a request for comment.
Uniqlo, which made Yanai one of Japan's richest men, has succeeded largely because of its expansion to global markets.
Related: What About My Guacamole?! How a 20 Percent Tariff on Mexican Imports Would Affect You
At roughly 50 stores, Uniqlo's presence in the U.S. is fairly limited, and repeated efforts at expansion floundered, leading the company to scale back ambitious expansion efforts that would have seen 200 Uniqlo stores in the United States. Yanai said he still hopes to open 20 to 30 stores per year.
"The U.S. represents one of our top priority markets as a global company," a Uniqlo spokesperson told NBC News. "Uniqlo will stay true to our core business values of offering the highest quality apparel at accessible prices, and these values are central to our customer-centric philosophy."