A Hawaii teacher says she was forced to hold her toddler son in her lap for a three-and-a-half hour flight because of a mix-up in United Airlines' system.
"It was unsafe, uncomfortable and unfair," Shirley Yamauchi told NBC News. "I couldn't believe it was happening to me."
Yamauchi said the seat she purchased for her 27-month old son was given to a standby passenger. Yamauchi said she purchased two tickets — almost $1,000 each — for a trip from Hawaii to Boston with a layover in Houston.
After waiting more than five hours last Thursday in Houston to board, Yamauchi said she and her son were exhausted. Once they were seated, a United flight attendant came to see if Yamauchi's son, Taizo, who was in his seat, was on the plane.
The Kapolei Middle School teacher said a man who was a standby passenger approached her and said her son was in his seat. She said she notified a flight attendant about the confusion but, "She shrugged and said the flight is full."
Yamauchi, 42, said she hastily had to place her son, who is 25 pounds and half her 5'2" frame, on her lap. She said the standby passenger was one of the last people to board the plane. The flight quickly departed after he sat down and no other flight attendants questioned her about her son, she said.
The teacher claims for the entire duration of the flight, no one addressed her having her son in her lap despite her struggling to put the seat belt over both of them. Taizo had to stand or crouch on the floor because Yamauchi said he became too heavy to hold. "He's tall child for a toddler. He comes up to my belly button. It was a three and a half hours flight," she said.
The ticketing guidelines on United's website state, "Once infants turn two years old, they are required to have a purchased ticket and occupy a seat."
Yamauchi said she did not try to alert another flight attendant due to recent problems on United aircrafts, such as the April incident where a doctor was forcibly removed from his seat.
"If I were traveling by myself without my child, I would have spoken up a little louder or more forcefully," Yamauchi said.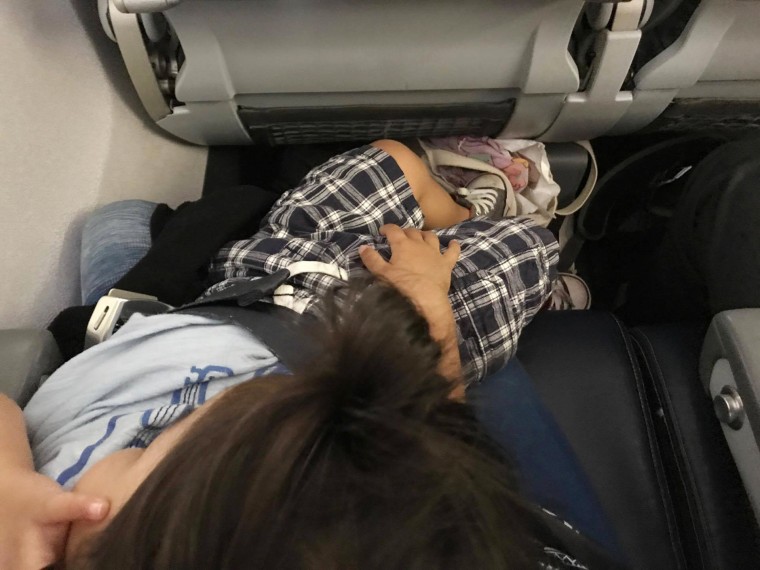 "Those are things that happen to other people. They don't happen to you," she said. "I had hoped United had changed their policy after the Dr. Dao incident."
"I had an email from Oscar Munoz saying they were going to do better," Yamauchi said referencing the customer email the airline's CEO sent following the public's response to Dr. Dao's injuries. Munoz also addressed the controversy during an exclusive interview with NBC News' Lester Holt.
When the flight landed, Yamauchi informed multiple United staff members about what happened. "I was told four different things from four agents," she said. One told her that she should have said something when she was on board.
United contacted Yamauchi Tuesday and told her that her son's ticket will be refunded and she will be sent a travel voucher.
United Airlines spokesman Jonathan Guerin said in a statement, "On a recent flight from Houston to Boston, we inaccurately scanned the boarding pass of Ms. Yamauchi's son. As a result, her son's seat appeared to be not checked in, and staff released his seat to another customer and Ms. Yamauchi held her son for the flight. We deeply apologize to Ms. Yamauchi and her son for this experience."
Yamauchi is unsatisfied with the explanation. "I saw them zap both tickets. There was no issue, no problem. They let us through. It just doesn't add up. It's very weird," she said. She also doesn't agree with the compensation. "It doesn't seem right or enough for pain and discomfort."