The decision by United Airlines to deny entry onto a flight to two girls who were wearing leggings has highlighted the changing culture of air travel in the U.S., aviation historians say.
The incident set off a wave of online criticism, with some calling out the airline for what they saw as sexist or old-fashioned dress code policies.
Actress and activist Patricia Arquette weighed in on Twitter on Sunday, saying the airline's dress code for friends and family of its employees was "outdated" and that a leggings ban "disproportionately" affected women and girls.
Even competitor Delta Air Lines weighed in on the controversy, trolling United with a tweet.
Aviation experts said the industry has transformed from the time when the act of flying itself was a special occasion and people donned suits and formal business wear to travel by air.
Related: Internet Erupts After United Airlines Boots Girls for Wearing Leggings
"Flying was glamorous, it was expensive and so it was generally done by primarily businessmen," Janet Bednarek, an aviation historian and professor at the University of Dayton, told NBC News. "They flew on business and just as there was a dress code within the office when they were flying and representing their business they dressed accordingly."
Bednarek added that there was a certain status that came along with flying, especially during the 1950s and 60s, as the travel method was not yet an option for many Americans.
"Flying was something that people did not do as an everyday occurrence like it is today," she said. "It was a special occasion if you flew and people dressed accordingly."
The online firestorm began when Colorado resident and anti-gun activist Shannon Watts took to Twitter to document what she said was an United Airlines gate agent refusing to let two girls board a flight on Sunday morning to Minneapolis from Denver International Airport because they were in leggings.
The airline responded to Watts on Twitter, saying in part that they had the right to refuse to transport passengers "not properly clothed" and that the girls were "pass travelers," meaning they were relatives or friends of an airline employee and receive either free or heavily discounted air travel.
"There is a dress code for pass travelers as they are representing UA when they fly," the company said in a tweet.
On Monday, United Airlines Spokesman Jonathan Guerin told NBC News that unacceptable attire for pass travel included "swimwear, see-through clothing, flip flops, slippers, anything with holes or tears, and anything that reveals your midriff or undergarments and form-fitting Lycra or spandex pants, such as leggings." Guerin confirmed two teenagers traveling with an adult were not allowed to board the flight on Sunday.
"We regularly remind our employees that when they place a family member or friend on a flight for free as a standby passenger, they need to follow our dress code," he said.
Related: After Richard Marx Episode, Airline Says More Men Will Help 'Beef Up' Security
The Association of Flight Attendants-CWA stood behind the airline's decision in a statement to NBC News on Monday.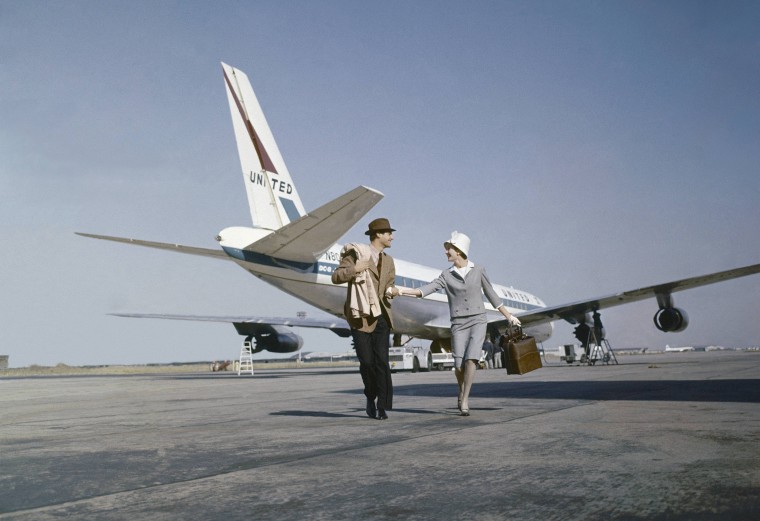 "There is a policy for employee travel that includes a dress code out of respect for all of United's passengers," Sara Nelson, international president of the Association of Flight Attendants-CWA, said. "We believe this is the case of a communication breakdown and social media frenzy. As we say in transportation ... moving on."
Seth Kaplan, managing editor of industry journal Airline Weekly, told NBC News that it wasn't very long ago that pass travelers in particular were required to dress "quite formally."
"Twenty years ago most passengers no longer had to get dressed up just to fly, but pass riders still had to get dressed up," he said.
"As far as customers, it has all gotten less formal over the years and for pass riders it has gotten less formal in tandem, but they've always been more formal," he said.
But Bednarek warned that part of the issue with maintaining such dress codes in the modern era was the perception that dress codes were primarily aimed at women, not men, and could have unintended sexist outcomes.
"I think any critique of a dress code, and I think that critique is valid, is that it seems to set more stringent standards for women than it does for men," she said.
She noted that according to Watts' account, the man traveling with the teenage girls was wearing shorts, but was not given any trouble.
And as flights themselves have become less comfortable, with many airlines increasingly shrinking their seat size and no longer offering many amenities free of charge, the issue of dress codes on flights was likely to continue being an issue for airlines, she said.
"It's a complex problem," Bednarek said. "I am flying soon and I am looking for the most comfortable outfit I can find."